Publisher Interview: Jee Choe of Oh, How Civilized
The year might be quickly coming to an end, but that doesn't mean our Mediavine publishers will stop working hard while still creating and inspiring.
One of our favorite things is hearing about and sharing our publishers' stories. Stories of how they started their blog, how its grown and the ways that Mediavine has helped change not only their business, but also their life for the better.
We've seen these motivating success stories with publishers like Expert Vagabond, and Brandon Gaille to name a couple of our over 5,700 (and constantly growing) publishers.
Join us as we spill the tea from our interview with Jee Choe of the site Oh, How Civilized, a tea blog all about afternoon tea, matcha and tea recipes.
We are excited to have her on the blog, so please say hello and learn about how her genuine love for tea helped pave a path to success!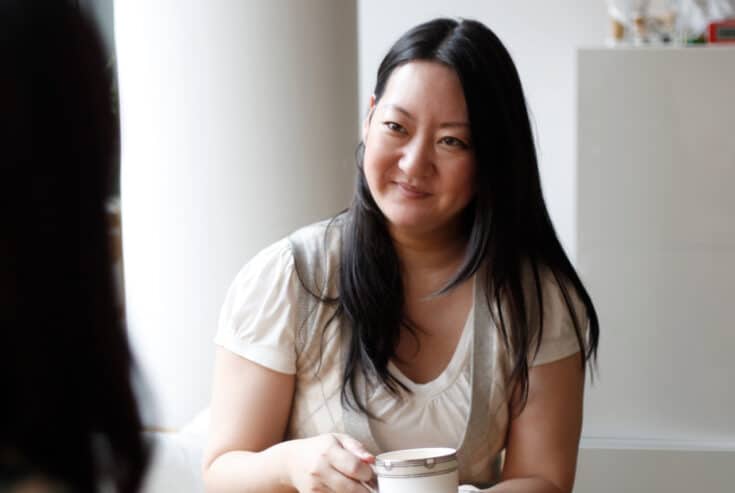 Tell us a little bit about yourself, your family and your everyday life.
My name is Jee, a certified Tea Sommelier, and I'm the creator of Oh, How Civilized, a blog all about tea.

I grew up in Brooklyn and live in Manhattan so I have access to a lot of adorable tea spots, which is what I spend a lot of my free time doing — visiting old and new tearooms and drinking a lot of tea.

My background is in publishing and I worked for many years as a designer working on brands like People, InStyle and Essence.

I have a masters in Design Strategy that combined with my extensive experience in UX and design, so I had less of a learning curve when I first started my blog.
How did you get started blogging?
I started blogging in 2012. I initially started it as a place to post about my afternoon tea experiences in NYC since friends would ask me for recommendations.

Then one day, I met another blogger who told me that people actually make money from blogging (!!!).

That was an eye-opener for me and that's when I started thinking about blogging seriously and not just as a hobby.
How long have you been a Mediavine publisher? How did you first hear about us? What drew you to Mediavine as a partner for display advertising?
I joined Mediavine in January 2018. I applied as soon as I hit 25K sessions.

Maryanne of The Little Epicurean told me about Mediavine and how great it was to be a part of it.

Having had such mediocre experiences with other ad networks, I was happy to hear so many positive things and couldn't wait to reach 25K sessions to be able to apply.
Describe your experience with Mediavine. What do you love about working with us?
I'm a big fan of Mediavine! I'm all about customer service and you guys are amazing.

I know if I have any questions, I can email and get an answer right away, which is so refreshing.
How has your Mediavine ad revenue changed your life for the better?
I became a full-time blogger this April! I never would have been able to do that with any of the other ad networks I was with previously. I love how the earnings are passive.

I can go for afternoon tea on a Tuesday in the middle of day for three hours and not stress.

As a freelancer, I never knew when the next project was coming so I really appreciate the steady income.
How do you think the blogging industry has changed since you started your website?
I hear from people who have been blogging for over 10 years how blogging is dead but I think that's because how people blog now has changed so much.

It's no longer about writing about your daily musings and what you did over the weekend. Blogging is now ALL about SEO.
What are the best and worst parts of blogging for you?
The best part of blogging is the freedom. I can dictate how much time I spend on the blog every day.

The worst part is having a list of things to do that never ends.
What has been your biggest success as an influencer? (eg. traffic growth, sponsored work, etc.)
One achievement I'm especially proud of is having secured an affiliate deal with a big food brand. I was able to convince them to work with me as an affiliate when they had never done that before.

I believe I'm still their only affiliate member. It's been a total win/win since every month, my earnings are going up and up.
Who are your FAVORITE bloggers. Who inspires you? Why do you like them?
My favorite blogger OF ALL TIME is Maryanne of The Little Epicurean. If it wasn't for her, I never would have known about Mediavine. Plus, she makes the most fun cakes and desserts.

I'm also inspired by Bintu of Recipes from a Pantry. She's a hurricane in the very best way. She inspires me to work harder and smarter. We became blogging friends through the Mediavine Facebook group.
What are the most popular 3 posts on your blog?
How to Make the Best Iced Tea (Cold Brew It!)

Decadent Milk Tea with Brown Sugar

Difference Between Afternoon Tea and High Tea
What are your 3 personal favorite posts on your blog?
This one took years to put together since I personally review them: Complete List of Every Afternoon Tea in New York City

I tested this recipe so many times but finally got it perfect!: Best Homemade Thai Iced Tea:

My very first post that went viral: Matchamisu = Matcha + Tiramisu:
What tools and resources do you use to manage your blog? What could you not live without? Why?
Google Drive. I like to plan and have a strategy in place, and track it all so I live in Google Sheets.
What is your biggest traffic source?
Google.
What strategies have you used to make that your top traffic source?
SEO, SEO, SEO.
Do you have any advice for bloggers on how to grow their traffic?
Learn SEO. That's it. That's all they need to know.
Anything else you'd like to add to help other bloggers grow?
Focus on one thing each month. This month I was all about getting as much content out there as possible. Next month, I'll be working on my newsletters.

It's easy to get overwhelmed thinking everything needs to get done ASAP, but blogging is a marathon, not a sprint.
What's the one thing on any restaurant menu you MUST order?
If it's on the menu, I'm getting fries.
Name something on your bucket list.
Taking my parents on a trip to Korea, first class.
What's your favorite place you've ever visited and why?
Italian Riviera. I LOVE Italy and go as often as possible. It's a feast for the eyes and the stomach.