Welcome to Mediavine
We're not an ad network. We're a powerhouse family of websites, ready to take on the world of programmatic advertising. We are about our publishers, and want them to succeed in all aspects of their business. Our mission is to help content creators build sustainable businesses. From SEO tools and tips to make the most of the content you have, to networking opportunities that will help you learn from your peers and devise strategies to grow your traffic, we've got your back.
Exclusive sponsored post opportunities
Network with Mediavine at our conference and events year-round
Interact in a private Facebook group with experts in the industry



7,300+

Happy Publishers

Mediavine Publisher Social Media Reach




7+ Billion

Ad Impressions




100%

Satisfaction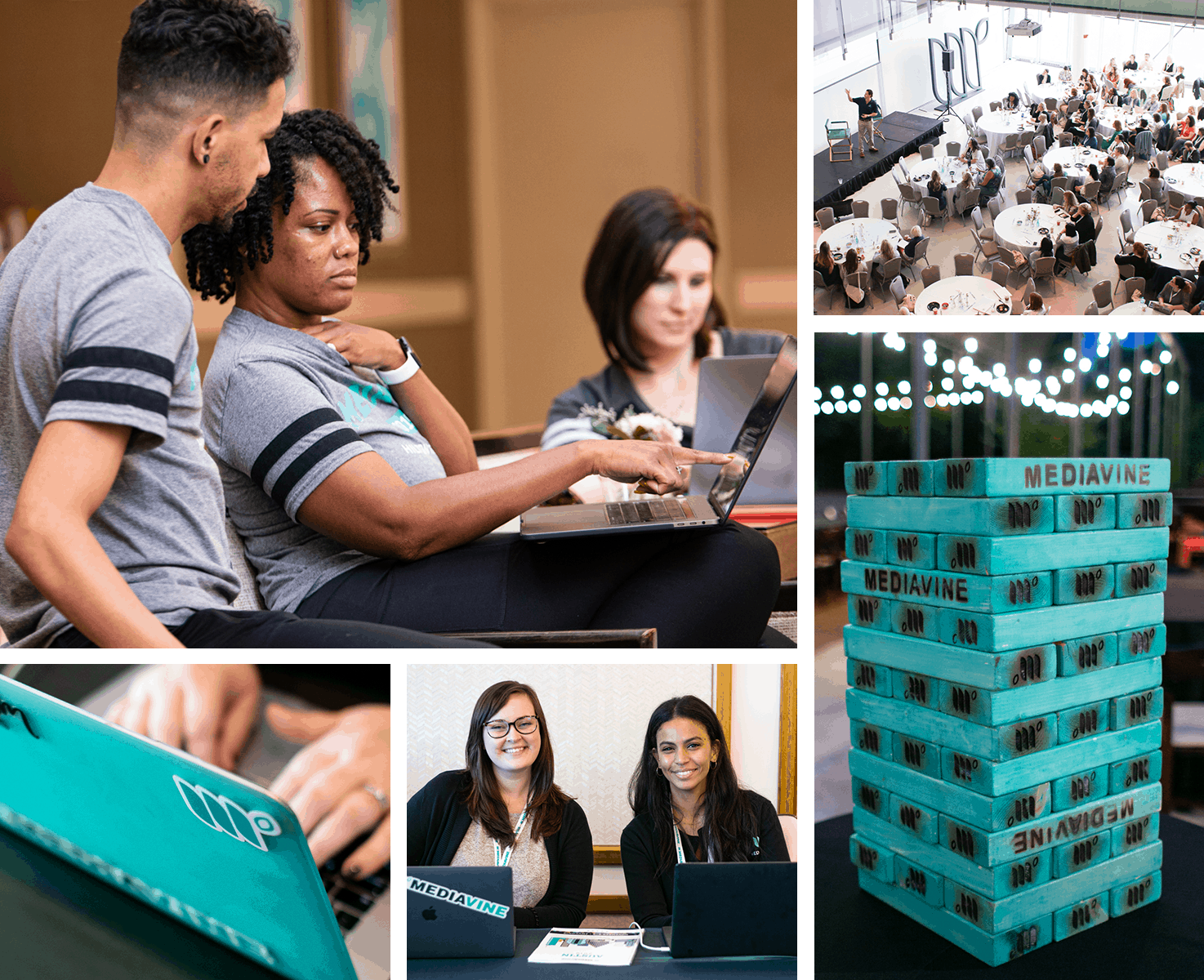 Our Story
Mediavine has been an Internet publisher since 2004. We own and operate The Hollywood Gossip, TV Fanatic and Food Fanatic, which launched in 2013 and marked a turning point in our relationship with publishers and the advertising industry.
With the inception of Food Fanatic, we learned from our contributors that when it comes to frustrations with the way most ad networks operate, we weren't alone. We wanted to do better and put control back into the hands of the publishers.
Networks typically treat publishers as if they, and the advertisers, are the only ones with value, dictating how publishers should run their sites, how they should handle advertising, and how they should be paid in a one-sided relationship.
We're changing that. After pioneering new ad tech strategies allowing our own sites to thrive like never before, a few Food Fanatic contributors asked us if we could do better for them too. From that point forward, Mediavine was born.
Mediavine is privately owned, with no outside investors. We answer to our publishers and our ad partners, making us the most agile company in this space. We're founded by publishers, owned by publishers, and ready to help you navigate the future of ads as a publisher yourself.
Diversity & Inclusion Statement
Mediavine is passionate about creating an inclusive environment that promotes and values diversity. We strive to be a workplace that reflects the communities we serve, and which empowers everyone to bring their full, authentic selves to work.
our team
In all seriousness (and don't forget our pets)



Alex Johnson

Publisher Support Specialist

Cat dad. Proud owner of a rice cooker. Loves video game music. Once opened for Coolio. Minnesota nice.




Alex Roth

Senior Product Manager

Creating awesome things. Making lives easier. CHANGING THE WORLD. Doing what he loves.




Alf Fenton

Publisher Support Engineer

I spend my free time tinkering and building with Python, taking walks with my camera, listening to music or 60's blues, and Jazz vinyls on my record player.




Alicia Spears

Publisher Support Specialist

Cat and dog mom. I love coffee, books, art and music. Only slightly addicted to Netflix and Hulu.




Amber Bracegirdle

Co-founder

Baker extraordinaire. Most tagged person in Facebook groups. Founding editor of Food Fanatic.




Andrew Talian

Software Engineer I

Knows about code and math. Does not care for sleeping.




Anthony Zaradich

Publisher Support Engineer

Father of 3 amazing kids. Husband to an amazing wife. Fan of everything nerdy. Loves video games, music and salsa.




Ashland Huckabee

Publisher Support Specialist

Insomniac. Gamer. Movie Buff. Tattooed. Music Lover. Obsessed with space and dinosaurs. Jack of all trades that is always looking for new adventures.




Ben Fruchter

Data Technical Lead

Husband and father of five. Destroyer of coffee. Wrangler of chickens. Designing and building all the things. Very opinionated about colors. Also, very color blind.




Brad Hagmann

Vice President of Ad Operations

Most likely in a meeting with an ad partner or publisher. Reads ad policy for fun. Always travels with cheese curds.




Brian Nelson

Director Of Software Engineering

Naive but noble rube. OG Nodak. Traveler. Writes more code than English sentences.




Brittany Mathews

Associate QA Engineer

DIY fanatic. Loves traveling, being outdoors and roller skating.




Carmen Stinson

Assistant Publisher Support Manager

Wino. Queen of charades. Laughs in serious situations. Serial shopper, clothing hoarder.




Clarissa Laskey

Marketing Associate

Mom + professional wanderluster. Lover of good coffee, cocktails and cheese boards. Only carries on luggage when traveling.




Cristina Reyes

Publisher Support Specialist

Floridian mom of three. Subscription addict. Sometimes called the female MacGyver.




Cyd Converse

Supervising Editor of Food Fanatic

OG blogger. Foodie. Dinner party enthusiast. Old home renovator. Avid boater. Dog lady. Almost always barefoot. Best ever job title: Mom.




Cynthia Butler

Director of Business Intelligence

Crazy dog lady. Sports fanatic. Karaoke queen. Voted most likely to get a dance party started.




DJ Flores

Senior Publisher Support Engineer, Team Tech Engineer

Runner of all the roads. Listener of all the music genres. Eater of all the foods.




Danielle Speisman Owens

Influencer Marketing Associate

Essential oil expert. Musician. Fan of yoga, organic cooking, and reality TV. Often quietly assessing a brand's creative marketing needs.




Doug Major

QA Engineer

Composer, guitarist, traveler, record collector, coffee snob, snow and ocean rollicker. Producing at the junction of modernism and elegance to craft meaningful work that endures. Nothing ventured, nothing gained.




Elif Uncu

Project Manager

World class multi-tasker who loves a good Excel doc. Econ and espresso nerd. Traveler to all the places (eventually). Happiest in the grips of a novel.




Eric Hochberger

Co-founder

Coder. Developer of the coolest things. Sometimes mistaken for Bradley Cooper.




Eric Nolte

Software Architect

Mechanic, brewer, musician, husband and father. He's also written a few lines of code in his life.




Erin Tully

Vice President Programmatic Sales

Admittedly a programmatic nerd. Maybe (kind of), slightly obsessed with her 3 kids. Lives for summer and pretty much only happy at the beach and/or wearing flip flops. Owner to the dog with the worst smelling breath in America. Kisses him on the lips.




Ethan Butler

Software Technical Lead

Loud typer. Compulsive mixtape downloader. Has never met a soft pretzel he hasn't ordered.




Farryn Pearson

People Operations Support Specialist

Lover of all things DIY, beauty, health and wellness. Always a voice of reason and great friend.




Giancarlo Petrini

Software Engineer I

Husband and father of 2 daughters. Coder and automator. Loves motorcycles only slightly less than family.




Hannah Zulueta

Software Engineer

Homemadecoder. Passionate learner. Loves to eat ramen and anything sweet. Interested in cultures, languages and wants to travel the world.




Heather Tullos

Director of Publisher Support

Multi-tasker extraordinaire. Rescues all the dogs. Requires copious amounts of coffee and is slightly addicted to podcasts. But seriously though… ALL. the. dogs




Jacob Feltner

Support Engineering Manager

Synthwave in his ears. Nachos connoisseur. Terrified of cotton balls.




Jamie Lothridge

Influencer Marketing Coordinator

Addicted to sugar and the Food Network. Most likely to wear leggings to all events. Loves her kid and goat cheese.




Jason Rivera

Publisher Support Engineer

Coder, gamer, greasy food lover, free thinker.




Jaye Nibbs

Publisher Support Specialist

Leopard print aficionado, wordsmith, rock mom, maximalist — because more is more.




Jenny Guy

Director of Marketing

Marketing. Theatre nerd. Fried okra is my jam (breakfast. Trust me.) Okie grown.




Jesenia Montanez

Senior Publisher Support Specialist

Dope mom. Empanada queen. Music enthusiast. Slightly obsessed with coffee and all things Disney.




Jess Green

Software Engineer

Anime nerd, programmer, 3D artist and amateur meteorologist. Enjoys delving into random topics for no particular reason. Loves cats, dogs and most animals.




John Foderaro

Software Engineer

Always exploring new ideas. Loves learning, nature, and building things.




John-Michael L'Allier

Software Engineer I

Husband and father. World traveler. Reader of books, player of pianos. Loves cheese, coffee, wine and Twizzlers.




Jonathan Shilale

Infrastructure Engineer

Gardener. Bread baker. Amateur mycologist. Vegan foodie. Competitive gamer. Can be found wandering the woods somewhere in New Jersey.




Jordan Cauley

Director of Product

Developer. Creator of awesome user experience. Married. Co creator of three humans. Drinker of scotch. Tester of baked goods.




Jordan Gilreath

Senior Support Engineer

Golf addict. Video game enthusiast. Father of four daughters. If it's nerdy, I'm interested.




Julie Sarault

Publisher Support Specialist

Bookworm. New recipe enthusiast. Manhattan connoisseur (the drink, not the island!). 8X "Aunt of the Year" Winner as voted on by Letty and MiaLee.




Kari Cathey

Software Engineer

Tech nerd. Gamer. Happy to spend the whole day coding. Wants to move near the beach for surfing, snorkeling and swimming with dolphins.




Karla Greb

Publisher Support Specialist

Stereotypical Minnesotan. Lives for sunshine, summer time, and whiskey on the rocks. Owner and rescuer of Great Danes. Her dog might weigh more than she does.




Kat Donegan

Senior UI/UX Designer

Obsessed with design, crafting and dogs. Has a croffice (craft room / office). Ketogenic. Excitable. Neat freak. Bleeds pink and purple.




Keyanna Mayfield

Senior Publisher Support Engineer

Coffee and taco junkie. Addicted to Netflix and tech gadgets. Obsessed with backpacks. Wannabe world traveler.




Kristi Corrigan

Publisher Support Specialist

Fueled by coffee. Reality TV junkie. Loves Bloody Marys and yoga pants! Slightly obsessed with planners.




Kristie Kovarovic

Senior Publisher Support Specialist (Optimization Expert)

Traveler. The one asking to pet your dog. If missing: Check the nearest coffee shop.




Lincoln Russell

Software Technical Lead

Developer turned manager turned developer. Liberal arts guy in love with the web and Detroit. Shamelessly kills Mario on 1-1 to play as Luigi.




Matthew Howe

Product Manager

An Oregonian in Minnesota. Reluctant record collector, sci-fi reader, coffee and beer lover. Frequently hiking, biking or walking the dog.




Matt Richenthal

Co-founder

The Editor-in-Chief of TV Fanatic, Matt also oversees content development on The Hollywood Gossip and is in charge of payroll. He has been mistaken on numerous occasions for Eric's twin, which must mean he also looks like Bradley Cooper.




Megan Myers

Events Coordinator

Drink ticket distributor, swag collector. Magic maker and dreamer of dreams.




Micah Woodstock

Publisher Support Specialist (Optimization Expert)

Foodie and wino. Video game addict. If I'm not listening to music, I'm singing it. Can't wait to travel the world!




Michael Deitcher

Software Engineer I

Maker, tinkerer, video game developer. Father of two wonderful kids. Husband of an amazing wife. Likes to get outdoors and run or bike on trails.




Milecia McGregor

Software Engineer I

Needs candy to live. Confused mechanical engineer. Mixer of random tech concepts. Probably has a dog near by.




Miles Elliott

Software Engineer

Maker, developer, designer, and artist. Interested in how systems work. Lovable rascal. Eats too many tacos, maybe. Spends time with his fiancée and his pet robot vacuum.




Mykol Benning

Publisher Support Engineer

Fighting a war against gluten. Lover of books and JavaScript. Avid social-distancer since 1991. Catch me in the quiet nook with a cat on my lap.




Nick Ketcham

Ad Operations Specialist

Ad Ops enthusiast. Father of one daughter and one cat. My coffee cup is never empty. Wannabe gardener.




Nicole Johnson

Vice President of Publisher Support

Communicates almost entirely by GIF. Loves blogging, conferencing and hard apple cider.




Nicole Peery

Publisher Support Engineer

Tiny space inhabiter and desert dweller. Bad at social media. Decent at coding. Good at eating tacos.




Nicole Ramirez-Delgado

Publisher Support Specialist

Can be found drinking tea and hanging out with pets. Insufferable podcast binger. Secret writer of sci-fi / fantasy 🖖




Nowell VanHoesen

Software Engineer

Husband, father of 3, grandfather of 3. Developer. WordPress core/meta contributer. Video game, sweets, WordCamp and Starbucks addict. Fan of Wapuu.




Palmer Zona Mundt

Publisher Support Specialist

Rescue dog mom, pretend artist, and indoor gardener. Patiently waiting for Shrek 5 since 2010.




Pete Lekousi

QA Engineer

New England expat living in the PNW. Lover of music, books and quality software.




Phil Bohn

Senior Vice President of Sales & Revenue

Dad of two, husband to one, friend to all. Futurist programmaticist. Hater of mosquitoes.




Rachel Johnson

Senior Publisher Support Engineer

Boxed wine curator. Aspiring cheese mom. Has never said the words "let's just walk there."




Rachel Pillet

Vice President of Programmatic Sales

Demand believer. Secret nerd. Pasta lover. Hot yoga nut. Always finds the perfect gift for others. Believes in unicorns.




Renae Hodgkins

Software Engineering Manager

Obsessed with building things — from web applications to cosplay to delicious and interesting new cuisine for her family! Video game, anime, tattoo and comic book addict, making the most of life on the beautiful coast of Maine.




Rose Siders

Senior Publisher Support Specialist (Optimization Expert)

50% New York, 50% Minnesota. Most extroverted introvert. Video game enthusiast. Fluent in sarcasm. Lives for sunshine.




Ryan Duer

Publisher Support Engineer

Film, sci-fi, fantasy nerd. Love dogs. Sensory parent. Lives on coffee, feeds on lightning. Loves a good checklist and the container store.




Ryan Holte

Software Engineer I

Hiker, pontoon boat captain, problem solver. Quotes "The Office" and "Seinfeld" daily.




Sam Ellis

Assistant Publisher Support Manager

Secretly wants to do all of the puzzles on Survivor. Coffee shop and brewery hopper. Cheese boards are my love language.




Samantha Seeley

Publisher Support Specialist

Craft beer enthusiast. Photo nerd. Husky mom. Wannabe cyclist. Video gamer.




Sara Volk

Virtual Assistant

Doer of all things and Keeper of the Schedule. Cat mom. Eerily organized. RPG addict. Exceptionally nerdy. Resident Sanrio character expert.




Seth Alling

Software Technical Lead

Developer turned designer turned developer. Father of three. Cheese enthusiast.




Seth Bicknell

Software Engineer II

Seth likes Star Trek better than Star Wars and thinks Picard is the best captain. What more could you possibly need to know???




Stephanie Steuber

Senior Publisher Support Specialist

Has a daily laugh quota. Super power is finding typos. Lover of puzzles, crafting, true crime and my dog. A total Pisces.




Stephen Marsi

Co-founder

Editor-in-Chief of The Hollywood Gossip. Proficient in SEO, audience development, traffic acquisition and more reality TV shows than he cares to admit at family functions.




Stephen Vector

Software Engineer I

Library enthusiast. Appreciates a fine pair of socks. Voluntary math problem solver.




Stephie Predmore

Director of Influencer Marketing

Food nerd. Bookworm. Crazy cat and dog lady. Loves connecting brands and influencers to make the magic happen.




Susannah Brinkley Henry

Senior Graphic Designer

Font nerd. Cocktail enthusiast. Tuxedo cat mama and plant lady. Black licorice devotée. Instagrams all the things.




TaKenya (Kenya) Hampton

Publisher Support Specialist

Bag lady. Food lover who thinks the most important (and best) meals are breakfast and dessert. DIY-Her and Jill of all trades.




Thomas Ladd

Software Architect

Christian. Husband and father of two. Reluctant cat dad. Likes running, indoor bouldering and trying to eat vegan.




Tiffany Graves

Senior Publisher Support Specialist

Problem solver. Coffee enthusiast. Boy mom. Gets way too excited about assembling IKEA furniture.




TQ Evans

Director of People Operations

The "Employee Whisperer." Reads legal documents for fun. Exercises exclusively to Trap music + Ted Talks. Hamilton fanatic. Trained birth doula. Has never met a stranger.




Trista Jensen

Lead Launch Engineer

Nap Junkie. Foodie. Black belt in Tae Kwon Do. Hoarder of office supplies; doesn't work in an office. Owned by a doofy Great Dane.




Careers at Mediavine