Behind the Numbers with Brad – Covid Traffic Trends
What a year 2020 has been.
It's only mid-July, but the last four months have felt like a lifetime as the dynamics of our lives have been reshaped more profoundly than any other time in recent memory.
As the global pandemic and subsequent shutdowns became inevitable, our planet's workforce retreated to the safety of home offices, and the way in which the world began to consume information changed dramatically.
From the onset, Mediavine has been asked for its thoughts on how this will affect not only web traffic in different categories, but the ability to monetize that traffic.
At Mediavine, we have the privilege of working with over 7,300 publishers in a variety of niches. With the last few months of data from those publishers under our belts, we can begin to analyze some of the changes to traffic habits as a result of COVID.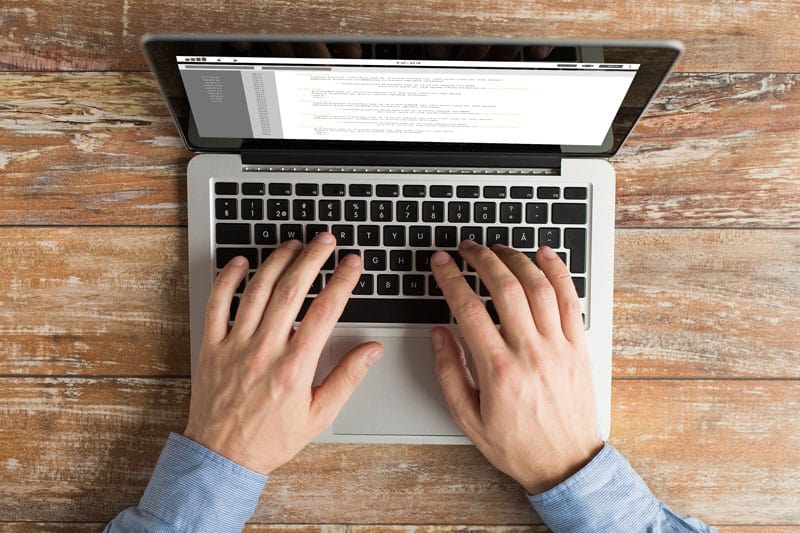 Mediavine's Director of Business Intelligence, Cynthia Butler, has joined me in providing you some pretty amazing trends using data we've compiled —information from an unprecedented period that tells a story of our changing world in an incredibly interesting way.
For our first "Behind the Numbers" post, we're looking at sessions — specifically, the number of sessions various publishers see on average per week, year over year.
This allows us to quickly analyze by category to determine if website traffic has increased or decreased compared to the previous year's averages.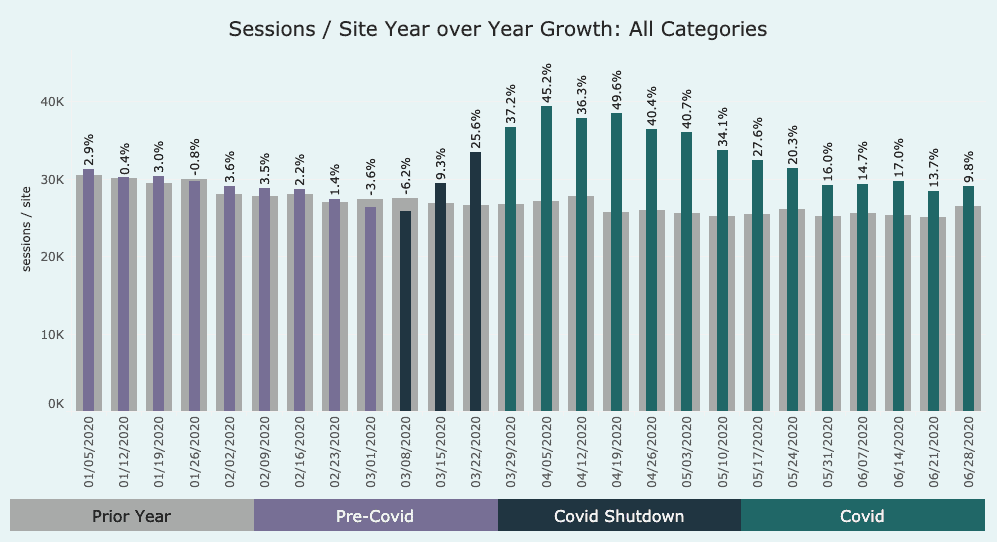 Using this graph, you can see that before the first wave of COVID-19 shutdowns in the U.S., year over year trends were pretty stable, showing around 0-3% growth overall.
The second week of March and the weeks that followed tell a much different story.
On average, our publishers saw a traffic explosion. More people at home meant more cooking instead of dining out, homeschooling was suddenly the norm, crafts spiked in popularity, home DIY projects became a necessity, and on and on.
The need for quality content on the web was at a premium, and it showed.
Family and Parenting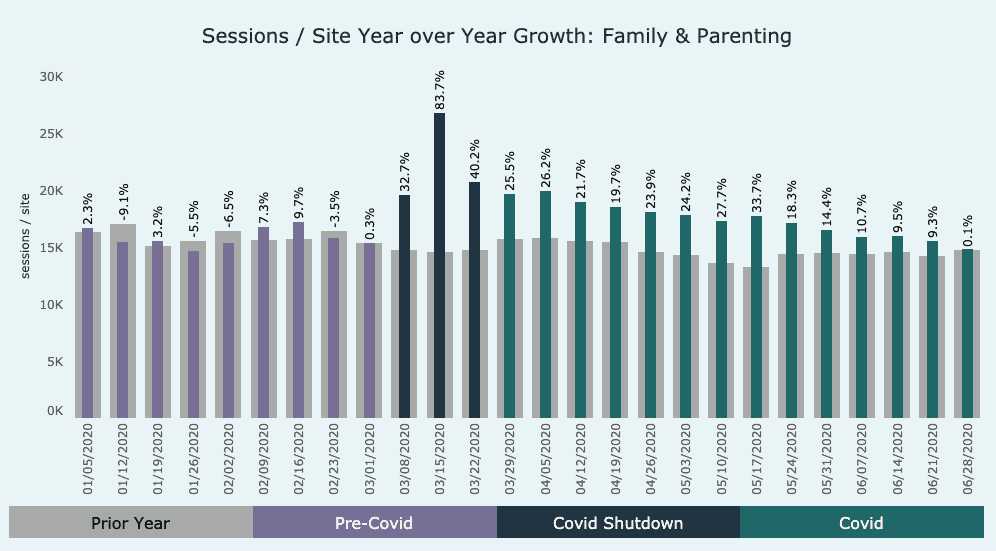 You can pretty much pinpoint the week in American life when we collectively said "we'd better find something for the kids to do for the next few months."
Traffic was up a stunning 83.7% year over year at the peak of Covid shutdown hysteria in mid-March, slowly declining ever since to approximately what we were seeing a year ago.
Now that summer is officially here, some summer camps are reopened, outdoor activities are increasing and the category is more or less in line with 2019 numbers.
What happens when the fall school year and cooler weather is upon us again remains to be seen, but March-June gave us an idea of what stay at home orders can lead to.
Food & Drink and Home & Garden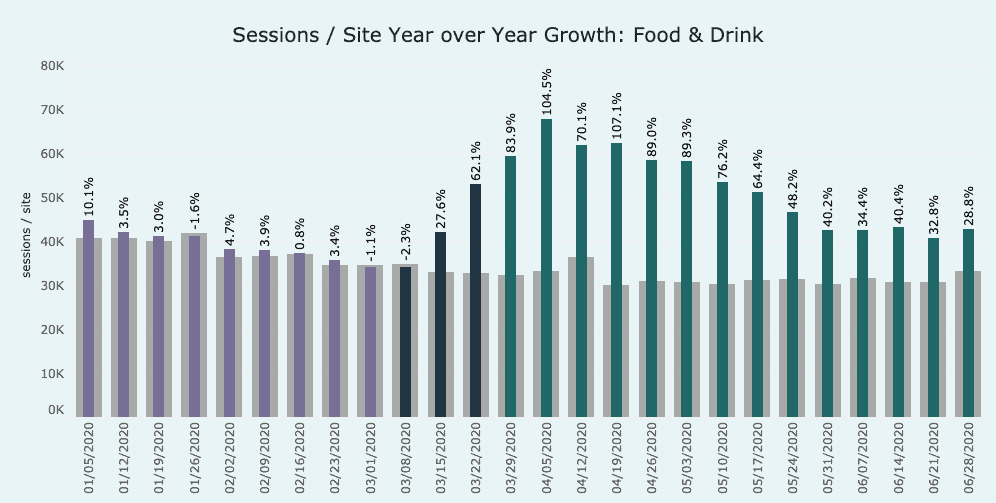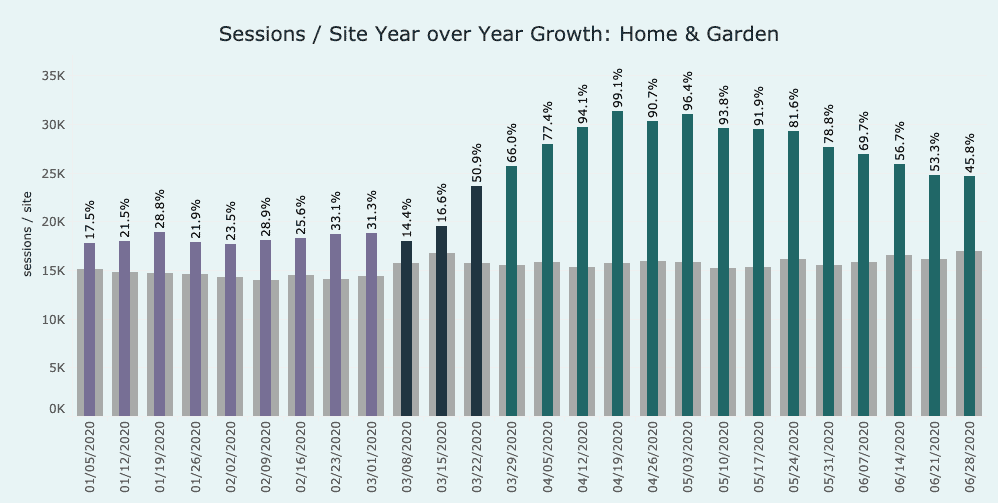 With fewer people willing to take the risk of venturing outside their homes for dinner, and more time on their hands to finally tackle those home repair projects, more and more online users sought out the knowledge and skills of our publishers.
Both the Food & Drink and Home & Garden categories peaked at more than double the traffic they saw from the same weeks in 2019.
The growth in these categories has shown some staying power, signaling that perhaps new lifestyles have developed as a result of spending more time at home.
Travel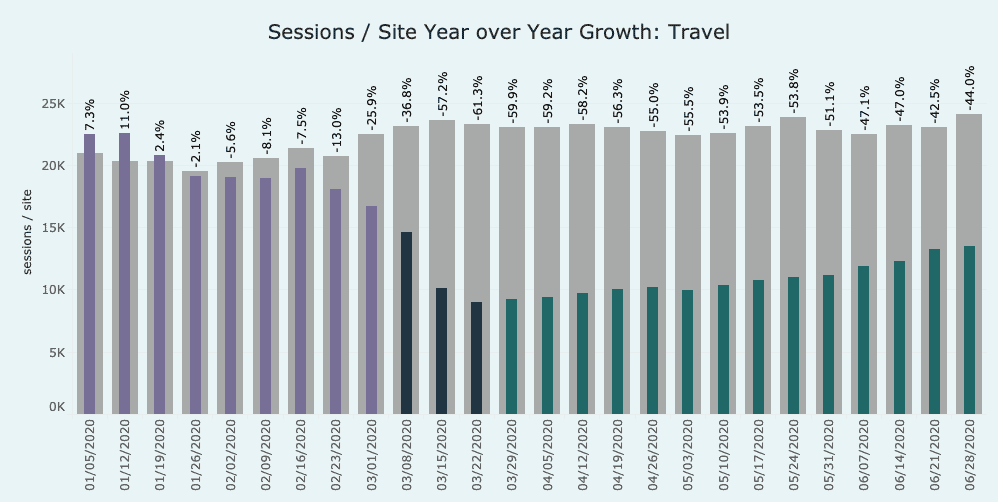 Unfortunately, if not surprisingly, the Travel category saw the most significant drop in sessions per site as borders were closed and the travel industry came to a near standstill.
We saw sessions per site bottom out near the end of March as widespread shutdowns went into effect and both domestic and international travel slowed to a fraction of a year ago.
The good news is that these numbers have finally begun to climb, but as you can see, it's slow going; they are still more than 40% down from this time last year.
It's a mystery how long it will be until we're truly living in a post-Covid world, but we can say for certain that when that day comes, everyone will need a vacation or 10.
So, please hang in there travel writers, because things will turn around, and when they do, your content is poised to make sure your earnings bounce back as well.
Conclusion
These are just a few highlights that scratch the surface, but they paint a clear picture of how internet users were consuming content during this strange time in our history.
We've included a fully interactive data table below, and invite you to poke around to see how different categories were affected since the beginning of the year.
Stay tuned for our next "By the Numbers" post, in which we'll take a deep dive into how publisher RPMs were affected by COVID.
Interactive Chart