Mediavine Confirmed as Google Certified Publishing Partner
Mediavine, a full-service ad management company for content creators that is renowned for its high viewability rates, mobile-first philosophy and video technology announced that it has been accepted as a Google Certified Publishing Partner.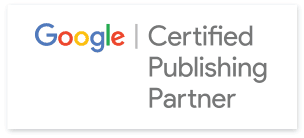 As part of the Certified Publishing Partner program, Mediavine was carefully vetted against rigorous qualification standards to prove its staff to be trained specialists on AdSense, DoubleClick Ad Exchange and DoubleClick for Publishers, all of which are key to helping publishers meet their goals. Additionally, Mediavine has demonstrated high levels of customer satisfaction by delivering over 70 percent ActiveView viewable advertising impressions network-wide through Google policy-compliant custom ad units, increasing average publisher ad load speeds by over 200 percent through asynchronous advertising tags, lazy loading and other site speed optimizations, and offering Accelerated Mobile Page (AMP) ad units and a custom video player monetized with Google's Interactive Media Ads (IMA).
The influencer network joins a roster of fewer than 40 companies from around the world to be listed as Google Certified Publishing Partners, and the addition marks the first time in over six months that Google has added a new partner.
"Google has long been one of our strongest industry partners. This relationship has been critical in helping our 2,000 properties meet their monetization goals," said Eric Hochberger, Co-Founder of Mediavine. "We are honored to be recognized by such a well-respected company as a leader in our field and are pleased to further solidify our relationship as a Certified Publishing Partner."
© 2020 Mediavine. All Rights Reserved.