Hagmann to Oversee Ad Technology, Supply Partnerships and Ad Operations in New Role
BOCA RATON, Fla., Aug. 15, 2023 — Mediavine, the largest, independent full-service ad management firm in the U.S., has announced the promotion of Brad Hagmann to Senior Vice President of Advertising Technology. This appointment comes at a crucial time as Mediavine continually works to stay ahead of shifts in technological and market trends while driving value for independent publishers and the industry.
Hagmann, who has been with Mediavine for almost 8 years, will now lead the ad technology project management and ad operations teams in this newly formed role. He was previously Vice President of Ad Operations at the company managing key relationships with Mediavine's demand-side and platform partners.
"Brad has been an integral part of Mediavine over the past 8 years and his ability to forge close relationships with our partners in ad operations has been indispensable," said Eric Hochberger, Mediavine Co-founder and Chief Executive Officer. "Brad's vast ad tech experience is a unique and undeniable asset to our company, and his promotion to SVP of Ad Tech within the revenue team will streamline our ability to work with both external partners and internally at Mediavine as we navigate the changes within our industry."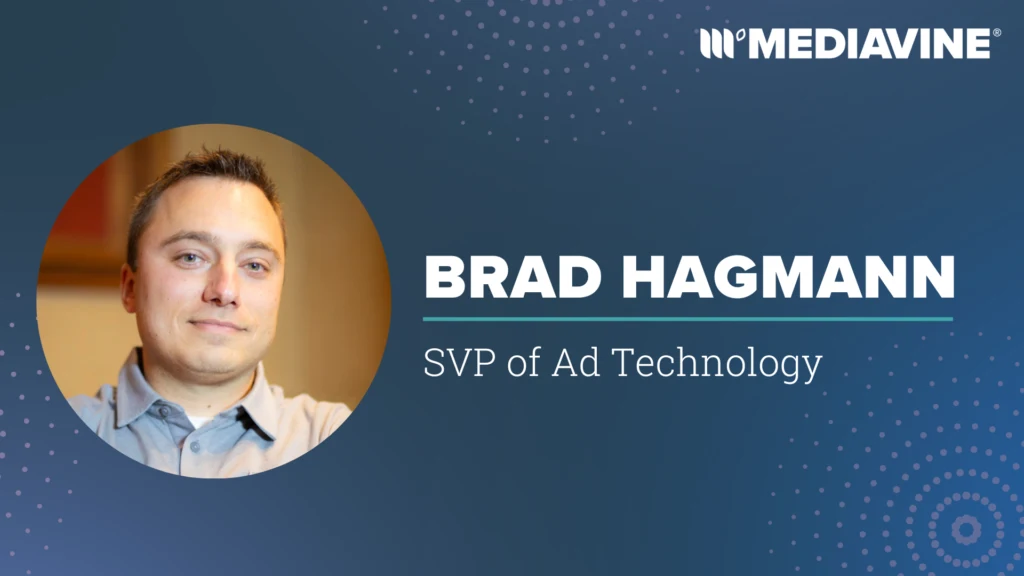 As SVP of Ad Tech, Hagmann and his team will join a newly formed Revenue department, which will include the company's sales team. The Mediavine revenue department, led by Amanda Martin, will have a singular focus on revenue, with ad operations, programmatic sales, key partnerships, and ad tech product management under one umbrella.
"With Brad at the helm of Mediavine's ad tech, supply partnerships, and ad operations teams, we're expertly positioned to continue supporting our programmatic infrastructure and key partners," said Amanda Martin, SVP, Partnerships & Business Strategy at Mediavine. "I'm confident that Brad's proficiency and leadership will enable us to provide consistent results for our partners as well as streamline opportunities on this newly formed revenue team."
About Mediavine
Mediavine is the largest independent full-service ad management company in the United States, exclusively representing and monetizing 10,000 publisher partner websites with 1.6 billion monthly pageviews in addition to its owned and operated properties. Mediavine proudly ranks as a Comscore top two lifestyle property with 150+ million unique monthly visitors and 17 billion monthly ad impressions. Mediavine is a Google Certified Publishing Partner – Premier, Great Place to Work®, Inc. 2022 Best Workplace, Fortune 2022 Best Medium Workplace, Ad Age 2022 Best Place to Work, and 2023 Inc. 5000.