Chrome Ad Filtering is Coming February 15, 2018. That's a Good Thing.
It's official. Chrome Ad Filtering, a.k.a. built-in ad blocking into popular web browser Google Chrome, is coming on February 15, 2018.
What do we do to prepare for this sweet, belated Valentine's Day gift? Let's begin by understanding what Chrome Ad Filtering is.
If you haven't ready our initial blog post on this new built-in ad blocker, we recommend doing so. The basic summary:
Chrome will automatically block ads that Google deems a bad user experience based on standards set by the Coalition for Better Ads.
If Google detects any ad violations while crawling your site, they will report them to you via the "ad experience" tool in Google Search Console.
You'll have 30 days to fix the issue or Google will automatically start blocking ads on your domain. If you're not verified in Google Search Console, do so immediately.
However, for Mediavine publishers, there isn't much to fear about this. If anything, it's something to get excited about.
All of our ad technology and any ad units we've created since the new standards were unveiled are compliant with the Coalition Better for Ads.
For example, our new video adhesion unit (in beta testing) is compliant in that it's muted and takes up less than 30 percent of the screen's height so it's not considered a Large Sticky Ad.
So what should you do if you're a Mediavine publisher?
First, make sure you're set up with Google Search Console on all variations of your domain, including the www, non-www, and the https (if you run SSL) versions of your site. Pay attention to Google if they report anything in the ad experience tool.
We do have three units that could potentially cause Coalition for Better Ads issues, including two legacy units we'll automatically be fixing for you.
1. Our mobile 300×600 ad
We currently allow larger 300×600 ads to compete alongside other ads in our auction on mobile. These ads have the potential to violate ad density rules, so we will be automatically disabling this unit in early January before the deadline. You can disable this unit now in your dashboard under ad settings.
2. Our old, deprecated desktop autoplay video player
While we killed autoplay in our video player over seven months ago, we still have some users running this old legacy player. In early January, we will be disabling sound on any autoplay desktop units and will be disabling Google Ad Exchange from competing to keep your site Google AdExchange and Google Chrome Ad Filtering compliant.
3. In-content ads
As we've mentioned, if you use our in-content logic, even at the highest setting, we overly space out ads to ensure your content-to-ads ratio is at least 70-30. You have nothing to fear.
If you've manually placed any content hints to adjust ad placements, please keep in mind the density rules and make sure your main content area contains 70% content to 30% ads.
If this makes you nervous, please use our built-in in-content logic, which will take care of this for you by removing any content hints.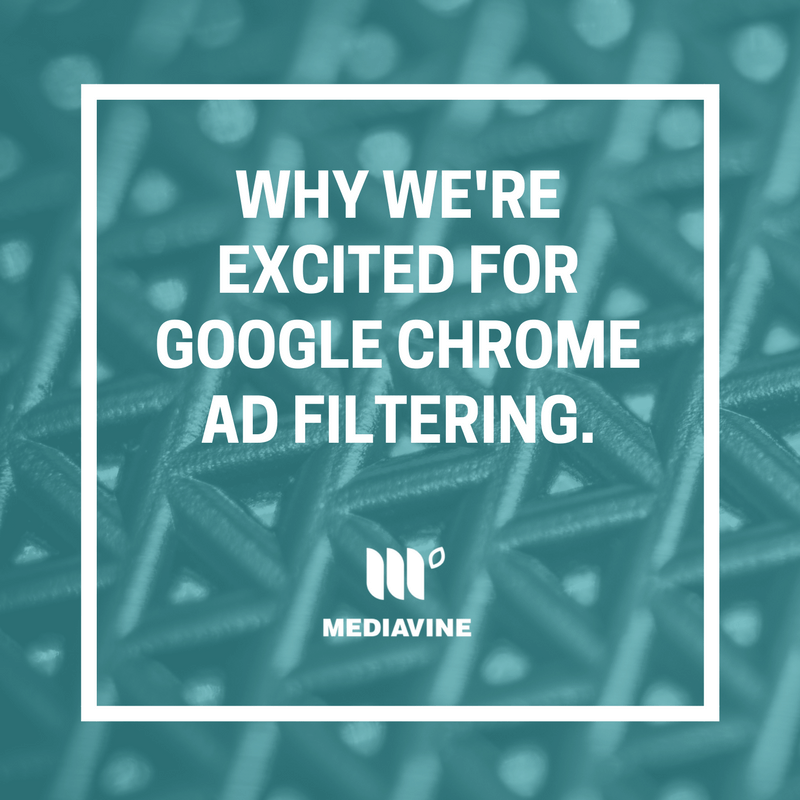 So why are we excited at Mediavine?
We agree with the mission statement of the Coalition for Better Ads, which is that bad ad units lead to users blocking ads. If we, and the digital advertising industry, embrace these standards and built-in ad blocking for the bad eggs that violate them, we can prevent future users from considering ad blocking in the first place.
We feel this is crucial to our industry's long-term survival, and are fully on board. If you're a Mediavine publisher, you probably are too. We've never been about maximizing every cent out of every page view. Helping you balance user experience and revenue so you have a long-term, sustainable and growing business is our goal, and this will only help.
© 2019 Mediavine. All Rights Reserved.