One of our most frequent questions is whether ads have an impact on SEO.
The answer is both yes and no, and it all comes down to speed (because search engines and even social media sites like Pinterest have said that speed plays a factor in ranking).
Yes — if your ads bring your site speed down.
No — if your ads are built for site speed, like Mediavine's.
Because our owned and operated sites sites rely on search traffic, our ad tech — that we run on our own sites — is built with SEO and site speed in mind. We would never want to compromise your traffic for the sake of ads.
But we want you to see it for yourselves. That's why we started our SEO Case Study series, so you can see how Mediavine ads have proven successful for publishers, time and time again.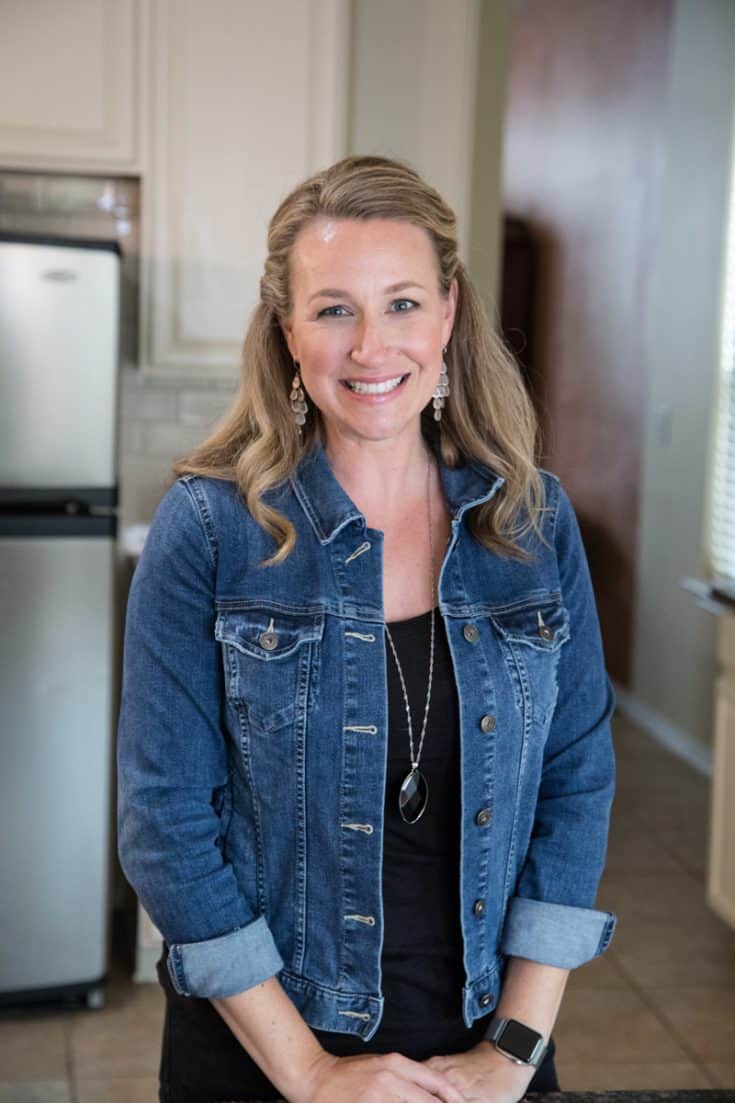 Today we'd like you to meet our publisher Erin Chase from $5 Dinners. She's going to tell us about how her Pinterest traffic had flatlined in August 2018, when she was with another ad provider, and how it stayed depressed until the day after she launched Mediavine ads in March 2019.
Welcome to the Mediavine blog, Erin!
Tell us more about $5 Dinners.
$5 Dinners website launched in August 2008, as a place to chronicle what I was feeding my family and how much my groceries cost each week. It's always been a place where people can find ideas, inspiration, and a community of like-minded frugal shoppers.
It started because I was trying to reduce our expenses, as I wasn't working at the time and the rising gas prices plus a long commute for my husband were pinching our budget. I made it my goal to cut our grocery spending in half with a combination of meal planning, smart shopping, and a little bit of couponing.
I started sharing about it and it went bananas quickly, because apparently we weren't the only ones feeling the money pinch. Within a month, we had 1,000 visitors a day and it grew quickly from there.
What made you come to Mediavine for full service ad management?
I had always been with "top ad networks" because of my high traffic.
In November 2017, my site was flagged and eventually banned by Google for bot traffic – even though we couldn't see it on our end, or trace that claim to a source. Unfortunately, my former host didn't catch the issue in time and Google stopped bidding on my site.
This had a significant impact on my revenue and I was told I had to ride it out and it was what it was. No fighting, little assistance, and pretty much brushed under the rug.
At this point, the main focus in my businesses was our product suite, so the $5 Dinners blog took a backseat. In part because of frustration from this getting-banned experience and in part because I'd rather push traffic to my own products that would generate significantly higher revenue than my new low-payout traffic for ads.
I would check traffic here and there, but have never been a "daily traffic stalker" – for a variety of reasons, so I completely missed what happened next.
In August 2018, the $5 Dinners website was hit with what I thought was the Google algorithm. Over the years, we hadn't really seen a big drop from a search algorithm update so I figured it was just our time. After the drop, we made some tweaks and updates here and there and just chalked the loss up to the search algorithm update.
Fast forward to February 2019 and after some chats with Amber (we live in the same city!), we decided to try and move the site to Mediavine. (P.S. My traffic was never "dirty" – I had 5 experts try to find the source and they never found anything! So who knows!)
On March 11th, I made the leap and all the magical code swaps happened and Mediavine ads took over the $5 Dinners website.
Immediately, I saw a giant jump in traffic – both search traffic and Pinterest traffic. (You can see for yourself below.)
You see – what I hadn't noticed in my traffic analysis from August 2018 loss was BOTH Pinterest traffic and search traffic had suffered. As I studied this more and did a year over year comparison of traffic, I kicked into amateur sleuth mode and began investigating.
And I was completely shocked by what I discovered. And beyond mad at myself for not seeing this earlier.
What really happened in August 2018? I backtracked through my notes, and my email, and finally found it. The only thing that happened that month? My former ad network turned on their video player.
It never was the Google search algorithm update – that I naively blamed.
So what happened after I switched to Mediavine…
What impacts have you seen in the switch?
If these two images don't communicate how Mediavine ads have helped the site speed, I don't know what else could.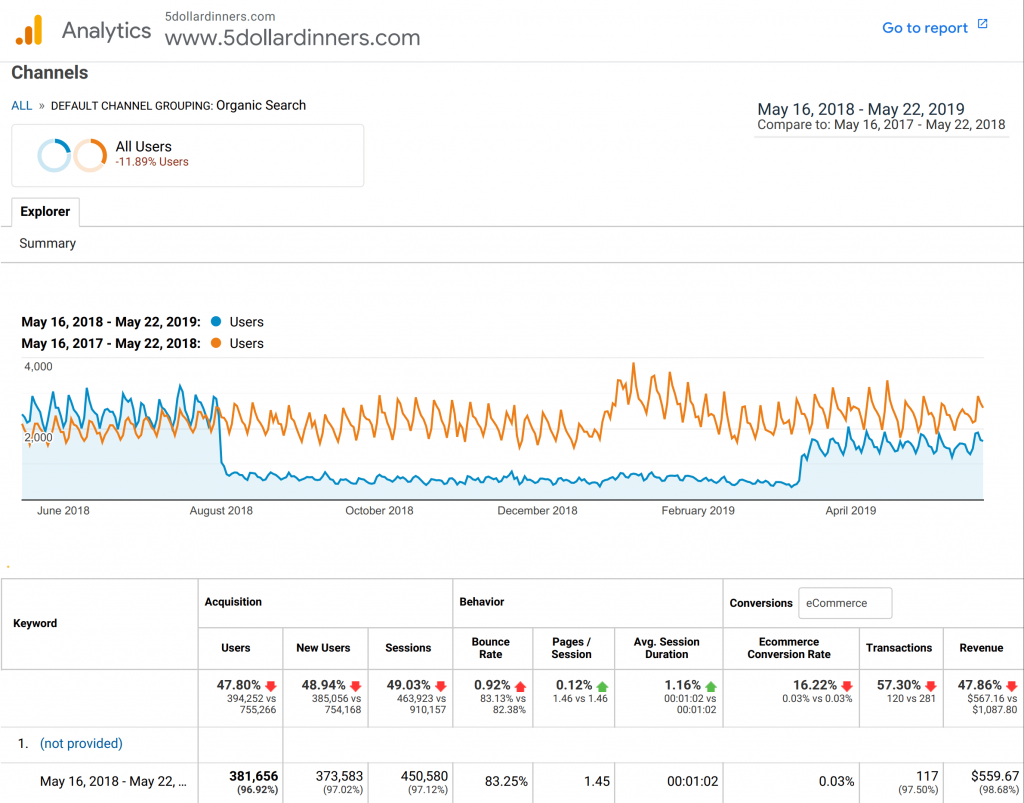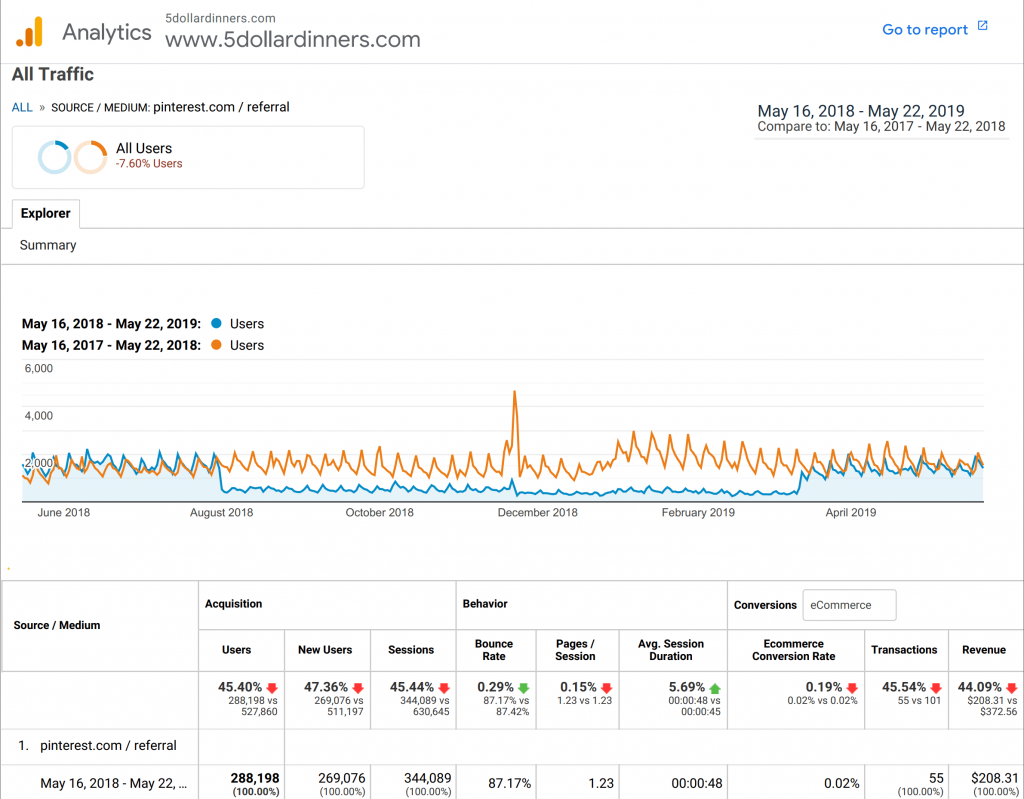 On August 1, 2018 the video player from my former ad network was turned on. Site speed tanked, therefore search and Pinterest tanked.
On March 11, 2019 we switched ad code to MV and made a few updates to our Pinterest strategy (these 2 things randomly happened on the same day) and combined the traffic did a nice little hop – and so has revenue 🙂
How has this changed your business?
It's put an extra pep in my $5 Dinners step, as I've been re-energized in working and updating the parts and pieces that need fixing and moving towards my goals!
Do you track any metrics that might be specifically interesting to someone considering Mediavine?
I have dramatically changed my metrics tracking processes. I kicked my own rear end for a few weeks after discovering all of this. But honestly, I'm not sure if I'd have ever made the connection had it not been for switching over to Mediavine and being lead down the investigative path as part of the optimization process.
I think the key with metrics – as evidenced by my path to discovering all of this – is to view the lines by week, by month, by quarter, by year – and compare year over year.
It's easy for us to fret because "my traffic is tanking" – because we're only looking at the past week or two, or even the past month. Slow down and look at it from a higher level, and a longer time frame. Then use that information to make smarter choices about what content you are adding, what you are updating, and how you can improve site traffic overall.
The Mediavine company mission statement is building sustainable businesses for content creators. Have you seen this enacted in your dealings with Mediavine and how has that impacted your business?
10,000%. From the top down, Mediavine has shown this both to me and to others in the MVP community!
Subscribe for Updates
Stay up to date with the latest from Mediavine