Optimize Ads for Mobile PageSpeed: Introducing Our New Dashboard Setting
Despite phones getting faster and cellular connections improving by the day, optimal mobile page speed is far from guaranteed in this digital age.
Many of us take reliable service and lightning speed for granted on our devices in big cities and in developed countries, but most of the world (and large swaths of the U.S.) is still dependent upon slower connections when accessing the Internet.
Short story: Mobile page speed is still a thing – one that Google has doubled and tripled down on.
The company announced in March that it would switch to mobile-first indexing of content. By July, it implemented its "Speed Update" everywhere, focusing on mobile users.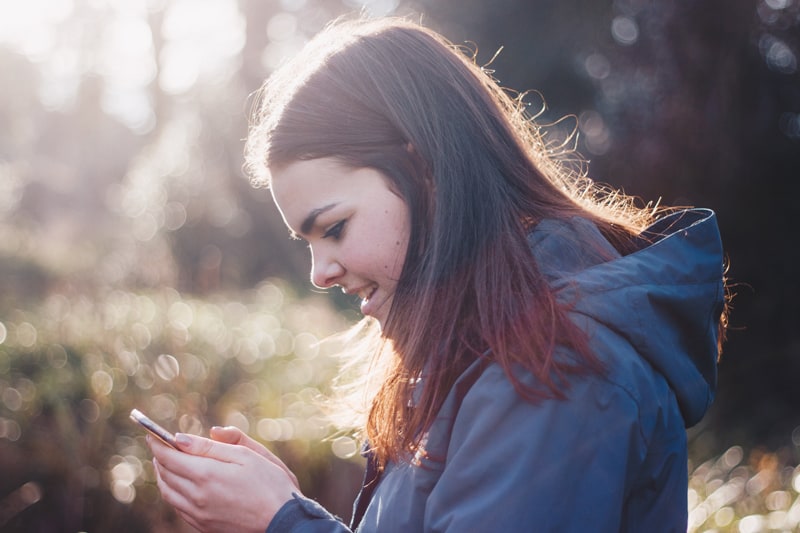 But it's December … Why Are We Bringing This Up Now?
On November 12, Google upped the requirements of its PageSpeed Insights by using its open source tool, Lighthouse, and data from the Chrome User Experience Report to power it.
In the past, Google measured how quickly your visible content loaded in the first screen view. Now they're looking for how quickly your first screen view is fully interactive.
That change may sound subtle, but it changed everything.
Sites that followed the advice of PageSpeed Insights and were achieving perfect scores saw their numbers plummet from the 90s to the 30s virtually overnight.
We've received official confirmation from Google that the new metrics in PageSpeed Insights are the company's new, stricter standards – and they're here to stay.
Obviously, this is not something we can ignore.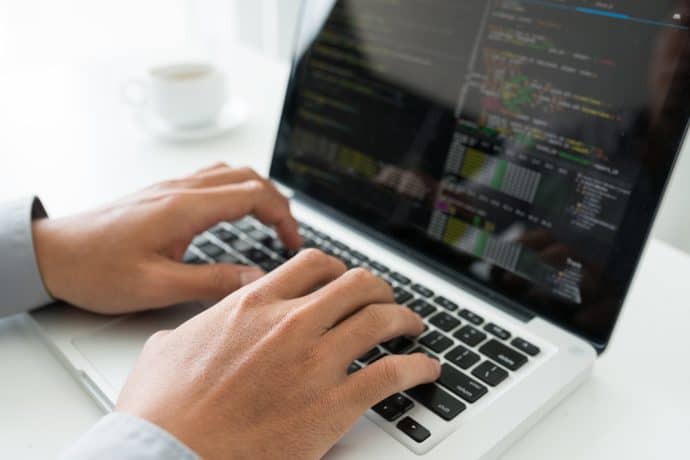 Optimize Ads for Mobile PageSpeed
First, as your ad management company, we need to make sure we're not the cause of your low page speed scores. Our lazy loading ads were an amazing starting point, and are still recognized by Google as the preferred way to load ads.
But that's no longer enough.
Being the fastest ad management provider based on the old standards isn't enough for these new metrics, so we're releasing brand new, patent-pending technology today that allows publishers to optimize ads for mobile page loads.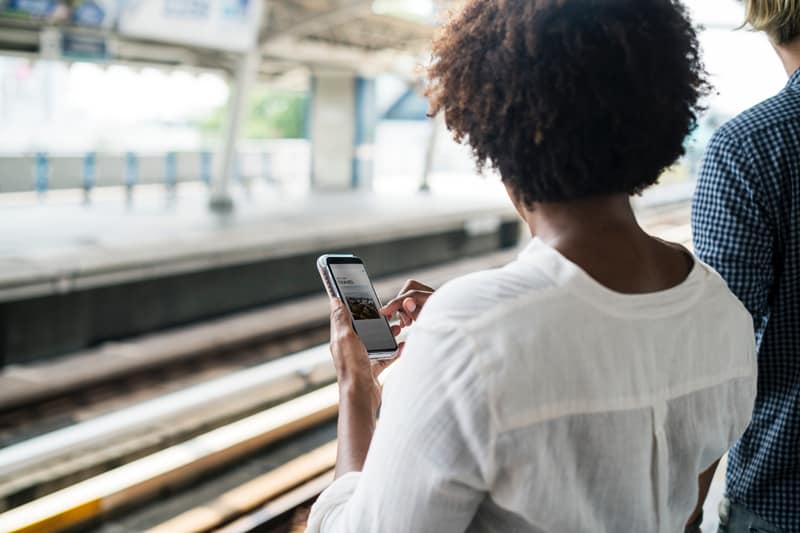 It's All in the Name
Yes, Optimize Ads for Mobile PageSpeed does exactly what its name suggests. But how?
Our proprietary technology delays ads from loading until we detect a user has become interactive, allowing web browsers to focus on loading just your content as quickly as possible.
This new and unrivaled technology has been tested against Lighthouse, Webpagetest.org, Google Analytics, Chrome User Experience Report, and Google PageSpeed Insights.
In all cases, it has enabled a thoroughly optimized site to achieve perfect scores, assuring that you'll score well no matter what tool Google uses for its rankings.
For example, you can see that The Hollywood Gossip now scores 90+ on both its homepage and any article page on mobile, while still running the full slate of Mediavine ads.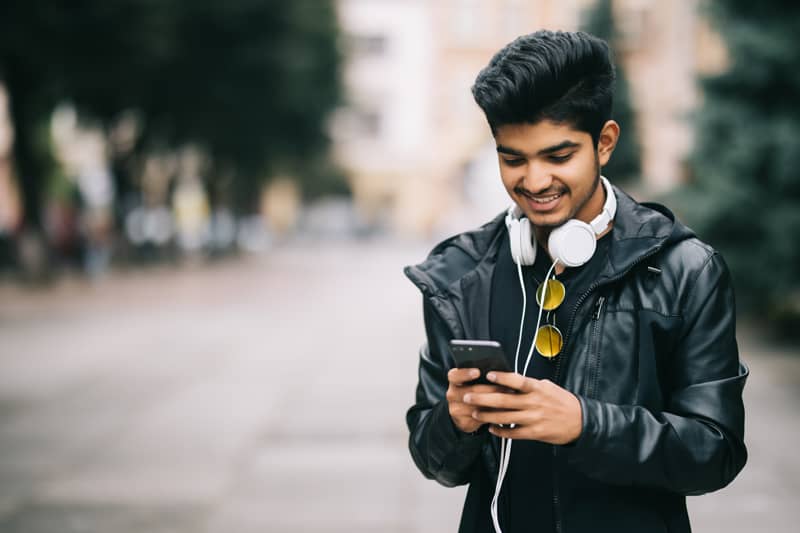 How Do I Enable This?
Very easily. You can enable this new feature by simply checking the box in your Dashboard under Ad Settings labeled "Optimize Ads for Mobile PageSpeed."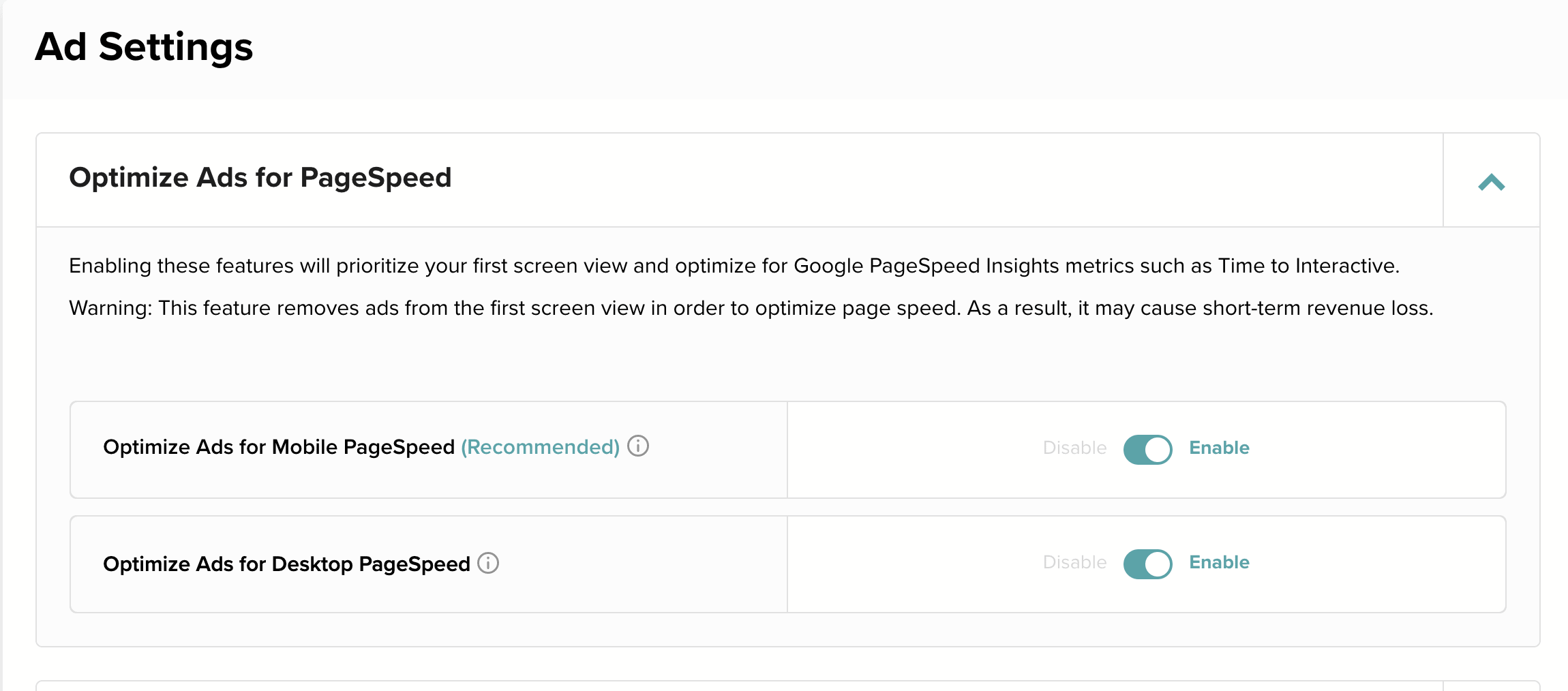 Why Isn't it the Default Setting?
Marginally delaying load times of your ads could, in theory, have a negative impact on RPMs in the short term. We would never force publishers to adopt a feature that reduces earnings.
However, we've found that on fully optimized sites such as The Hollywood Gossip, Optimize Ads for Mobile PageSpeed can actually result in more impressions due to lower bounce rates, leading to an increase in revenue despite the slight decrease in RPM.
Note: It's not just about RPM! That's obviously an important measurement of ad performance, but traffic and total revenue are more important. If you optimize your site and concentrate on the big picture and the right metrics, it's a win-win situation.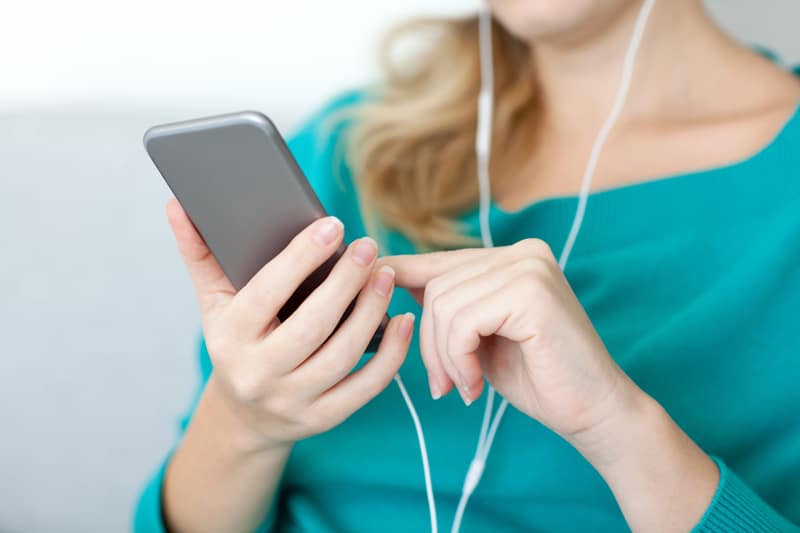 Why Mobile Only?
Much like Google's index, we're mobile-first at Mediavine.
Anything we build, from our patent-pending mobile video adhesion to this supercharged PageSpeed mode, is designed with mobile traffic in mind. Around 80 percent of users consuming content on Mediavine sites use mobile devices to do it, and that number will only increase.
Plus, when it comes to page speed, mobile needs it more.
Desktop users tend to use broadband connections and more powerful devices. As we said above, the effectiveness of cellular connections and phone processors varies greatly.
In short, mobile traffic needs more help leveling the playing field than desktop. We will be looking at desktop next, but improving mobile first will make users and Google happiest.
Update: As of 2/19/2019, we now offer this feature for Optimizing Ads for Desktop Page Speed as well!
Stop! You're Not Done Optimizing Yet!
If only it were that easy; The Hollywood Gossip didn't even cross the 50 mark by following ALL of the old PageSpeed Insights suggestions and enabling this new feature.
Every site at Mediavine should reexamine its page speed strategies in order to hit these new metrics. Some of the new optimizations you'll have to make?
For one thing, optimizing images is no longer enough.
In addition to optimizing images, you have to ALSO lazy load them (yes, we allow lazy loading of images as you're not lazy loading iFrames!). That's right, you have to do both.
Moreover, you no longer just have to make your JavaScript asynchronous, it has to LOAD faster as well. That means reducing JavaScript and only loading the JavaScript required to make your first screenview load at the time the page loads.
Inlining the critical CSS needed to render your first screen view is no longer enough. You must also eliminate any unused CSS on that page that's delaying page load.
As for external fonts, you'll need to make sure your first screenview can even show text before those fonts load. All of this sound crazy and intimidating? It is.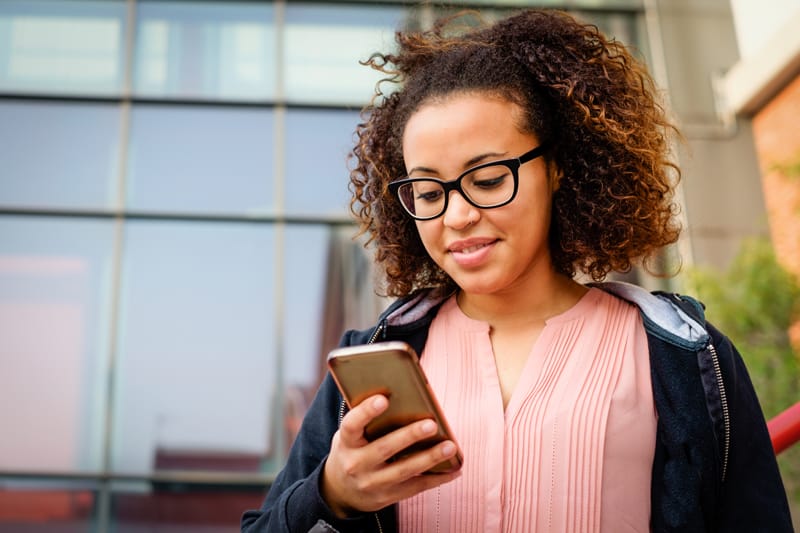 How Do You Do All of That?!
If you're running on a custom CMS or theme like The Hollywood Gossip, it takes a lot of work. It is certainly possible, though, with the help of a dedicated technical person and by following all of the guides set forth by Google.
If you're a smaller publisher running WordPress, we're honestly not sure if this is currently possible with the state of themes and plugins as we know them.
Sadly, that's over 90 percent of sites at Mediavine, and we want to make this possible for all of our content creators to build and maintain sustainable businesses.
Not to fear, though. We are on it.
Behind the scenes, our engineers are already working on new frameworks and solutions for WordPress bloggers that will utilize the same technology as The Hollywood Gossip. We'll have more information on these tools for you early next year!