Introducing the Mediavine Video Adhesion
At the end of December, we debuted our exclusive patent-pending video adhesion player. We're so excited by this new player, we're declaring 2018 the year of video with this being one of the biggest drivers.
What is the video adhesion player?
The video adhesion is a mobile native experience that showcases your latest videos to users, while giving you a chance to monetize with high paying video ads on every pageview.
It takes the place of our usual mobile adhesion banner ad at the bottom of your page, with high-paying video ads playing in front of your latest videos. It will only run and replace the display banner ad if we have a high-paying video ad, so you won't see it on every page.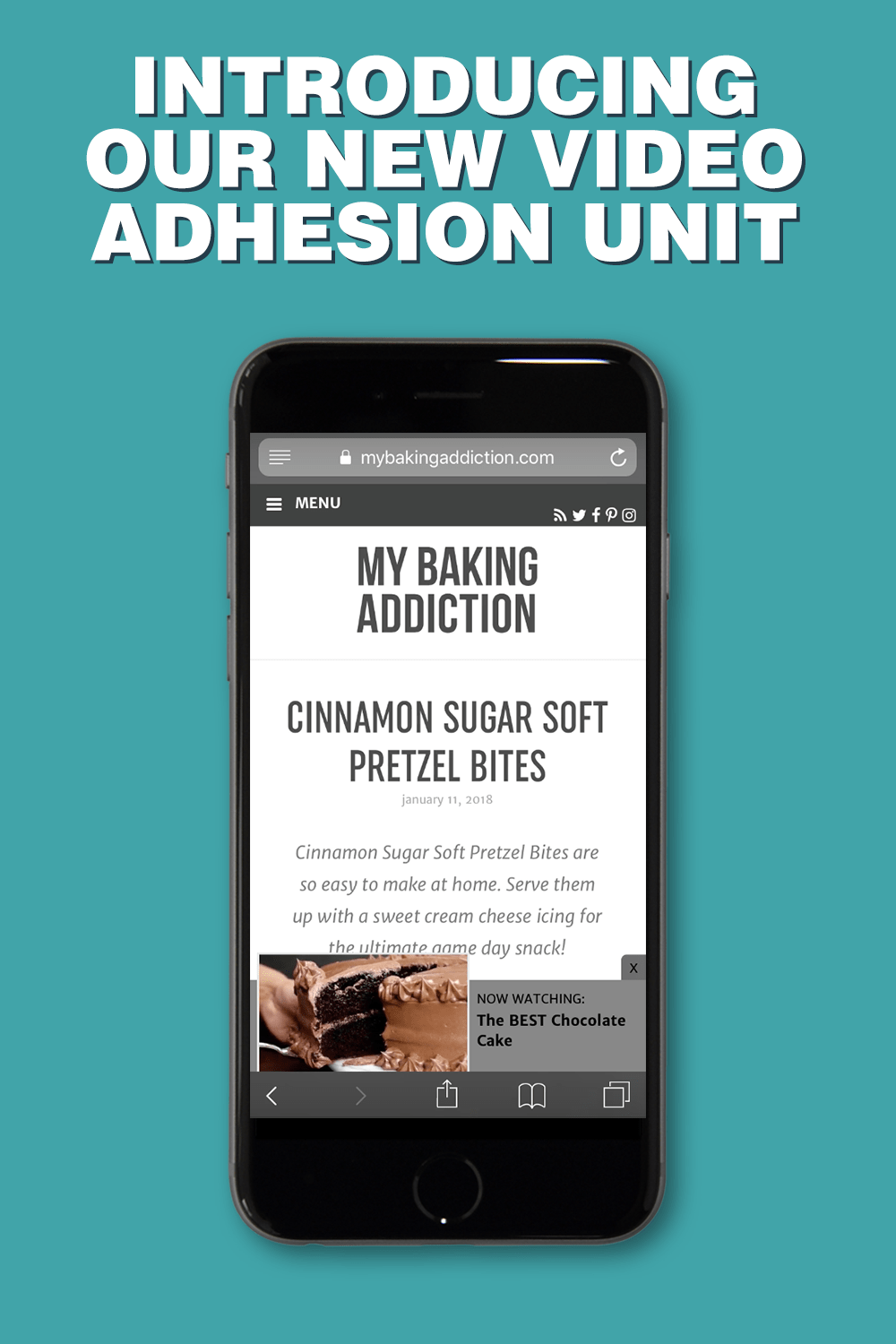 Why are we so excited about it?
The video adhesion hits the perfect trifecta. It balances the publisher's needs to monetize their videos, hits advertisers' goals for campaigns and is actually a great viewing experience for the user. There's a reason this is our first piece of ad tech to receive a provisional patent.
So how does it achieve all this?
The User Experience
Autoplay is the worst when done incorrectly. There's a reason we killed autoplay from our traditional player.
However, when done properly, autoplay can be a good user experience. Think about browsing your Facebook feed and seeing videos start to play. We think our video adhesion strikes a similarly good balance.
The video adhesion showcases one of your recent videos, while getting out of the way of the user experiencing your website. It's virtually the same size as our typical display adhesion and provides useful content to the user with a look that matches your site, unlike an ad.
Advertiser Goals
With videos, advertisers use all sorts of data to measure engagement. They're looking at viewability (was their ad seen), completion rates (did they watch the whole thing), and click-through rates. By having a sticky unit that scrolls with the user, we're able to provide a highly viewed ad. With the tease of the upcoming, relevant content to the user, we're also providing a reason for the user to watch the ad, resulting in higher engagement.
It's a unique buying proposition that requires some advertiser education (remember, there is nothing quite like this), response has been incredible so far, and the ad dollars will follow.
Publisher Performance
As publishers, we know you spend a lot of time, money and effort creating videos. They're some of the toughest content there is to create. It's time to get paid for that hard work.
The average click-to-play players only see about a 2-3 percent click through rate, meaning for every 1,000 pageviews, you were only getting 20-30 views. That's not giving you the return on investment you need.
The video adhesion, meanwhile, is a game-changer in that it has the potential to show a video view on every single mobile pageview.
We're seeing revenue nearly five times higher on the video adhesion than a typical display adhesion, with CPMs and fill rates that should only improve.
The Future of the Video Adhesion
We still consider the video adhesion to be in beta, because we have a ton of additional features we want to roll out including playlist support, better user controls, faster load times and better monetization.
However, we recommend you start using it now. Since the video player defaults to the regular display adhesion if there isn't a video ad to show, it's a no-lose proposition.
We think the video adhesion is going to be one of the biggest boosts to Mediavine RPMs this year, so if you're not running it, we recommend trying it soon!
© 2018 Mediavine. All Rights Reserved.