What is Google Trends and How Do We Use It?
Do you know about a product called Google Trends that is really pretty awesome?
Let's talk about what it is, how to use it and how it can help you improve your content strategy.
This feature can show you how frequently a given keyword or keyphrase is entered into Google. This in relation to the engine's overall total search volume over your set period of time.
This free tool can be used to discover times when a search term might be more relevant (think "back-to-school" or "best Christmas cookies"), or when doing more general keyword research.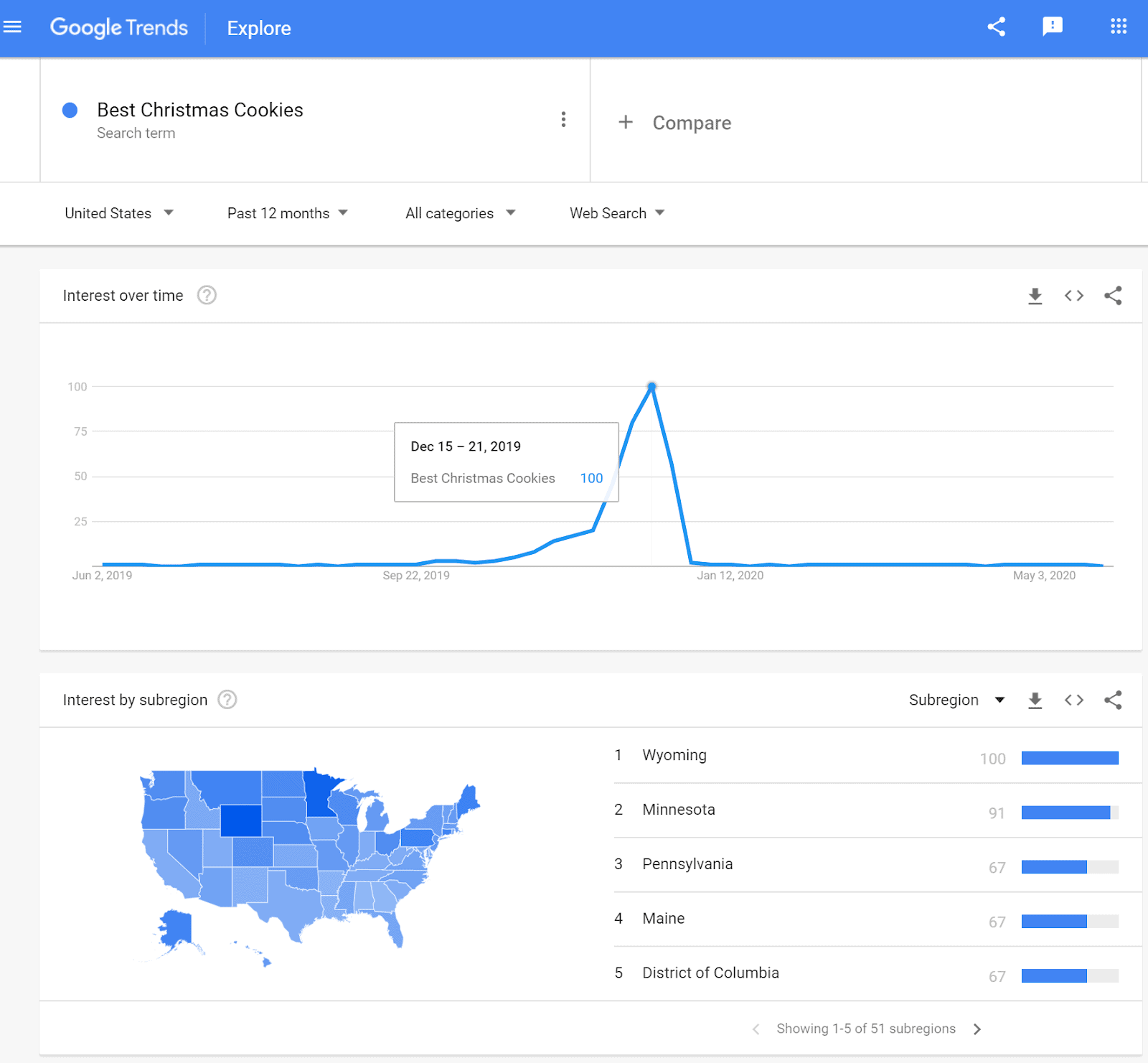 It will help you "explore what's top of mind for your readers and users, and figure out how to potentially adjust and develop content to meet their expectations," or so says the handy PDF Google has provided for us to share with you.
Other SEO tools can guess, using analysis of results, but this is data directly from the search engine itself!
How To Use Google Trends
Trending Searches is a fun landing page that covers both daily trending search topics and real time trending search topics. While oftentimes they overlap, there are definitely some unique terms in each section.
You can dig further by clicking on the term in the list, or by entering that term into the search box.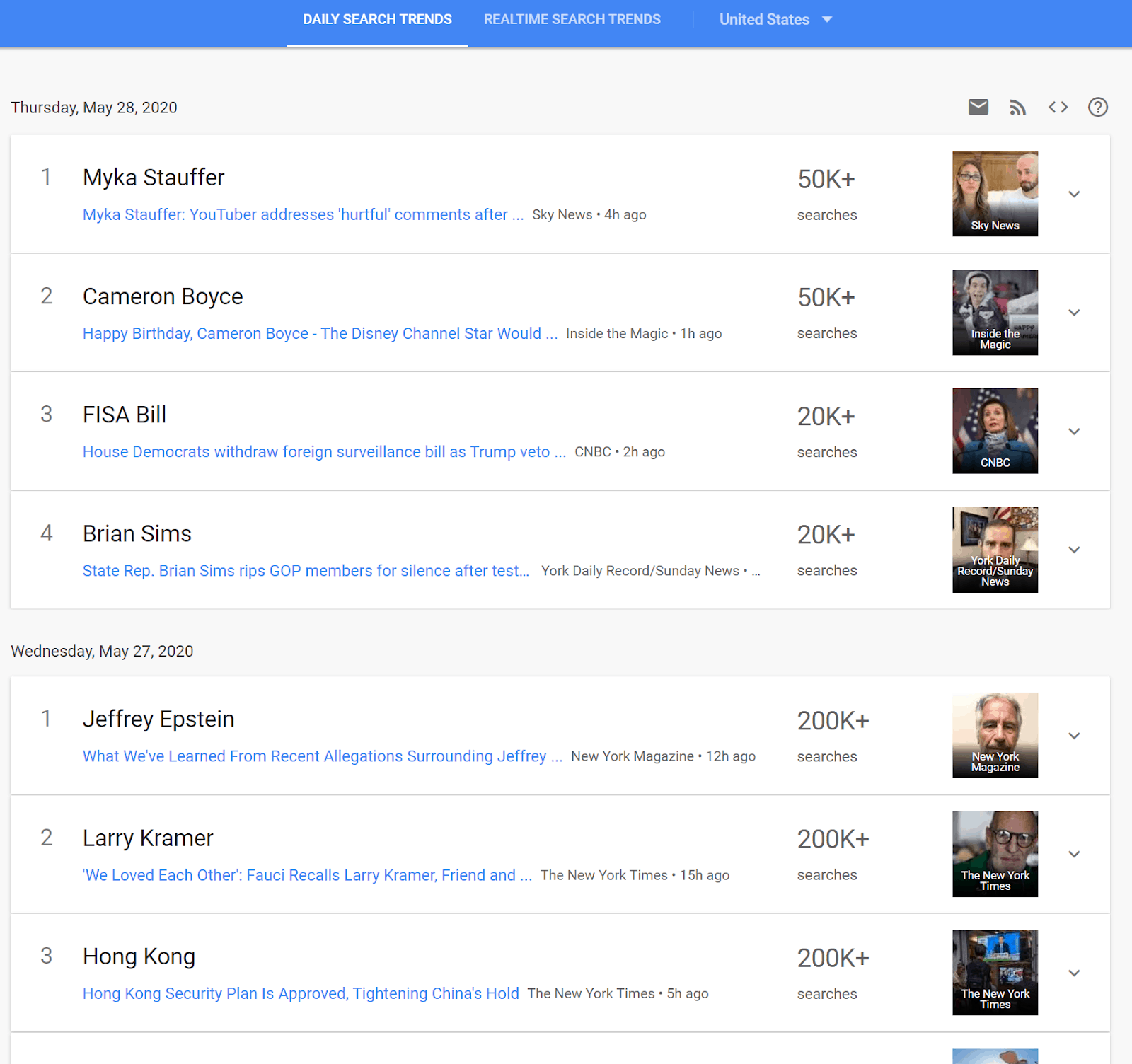 To investigate a unique term, start by typing it into the search bar.
You can define the country, date range (you can even go back to 2004!), category (think Food & Drink or Travel) and the type of search; you can get results for Image Search, YouTube, Google News or Web Search.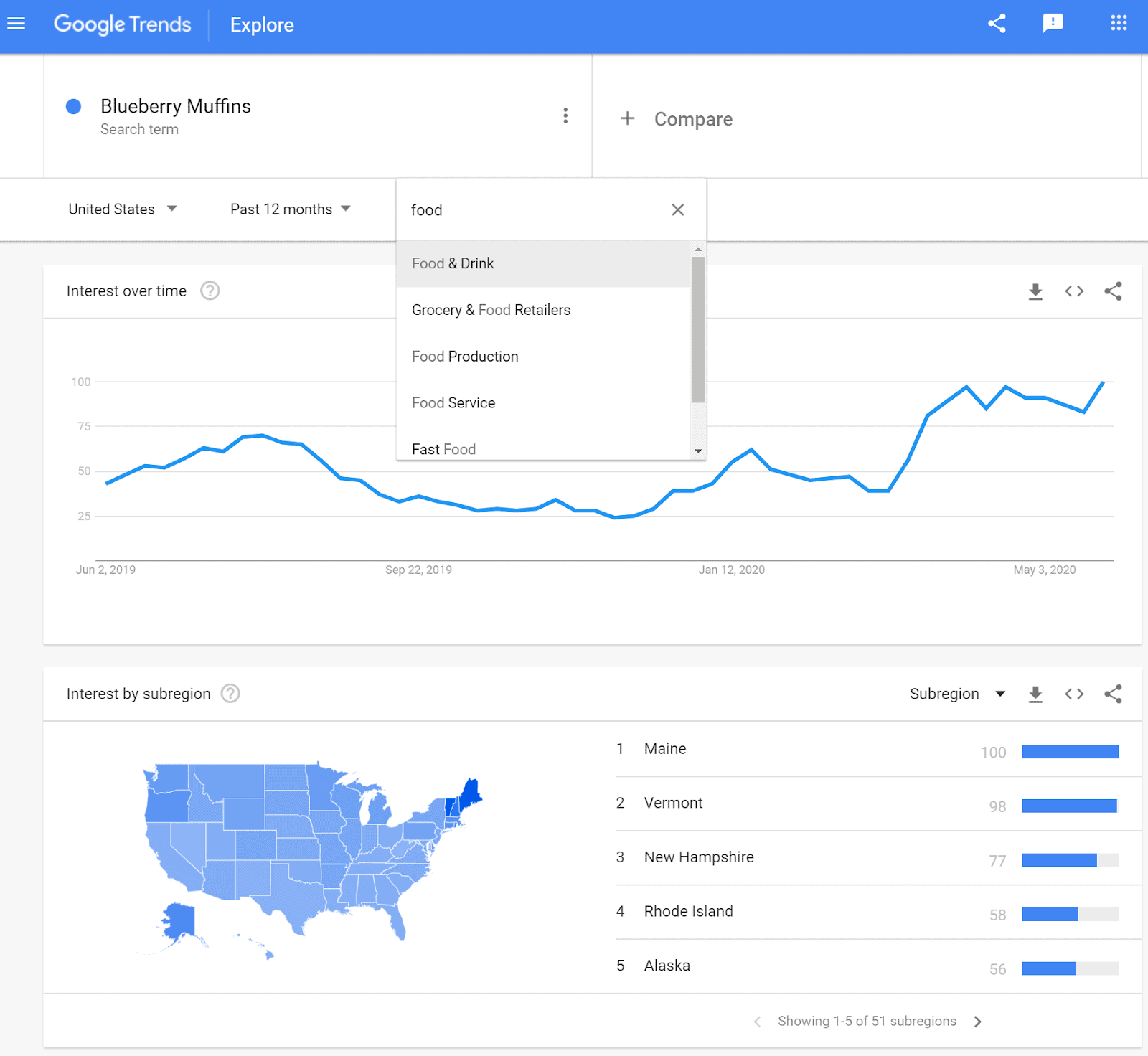 Changing the options will allow you to dial down into a level of data that allows you to plan for each type of search traffic you want to target, which is extremely useful.
You can even search for two different terms to see how they compare over the same time frame, like "Blueberry Muffins" and "Lemon Blueberry Muffins", which could help you decide what to name your recipe.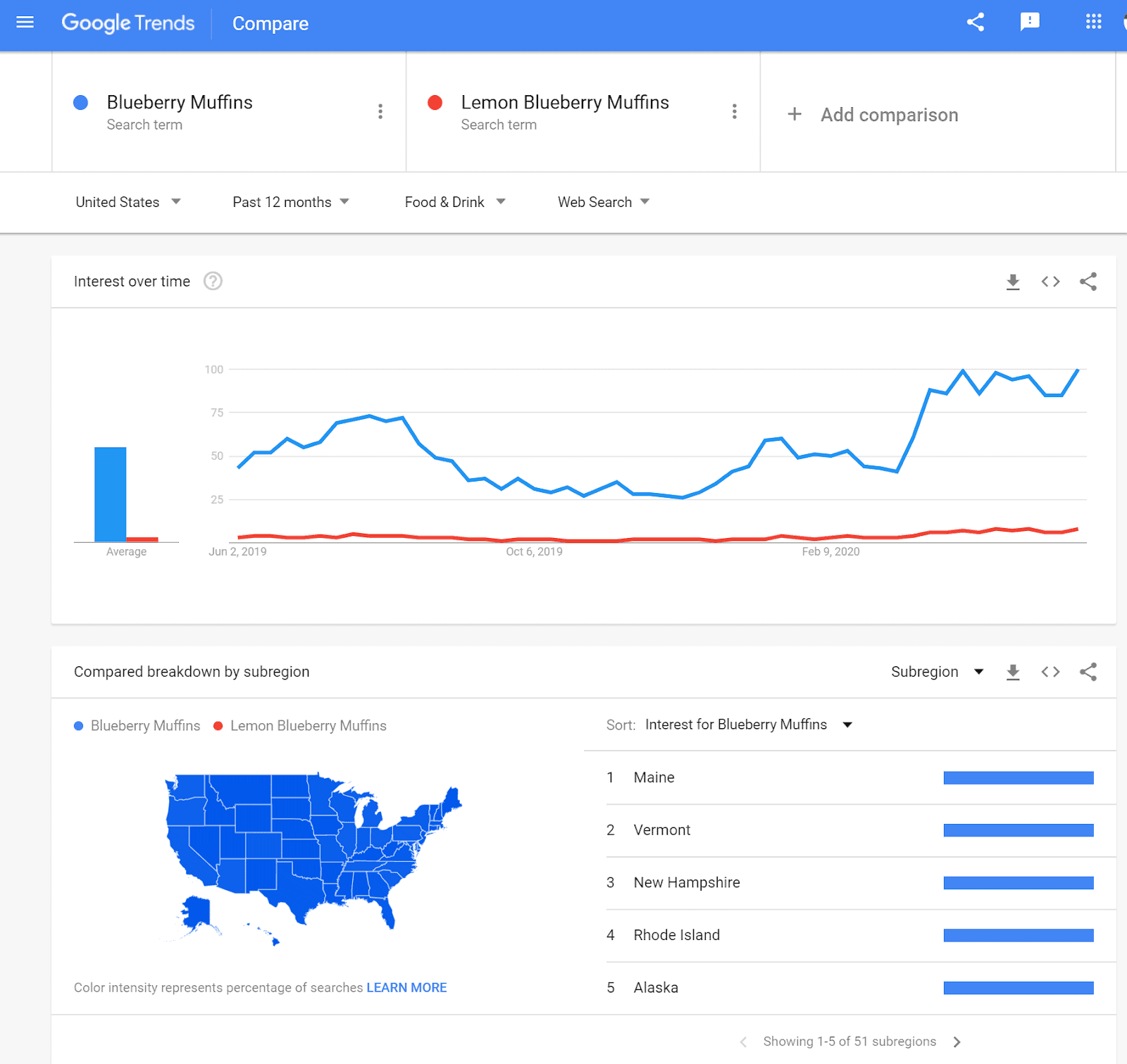 As you scroll down the page you'll also notice "related topics or queries", which can help you find additional topics to target or compare with.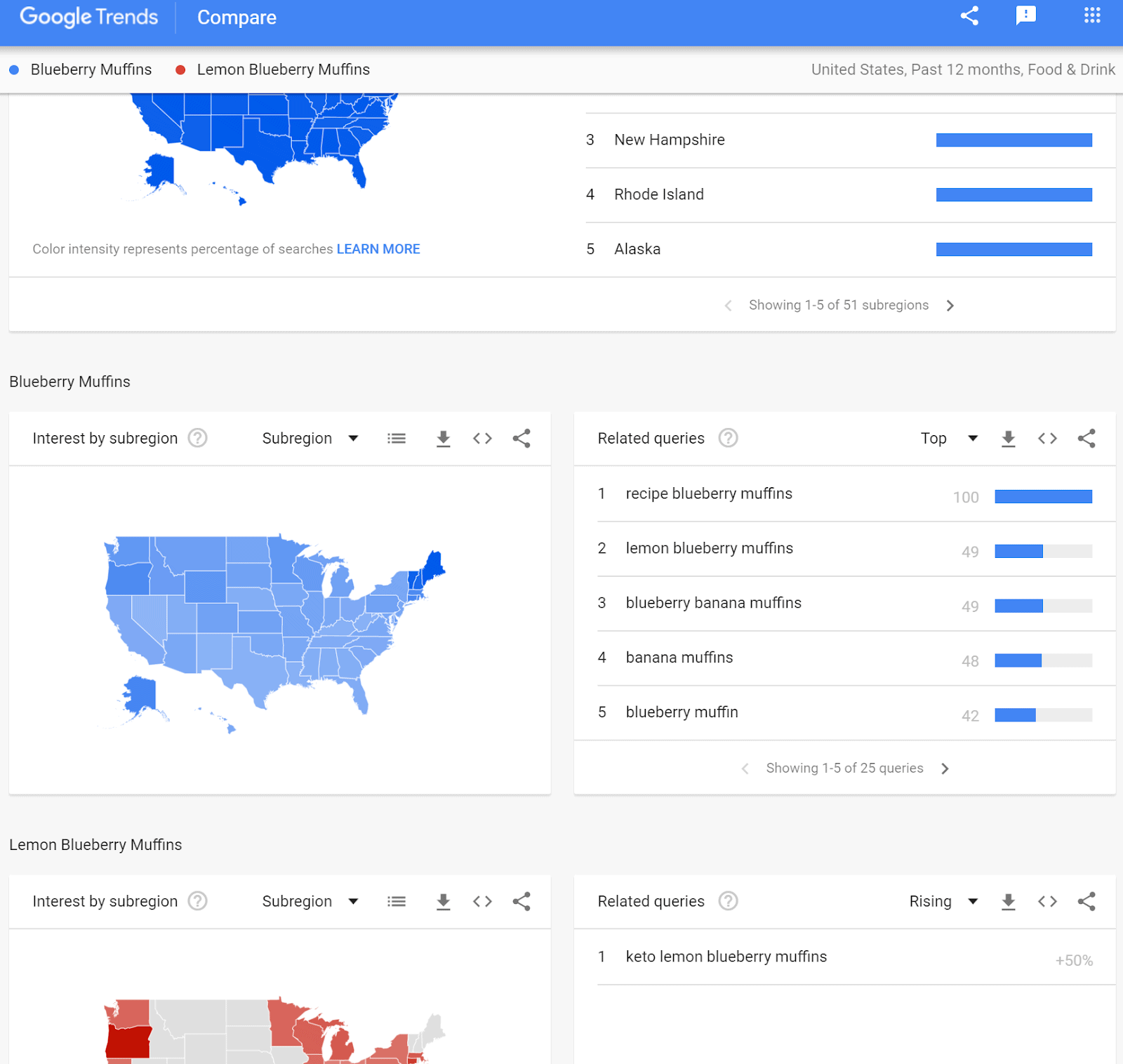 You're also able to switch between "Top" and "Rising" related queries, which can give you insight into terms that are seeing more search related to current world events.
In the example above, you see that when looking at "Top" related queries over a 12 month span in Food & Drink, the term "Sourdough Blueberry Muffins" does not appear.
However, when we switch to "Rising", you can see that based on current events, "Sourdough Blueberry Muffins" has seen a 200% increase in search queries.
You could quickly create new content around this term and potentially grab some timely additional search traffic, especially if you've already established yourself as an authority in blueberry muffins.
Maybe it's just my social feeds, but it feels like in the time of COVID, everyone and their brother has a sourdough starter on the go. It's the Tamigochi of 2020.
Other really interesting features of Trends are the ability to see differences in searches based on punctuation, and using the "Worldwide" option in the location dropdown to ascertain how different countries around the world search for different terms.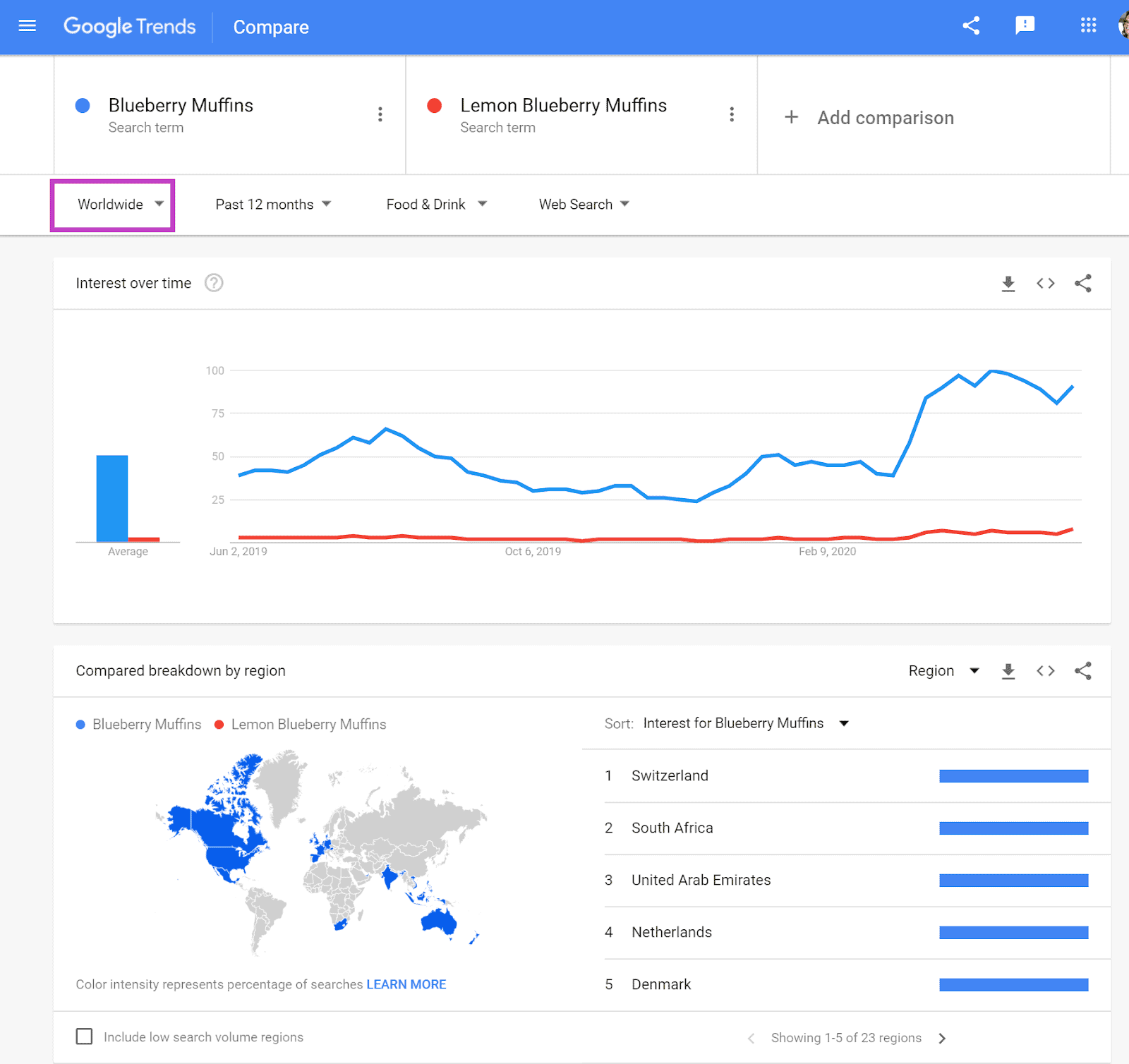 When you hover over a region in the map, it'll show you more details about that region's searches for the terms you're researching.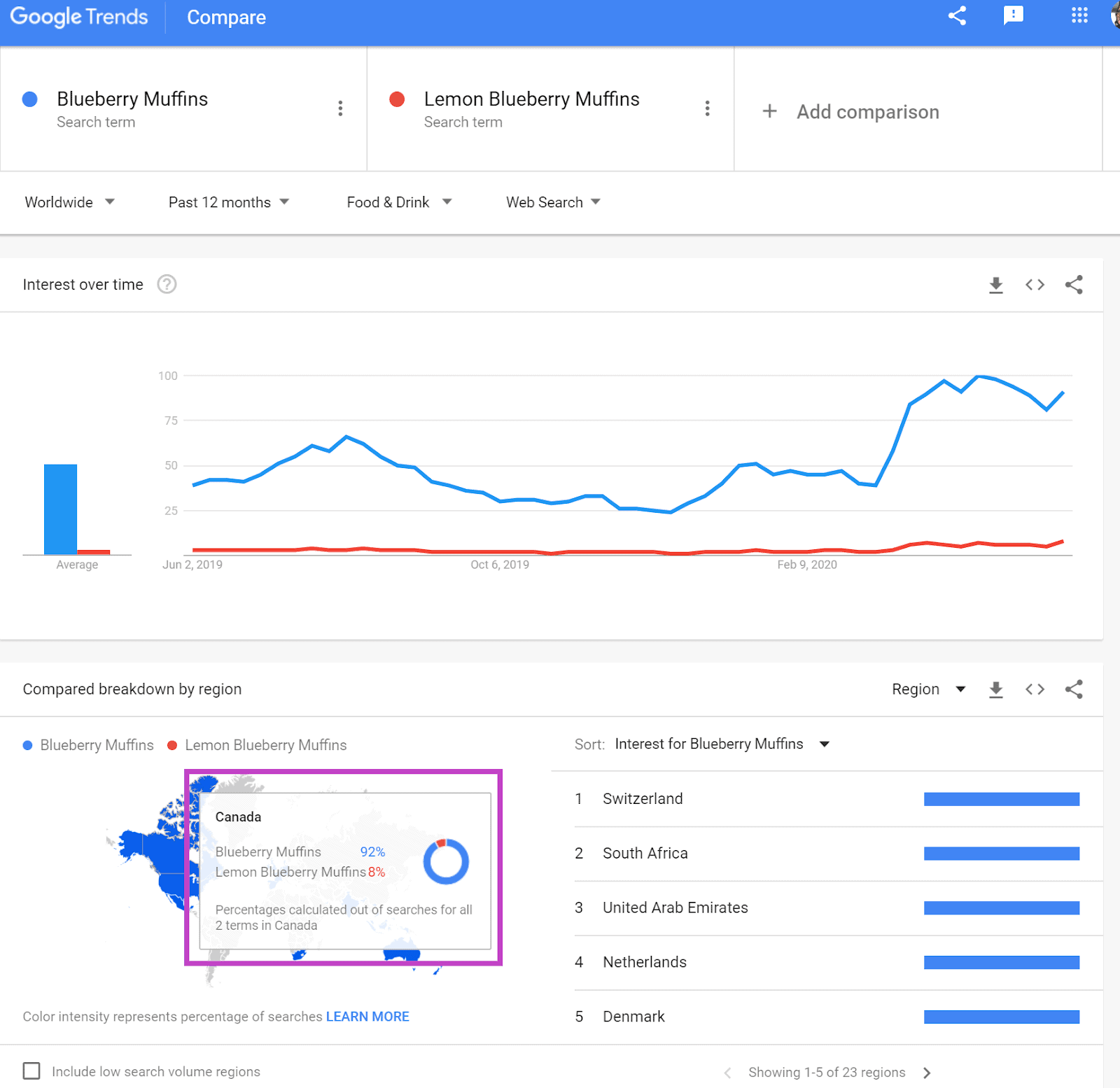 Google Trends is entirely approachable, and more straightforward than even the best SEO tools. While it doesn't have the ability to generate the same type of reports an SEO tool does, it should absolutely become part of your SEO strategy.
It can't be said enough — the data available here is straight from the search engine itself!
Make sure you download and read Google's Trends for Publishers PDF too (linked above), which goes more in depth than I do here, about how to use this tool.
My overview will get you started, but we're always big fans of reading the documentation provided directly by Google. As Eric always says in his "SEO Like A CEO" series, there's no better place than Google itself to find resources for success on their platform.