AMP + Rich Pins and What It Means For Your Blog
We knew a few years ago that internet trends were headed majorly in a mobile direction when Google announced that they would be putting the weight of their search traffic behind mobile-friendly sites. Fast forward to our Second Annual Mediavine Publisher's Conference at none other than the Google campus in Sunnyvale, CA, and talk of mobile first was a HUGE piece of the search engine puzzle.
We spend a lot of time here at Mediavine talking about site speed, why it's important, and how to achieve it, and that's because we looooove search traffic, but we also love your readers. Site speed is crucial for user experience, and a big part of building your business is to keep them coming back.
Let's talk about AMP
Installing Accelerated Mobile Pages (AMP for short!) is one way you can opt to work on your mobile site, but because it's really still in its early stages, it can have mixed results. For big sites like The Huffington Post or our own The Hollywood Gossip, AMP pages are good for the reader, monetize at a competitive rate, and custom AMP themes lead readers around the site and keep them engaged, making them good for the publisher, too.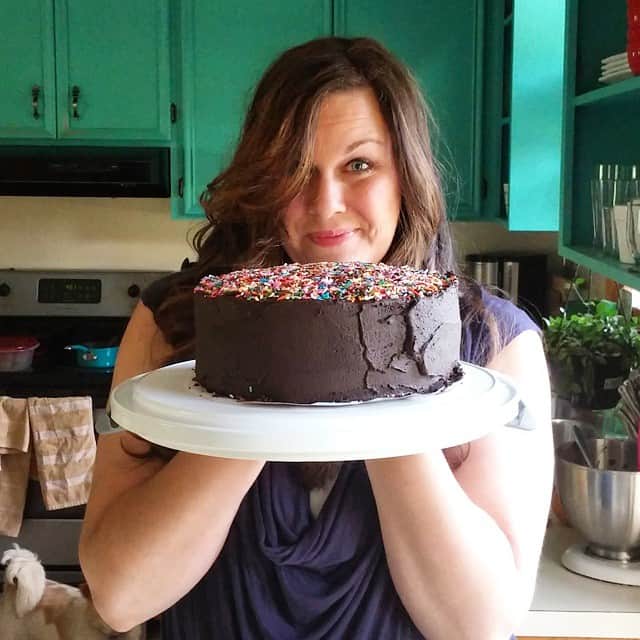 My name is Heather, and I'm the Publisher Support Manager here at Mediavine. And here is a cake because cake makes everything better. 
I enabled AMP pages on my own site, Sugar Dish Me, in January 2017. We test all kinds of things on my site; it's a fun way to learn and is pretty useful for my day job here at Mediavine.
But I'm no Huff Post.
No custom theme. No way to capture an email subscriber. No functional recipe card. AMP rendered a super fast page and great user experience, but overall, with a standard AMP implementation, it was really hard for me to keep a reader coming back. Not to mention that for me, AMP traffic monetized at a lower rate.
It's important to understand WHY AMP traffic monetizes at a lower rate for some sites. AMP prioritizes content over advertisements. When your readers are on a mobile device they scroll crazy fast and try to get to the info they want as quickly as possible. On a food site that info is the recipe card. So when your reader lands on your page and then zoom-scrolls to read the recipe at the end, that causes lower viewability, lower CPM's, and lower RPM's.
There's also not any evidence to date that shows adding AMP pages has any effect on search rankings for food blogs. It's not a ranking factor. For Google News sites, there's a carousel of top stories where only AMP articles can appear, but outside of those sites there's currently no additional boost from Google for running AMP content.
So what does this have to do with Pinterest?!
Let's get down to the nitty gritty.
Bloggers in any lifestyle niche will tell you that they rely on Pinterest to drive a fair amount of traffic. As a food blogger I can say that Pinterest is the driving force behind about 40% of my readership. 40% is no small potatoes, and for some bloggers it's much higher than that. So caring what Pinterest thinks is absolutely part of this weird blogging job.
Pinterest recommends enabling Rich Pins to help provide more context for a user because rich pins show extra information directly ON the pin. For sites with recipe content that can mean an ingredient list. For product pins that extra info means real-time pricing. For article pins you get a headline, an author, and a story description. Sounds like all good things, right?
Let's add to this discussion Amber's post from a while back on why is site speed driving everyone's development decisions. She reflected on everything from social traffic (*cough*cough*Pinterest*cough*) to SEO and ads. It seems like with what we know about the importance of speed, and the importance of Rich Pins, we are heading down a pretty righteous blog path!
When I married together Rich Pins and AMP I learned this whole other thing.
My AMP traffic increased all year in 2017. It wasn't an increase in search traffic, though! I realized that Pinterest was redirecting my readers to my AMP pages.
So if I am a Pinterest user and I pin the mobile version of a post, I expect that pin to render the mobile version of that post when I return. What was actually happening:
Pinterest User pins https://www.sugardishme.com/morning-glory-pancakes/
That pin redirects Pinterest User(s) to https://www.sugardishme.com/morning-glory-pancakes/amp
This was a problem for me because of all the details I laid out earlier. I was unable to capture my Pinterest users to keep them coming back. Those same users were also unable to actually pin from the AMP version of my post. And my AMP traffic was monetizing at a lower rate.
Add in that zoom-scroll thing that people do, ESPECIALLY when they are visiting from Pinterest, and what's left is a site that's missing form and function, and it's not really benefiting anybody.
The Facebook debate
Y'all know bloggers spend half their lives debating the merits of all things in secret Facebook groups. It's a big part of how we learn and how we foster community.
In November 2017, a food blogger in a group that I am in posted some things about her findings when she decided to TURN OFF Rich Pins. She tested things out, carefully watched her traffic, and then shared her results for further discussion. This prompted an avalanche of other bloggers testing out whether or not Rich Pins help or hinder Pinterest traffic. The results were mixed, the discussion was really interesting, and on vs. off is still a debate that pops up every 6 weeks.
So I thought, "Hey hey, I'll turn off Rich Pins!"
In the interest of participating in that debate I was excited to see what might happen for me.
I turned off Rich Pins
To see how turning off Rich Pins affected my traffic, I logged in to my Google Analytics, set my date range, and then went to Acquisition > All Traffic > Source/ Medium. Then I clicked on Pinterest/Referral. My dates are offset by one day so that I am comparing Sunday to Sunday (since I always see a spike in traffic on Sundays).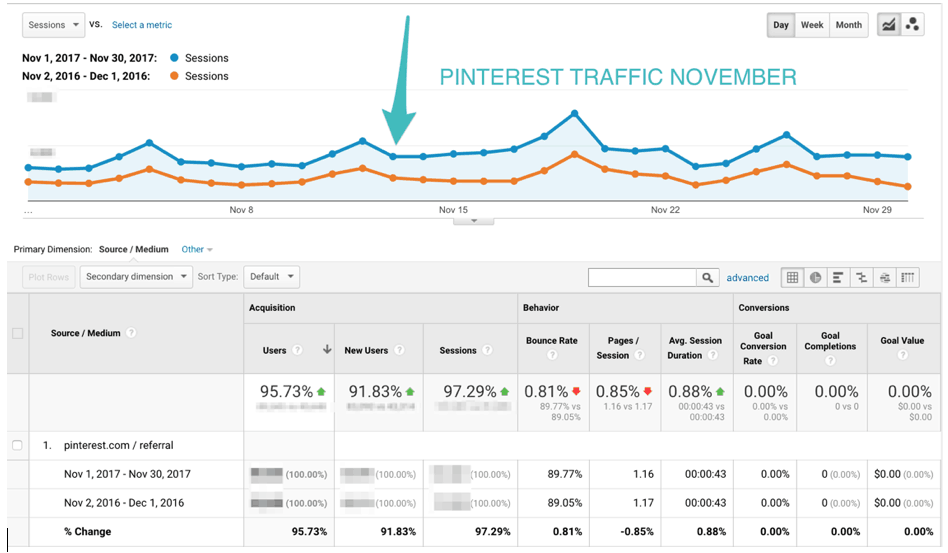 You can see the arrow here notating the date that I disabled Rich Pins, November 13, 2017. There's no real jump in traffic. My growth year over year is great, but my search traffic follows the same pattern.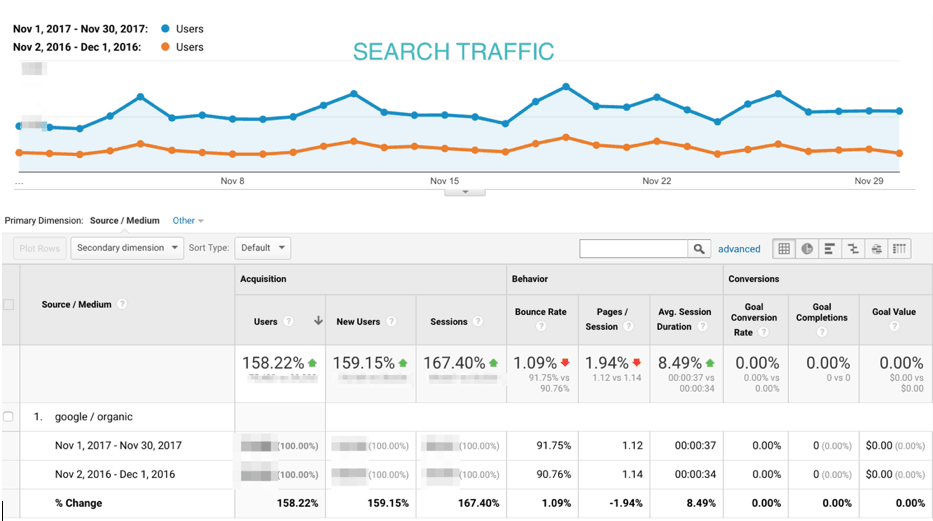 Where I really noticed a change was in the breakdown of my AMP vs mobile pages.
Here's a look at November 1 – 12, 2017:
46.2% AMP traffic to my site. Now let's take a look at November 13, 2017.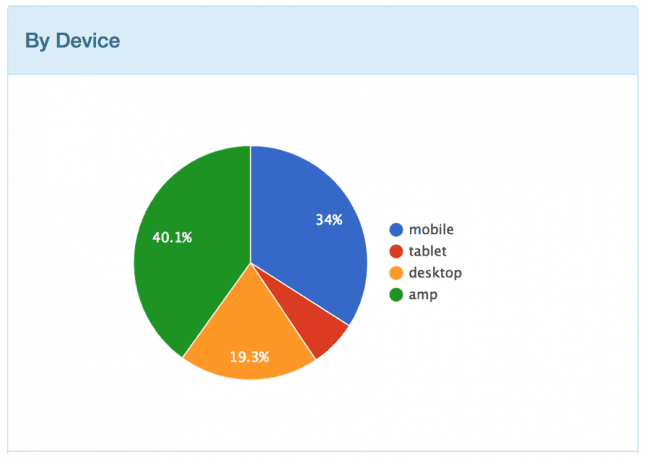 My AMP traffic dropped by more than 6% overnight!
You've seen the growth in Google Analytics year over year. My traffic did not drop. What we are looking at here is that disabling Rich Pins effectively prevented Pinterest from redirecting my Pinterest traffic to AMP pages.
If we jump forward and look at December 2017, the difference is even more apparent.
I cut my AMP traffic in half!
So now, for my Pinterest users, mobile stays mobile. And AMP stays AMP.
It's like magic! For me anyway.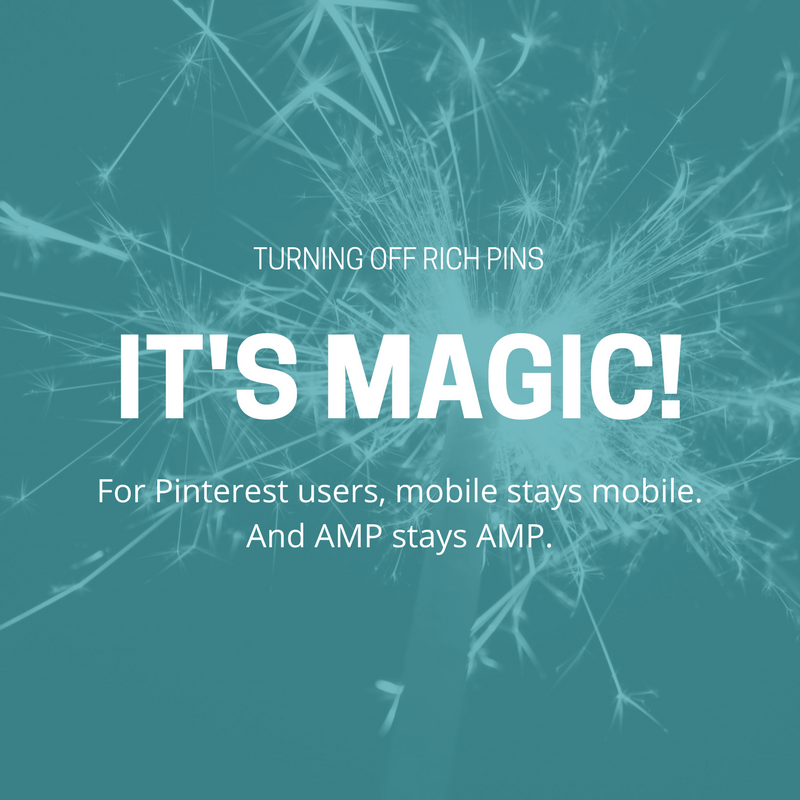 I've left my Rich Pins disabled, for now.
Disabling Rich Pins helped me strike a balance. It let Google send some of my search traffic to AMP posts when they wanted, and it let my Pinterest users see my ACTUAL mobile site.
It also gave me a little more balance with keeping readers moving around my site and, of course, my earnings.
In February 2018 I actually started rolling back my AMP pages because for Sugar Dish Me the negatives outweigh the positives. I'm down to around 4% AMP traffic now, but am still rocking my Pinterest AND search rankings. My email subscriptions are up, and I am tackling all my site speed needs with the help of awesome developers (hay Once Coupled!) and awesome hosts (haiiii Agathon!).
The goal of AMP is to help build faster sites. At Mediavine, we recommend that you work to optimize your mobile and desktop web experiences using Page Speed Insights, another awesome Google tool, instead of using AMP to meet that need. As long as your site is fast, you're making Google and your users happy, and that is the goal!