Jumprope Videos: Interview with Founder Jake Poses
This is a sponsored conversation with Jumprope.
One of the things we love doing here at Mediavine is introducing publishers to new and exciting apps that make content creation even easier. We recently chatted with Jumprope founder Jake Poses during a publisher Facebook Live, and we're continuing this conversation here on the blog!
Tell us about the idea behind creating Jumprope.
We started Jumprope because we believed there was a better way, inspired by Stories, to learn how to do anything. We wanted to combine the simplicity of step-by-step directions with the story-telling power of video for recipes, DIYs, travel guides and more.
We also knew that creating a video was way too technical and time consuming for most people. Therefore, there was tons of amazing knowledge that wasn't being shared. We believed we could make it easier and faster for anyone to create professional-looking content they were proud to share.
With the massive push toward video content, Jumprope makes video accessible for everyone with a smartphone. It also allows bloggers to spread content across platforms. Why should bloggers be adopting another app? How is Jumprope different from other video tools?
Thousands of professional bloggers are using Jumprope because it's saving them time, helping them grow a bigger audience and make more money. Jumprope does two things that are very different from other desktop and mobile video tools:
First, Jumprope simplified the process of video editing. We've made video editing as easy as creating a series of Stories. We've put simple-but-powerful tools like hyperlapse, voiceover and animations at your fingertips in the app.
Second, Jumprope automatically reformats your content for every platform you want to share it to. Instead of going through the frustrating process of re-editing for YouTube, IGTV, Facebook, Pinterest and your blog, Jumprope does that for you. You'll get 15 different formats, including videos, images and HTML. You create once and get everything you'll need.
How quickly can someone make a Jumprope story and have it live?
Mediavine Publishers tell me they create Jumpropes in as little as five minutes. Clearly it's a bit longer if you actually have to make a recipe, but the editing part is a breeze.
We recommend getting started by taking existing process photos or videos on your phone or computer and making a Jumprope. We make it easy to import a batch of photos or videos you've created for Instagram stories into the app. We also make it easy to take a longer video you might have made for Instagram or YouTube and clip that into steps to import it into the app.
Video is a big component of Jumprope, but users can add still images too. What's the best way to incorporate those?
Jumpropes are created from a series of cards. Each card can be either a video or a photo and you can have a mix of photos and videos in a single Jumprope.
While video footage for each step is more engaging, photos are a great way to get started.
Google Web Stories is a new feature for bloggers. Tell us how Jumprope is leveraging this tool.
Google recognizes that Stories are super engaging and they want people searching on Google to experience Stories when they click on results. Google Web Stories is a format Google has created to enable publishers to have Stories on the web.
Google is relying on companies like Jumprope to create simple-to-use tools to enable bloggers to publish Google Web Stories. We replicated the same engaging step-by-step format from the Jumprope app in Google Web Stories. When you publish high-quality content on Jumprope, it's automatically published into Google Web Stories.
Here's an example from Mediavine Publisher Taylor of FoodFaithFitness who got more than 100,000 views on her Google Web Story: Keto Pumpkin Muffins.
What kind of results can bloggers expect from adding Jumprope content to their websites?
Jumprope can improve your website in two ways: (1) attracting more traffic and (2) making your site more engaging for visitors.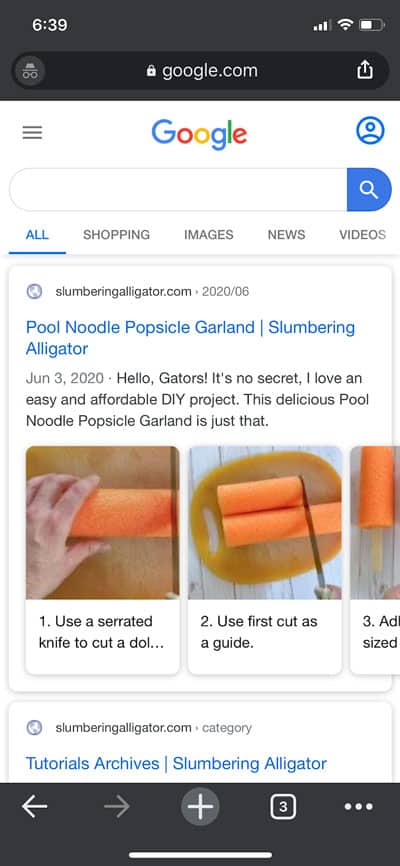 When you embed Jumprope content on your blog, we give you the option to add schema, which enhances your search results in Google, which drives more clicks. This is rolled out on Google for "how-to markup" (DIY, home, beauty, parenting, travel) and we expect Google to roll this out for recipes soon.
We know that "Guided Recipes" are a priority for many food bloggers. Jumprope makes it easy to use the step-by-step photos and videos created on Jumprope in your recipe card for "Guided Recipes." We're working closely with all three major recipe card developers, including Mediavine Create to make it seamless for food bloggers.
In addition to driving more clicks, bloggers tell us they're getting great feedback from their audience by embedding Jumprope content on their posts. Check out how amazing the step-by-step videos look on Mediavine blogger Windy City Dinner Fairy's Roasted Salsa Verde post.
We make it easy to get all this content on your blog with our WordPress Plugin.
Note: We recommend adding your Jumpropes to posts using either the WordPress plugin so you can disable schema for non-recipe or how-to posts, or use the video player in the Mediavine Dashboard.
Publishers can upload Jumprope videos to their Mediavine dashboard to access those all-important video ad dollars. What other ways does Jumprope intersect with Mediavine's tools? What's in store for recipe cards like Create?
Yes, many Mediavine bloggers have uploaded hundreds of videos they've made with Jumprope to their Mediavine dashboard. [Note: Mediavine has step-by-step instructions for uploading video to the Dashboard.]
Jumprope is working with the Mediavine team to more seamlessly integrate our step-by-step videos into Mediavine Create. This is especially important for recipe bloggers who are looking for a simple solution for Guided Recipes.
How does Jumprope address the issue of accessibility, such as closed captioning in video?
Every card of a Jumprope combines media and text. Accessibility isn't an afterthought; it's built right into the core of the experience.
What are some features on the horizon for Jumprope?
We are constantly improving Jumprope and release new versions of our iOS and Android apps about once a week. Here are some new features on the horizon:
Mac Desktop App: We know that some bloggers prefer to do their video editing from their computers. We're developing a full version of Jumprope for Mac computers.
Stickers: We're adding stickers to let you add callouts (e.g., arrows) and fun GIFs to your photos and videos.
More music: Jumprope had a library of royalty free music we've created for you to use in your videos. We're adding many more songs for you to use.
Communities: We've found that both creators and viewers want to engage and connect with people who share their passions. Whether it's vegans with nut allergies, solo female travelers or those super into upcycling, we know these communities are really important. You can already join communities and view Jumpropes that have been added to those communities. We're adding many more features to let you engage with others in those communities.
What are some of your favorite creative uses for Jumprope?
I'm a big traveler so I love some of the ways travel bloggers are starting to use Jumprope. Whether it's 10 tips for things to do in a neighborhood or a city (e.g., Best Places To Visit in Tokyo) or detailed instructions for how to complete a super interesting (but poorly marked) adventure, I love seeing what travel bloggers are doing.
I'm not that handy, so I enjoy seeing the creative home hacks and ways crafty home bloggers can fix or transform a home without spending a lot of money or buying complicated supplies. For example: Wooden Block Gallery Wall