Mediavine Launches Exclusive Video Adhesion Ad Unit
Custom-built unit brings together advertisers, publisher and users in a new way through high-viewability mobile native experiences
Mediavine has launched a custom-built, patent-pending ad unit exclusive to the company: the video adhesion player. The unit, currently in beta testing, is the first of its kind and is Mediavine's first piece of advertising technology to receive a provisional patent.
The video adhesion player is a mobile native experience that showcases publishers' original videos to users, providing publishers the opportunity to monetize with highly sought-after video ads on every pageview in a user-friendly format. The player uses video header bidding capabilities from Prebid.js to integrate with advertising partners' video demand.
The video adhesion unit will take the place of the company's pre-existing mobile adhesion banner ad unit when a video advertisement wins the marketplace auction. By keeping the new unit the same location as the existing mobile adhesion unit, Mediavine found a way to provide the user with useful, engaging content while allowing continued interaction with the site.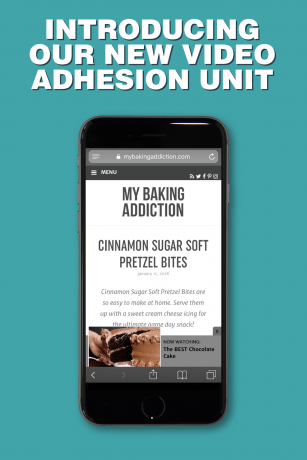 The result during beta testing has been 90 percent viewability and high engagement.
"Mediavine's unit seamlessly integrates AppNexus video demand with Mediavine inventory and delivers it to the user in a novel way," said Eric Hoffert, SVP Video Technology at AppNexus. "The integration also speaks to the power of using an open platform for video header bidding, like Prebid.js, allowing Mediavine to easily customize a powerful new user experience for their own video player while tapping into video demand from multiple partners. This kind of innovation adds to the value of our partnership with Mediavine, and we look forward to seeing them evolve their technology further with a goal of creating a better video internet."
"Video adhesion has proven itself to be the perfect trifecta of balancing our publishers' needs to monetize their videos, hitting advertisers' goals for campaigns, and providing a less invasive experience for the user while adhering to the Initial Better Ads Standards as set by the Coalition for Better Ads," said Phil Bohn, Mediavine Sr. VP of Sales and Revenue. "This unit is the ideal case study for how we aim to do business at Mediavine – bringing together the publisher, advertiser and user in new, innovative ways that benefit everyone in the advertising chain."
In addition to the new patent-pending video adhesion player, Mediavine offers native ad units, pre-roll video instream inventory, and custom content and packages that can be created for any advertiser across the company's nearly 2.5 billion monthly impressions.
View a demonstration of the Mediavine video adhesion player below:
Learn more about Mediavine at www.mediavine.com or reach the sales team at sales@mediavine.com.
© 2019 Mediavine. All Rights Reserved.