When Google added calories as a recommended field and began issuing warnings in both its structured data tools and Google Search Console, most food bloggers became aware that their content's nutrition facts and SEO were linked in some way.
Today, we want to discuss exactly how nutrition facts impact SEO, how to generate them and how to optimally include them on your pages. We'll also speculate a little on how Google may be using them, now and in the future.
Schema.org and Structured Data
First, we need to discuss what Schema.org is.
Schema is a way to communicate your structured data to Google. It's a computer language, generally written in JSON-LD, that allows Google to parse things about your site. For food bloggers, this is generally handled by recipe cards like Create.
Google's official stance is that this data, or the use of Schema.org, doesn't boost rankings, but rather makes you eligible for new search features and displaying your results in different ways.
Nevertheless, it would be SEO suicide to not use structured data when you can. For food bloggers in particular, it's essential because the competition is doing so.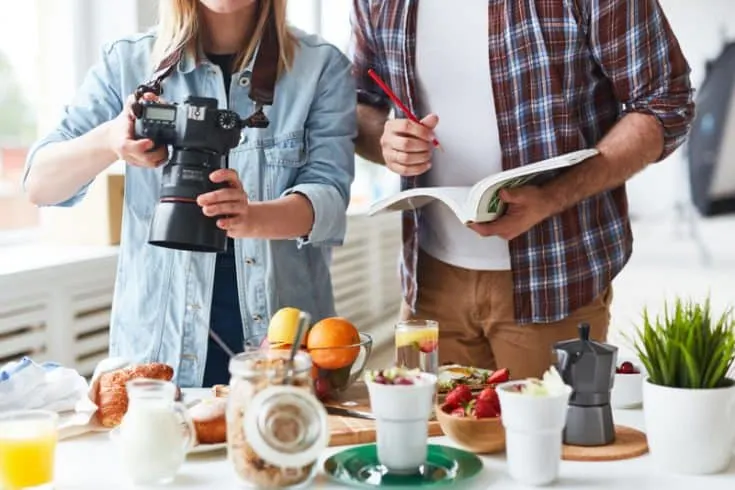 Nutrition Facts in Structured Data
While Google only recommends the calories field as of now, the Schema.org Nutrition Information spec includes the ability to list carbohydrates, fiber, sugar, protein, fat contents (including trans fats, saturated and unsaturated fat), cholesterol and sodium.
After the great video, keywords and cuisine debacle, food bloggers hopefully are aware that Google can and will add new recommended fields at any time.
Who knows when a Google Search product owner ends up on a low carb or sugar free kick and begins recommending those fields. As always, it's better to provide more data than less.
Mediavine therefore recommends providing all nutrition facts that are in the Schema.org spec when possible. Be prepared for the next Google change.
Where do nutrition facts appear in search results?
Currently, as the only recommended field, calories are displayed in the search result alongside cook times and ratings. But search for any food and nutrition facts and you'll see the complete data set.
Where should I display nutrition facts?
In addition to outputting your nutrition facts in Schema.org, it's important you display these to your users as well.
First, it's a structured data policy that you only mark up content that is visible to users. Even more importantly, however, is the fact that Google doesn't technically use the structured data in its algorithms, but will use what's displayed in your content.
For example, if someone is looking for a low-calorie cheesecake and the calorie total only appears in your structured data and not your content, Google likely isn't parsing them in its rankings.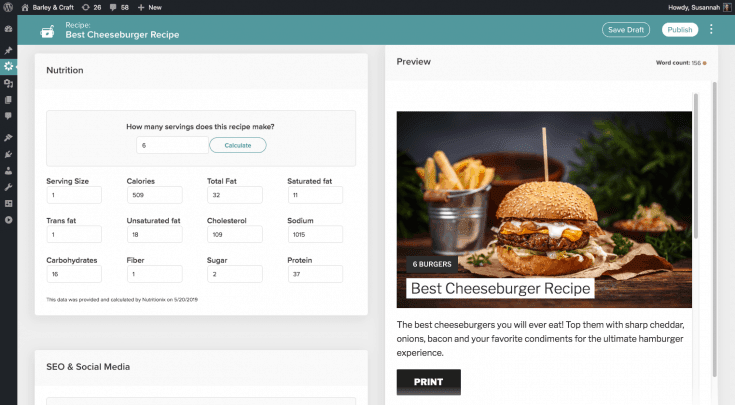 How do I calculate nutrition facts?
Technically, for the most infallible figures, you'd calculate nutrition facts in a lab. But since most of us don't have those at home, there are many useful tools online.
Based on the ingredients, you should be able to put together accurate information very quickly. If you run Create, our plugin supports automatic nutrition calculation with the push of a button, calling out to the Nutritionix database and retrieving the data.
For most food bloggers, we recommend this method. (You can and should include a disclaimer that you used a tool like this, especially if you're making dietary claims about foods.)
"But what if I don't want the calorie count next to my cheesecake?"
Trust me, we get it.
Nothing was more depressing than the day those calorie counts on restaurant menus became a thing. The good news is that unlike those menus, you control the serving size here.
Just like packaged goods often do, you can cut down the serving size to your liking. Think smaller cheesecake slices. More servings mean dividing ingredients and calories by larger numbers.
With the right balance, you should be able to find a serving size where readers aren't aghast at a 1,000-calorie cheesecake slice, but aren't stuck eating a sliver either. Everyone wins.
This is also the reason why Create, by default, displays nutritional facts in a minimalistic way.
In addition to Google, readers that want this information should be able to find it easily. At the same time, there's no reason to shove it in the face of users that don't.
Create also supports the more traditional, USDA-style nutrition fact label if you'd rather make this information as large and obvious as possible.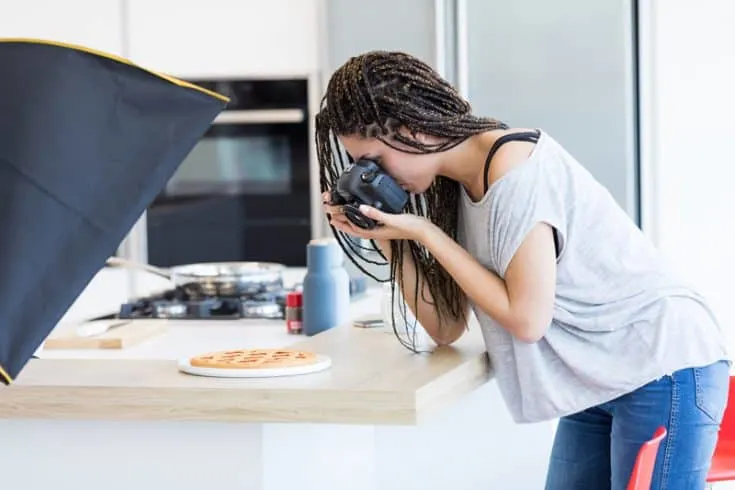 Nutrition Facts SEO speculation: What else could Google use this for?
Okay, so why do we think listing more than just calories is important?
Do a search for "avocado nutrition facts" and you'll see a full nutrition label that Google parsed from Wikipedia. In fact, search any food and nutrition facts and you'll see how Google is building in its knowledge base of the full nutrition facts for all kinds of foods and recipes.
It's much more than just calories. They know it and we know it.
While the calorie count may be the only thing Google is displaying in the rich snippet of your search results, it's clear that the rest of this data is being parsed.
Remember, Google is much smarter than you think. Do a search for "low carb," "low sugar" or "keto" plus any term and you'll often see similar results.
Google understands diets, and diets are part of the official Schema.org spec; Google understands nutrition and outputting more of it will only help provide the right content for the right user.
Maybe you didn't realize it, but you accidentally made a low-sodium soup or a high-fiber bar. Give Google more content. Give Google nutrition facts.
Subscribe for Updates
Stay up to date with the latest from Mediavine