We're always working behind the scenes on the Mediavine blog. From sharing our top SEO Resources to tips for using our tools like our video player, we're always working on new content for you.
(And if there's ever a post you'd love to see here, we're all ears! Just drop us a line at sponsored@mediavine.com!)
If you've been following our blog for a while, you might already be familiar with our Publisher Interview series.
We love taking a break to interview one of our awesome publishers, and get insight into how they run their businesses. We've interviewed the likes of fitness bloggers Kim Sorey and Kalee Dillard of Sorey Fitness, DIY publisher Agnes Hsu of Hello, Wonderful and travel blogger Amanda Williams of A Dangerous Business.
In each interview, our publishers share their favorite tools, their top posts, their SEO strategies and so much more. It's always a pleasure to talk with them and hear what goes on behind the scenes.
This week we're excited to have Ling Tran of Finsavvy Panda on the blog. She's a finance publisher with a background in personal finance and she's got a ton of great tips for you today. Thanks so much for joining us, Ling!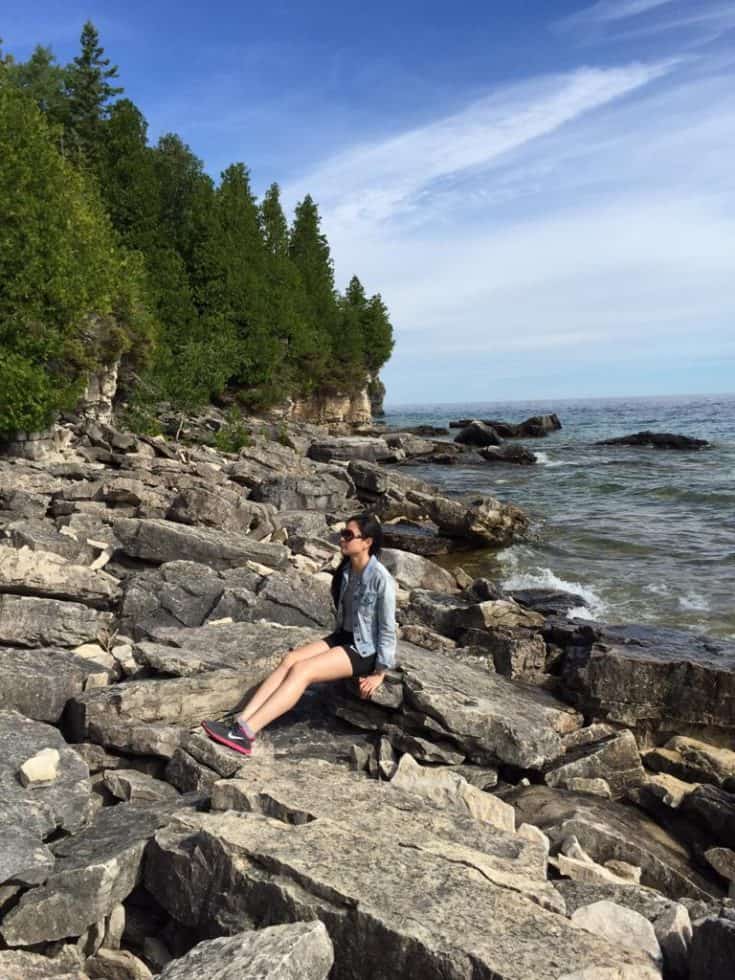 Tell us a little bit about yourself, your family, and your everyday life.
Hello, thanks so much for having me here!
My name is Ling, the writer behind Finsavvy Panda. My fiancé and I live in Toronto and we enjoy the city life!
Things can get pretty expensive here and we didn't like how our finances looked after we graduated from University. At that rate, we thought we could never reach financial independence.
Our past struggle is what got us interested in personal finance. Over the years, we learned how to manage our money better and it becamesomething we just naturally talk about all the time.
Aside from that, we also enjoy outdoor activities with our friends and love to eat in the city. When we have free time, we love going to open houses to check out renovations and home decor ideas. Real estate and investment properties has always sparked our interest!
How did you get started blogging?
I experimented with a few business ideas and side hustles for many years.
I tried ideas like opening a Japanese dollar store (sort of like Daiso), but that didn't work out.
My fiancé and I also looked into rental properties and so far, that's been working for us, but it's not enough for us to quit our jobs.
Then, I learned the term "blogging" which I had no clue about despite reading articles about personal finance for many years. I actually didn't even know they were called blogs, lol.
When I learned that bloggers were making money with their websites, my fiancé told me to start one for fun since he knew I enjoyed talking about personal finance with friends and family.
There were almost no risks to blogging because the cost of starting one, plus investing in blogging courses, is a lot cheaper compared to other business ideas like real estate investing or opening a Japanese dollar store.
That's how I started my blog, Finsavvy Panda.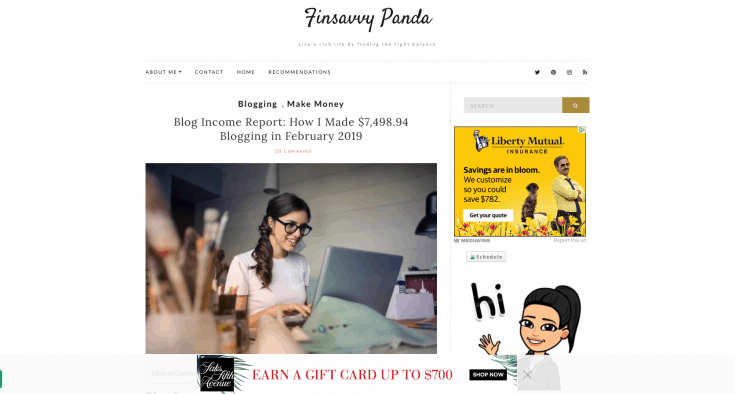 How long have you been a Mediavine publisher? How did you first hear about us? What drew you to Mediavine as a partner for display advertising?
I'm so excited to say that I've been a Mediavine member since August 17, 2018 and I couldn't be any happier!
I can't remember how I first heard about Mediavine, but when I was looking into ways to make money, I learned from many blog income reports that Mediavine is one of the best partners to work with for display advertising on your blog.
They kept saying how you'll see your earnings soar like crazy compared to Google AdSense or Media.net. Not just that, but bloggers kept talking about the phenomenal customer service and that's what sparked my interest to go with Mediavine!
At that time, I was with Google AdSense and that's when I tried my best to increase my page views, so I could qualify as a publisher with Mediavine.
Describe your experience with Mediavine. What do you love about working with us?
Mediavine has been extremely helpful and quick at responding — it's really impressive!
Your team offered me support even when the question is not 100% related to ad placements.
For example, there was a time I saw harsh comments on one of my Pins on Pinterest that went viral. One comment said my post had too many ads plus a lot of other "mean" things. As a new blogger, I didn't know if I was doing something wrong.
Sam from Mediavine took the time to look at that blog post and did some analysis. She assured me there was definitely nothing wrong with the ads or the content itself.
She was very personable and told me that as a fellow blogger, she too understands that seeing negative comments is really hard; and that those who actually appreciate my content are just quiet in the background.
Having that said, I love that Mediavine offers more than just technical support. It's the fact that they show emotional support as well — that really matters because it gives encouragement to publishers and their blogging journey.
How has your Mediavine ad revenue changed your life for the better?
It's great!
The ad revenue feels passive. It gives me the opportunity to focus on other areas of my blog without having to worry too much about earning an income.
I also love that I can easily switch the ads off for certain posts that generate higher affiliate income for me. It doesn't require any technical knowledge or coding to do it.
How do you think the blogging industry has changed since you started your website?
I started my website not too long ago, so I'm not sure how the industry has changed. I'm still learning but I hear that it's becoming a lot more competitive. Also, algorithms for traffic sources like Google and Pinterest are constantly changing, so we need to keep up with those changes to remain current.
Most importantly, I think providing valuable information to readers with your honest voice is what sets you apart from others.
What are the best and worst parts of blogging for you?
It takes me FOREVER to write one blog post (especially a long and informative one), so I have to say that writing is probably the second hardest thing for me. I'm just not the best writer, haha!
The biggest challenge I'm currently facing is learning Google SEO. That stuff is way too technical for my liking, but I have to learn it regardless of whether I like it or not.
What I enjoy most is analyzing human behavior and testing affiliate marketing strategies to determine what works and what doesn't.
What has been your biggest success as an influencer?
I still feel quite new to the blogging world, but I've learned so much about Pinterest and how to drive a good amount of traffic with the platform.
I also learned a lot about affiliate marketing for beginners!
Overall, there's still SO much more for me to learn!
Currently, I'm trying my best to learn how to use Google to drive traffic, so we'll see how that goes! 🙂
Who are your FAVORITE bloggers. Who inspires you? Why do you like them?
Pat Flynn from Smart Passive Income – I love how Pat is down-to-earth and humble. He's definitely relatable and doesn't give you that "I'm too good for you" attitude. He has one of the most honest voices and provides a lot of helpful information for people who want to start a business online.
Eden from Mint Notion – After reading her story of how she became a full-time blogger, I was inspired to start my blog. I'm so thankful I stumbled upon her blog and followed her stories.
Michelle from Making Sense of Cents – I love reading her personal finance posts as well as her blog income reports. Her blogging journey is very inspirational and she encouraged me to give affiliate marketing a try. Her resource has been a game changer for me and I couldn't thank her more for creating a very helpful product for bloggers!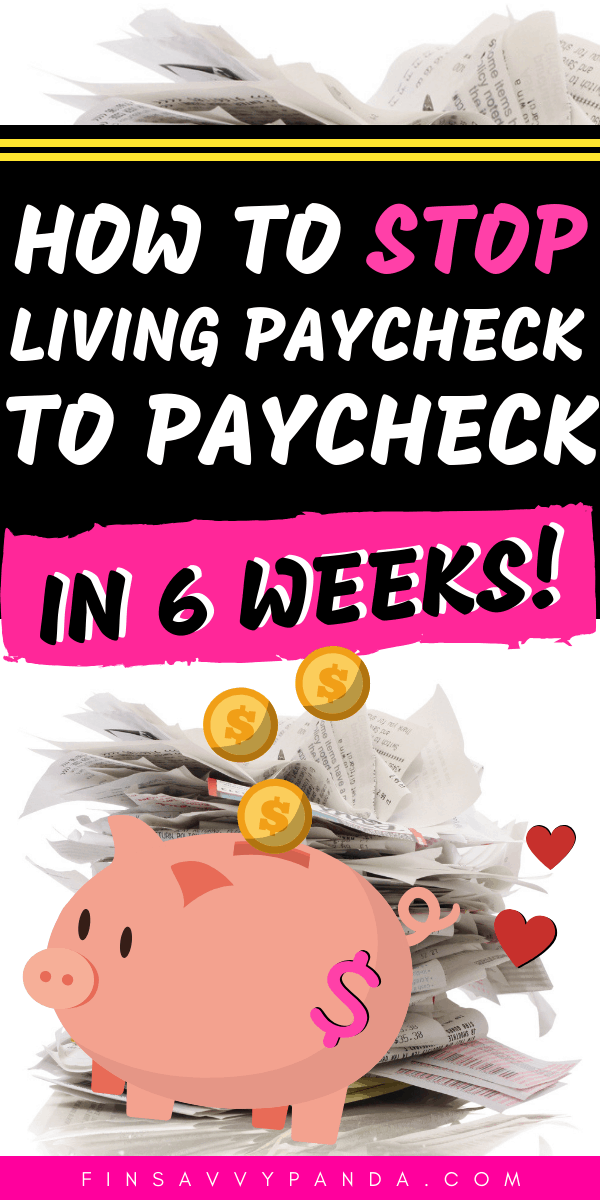 What are the most popular 3 posts on your blog?
What are your 3 personal favorite posts on your blog?
What tools and resources do you use to manage your blog? What could you not live without? Why?
Canva – I use this to design Pinterest pins.
Tailwind – saves me a lot of time from manually pinning on Pinterest.
LSI Keywords – I'm trying to improve my SEO for Google.
My printable blogging binder – I need this to write down my weekly to-do list! I can't live without this because it's what keeps me organized and motivated!
What is your biggest traffic source? What strategies have you used to make that your top traffic source?
Pinterest. I've invested in Pinterest resources that teach me how to leverage the platform from a business perspective.
I also enjoy analyzing ads at the shopping mall, TV, radio stations and online banners. I find them inspirational when it comes to testing affiliate marketing strategies on my blog and making pins on Pinterest.
Do you have any advice for bloggers on how to grow their traffic?
Focus most of your efforts on one traffic platform and learn it really well.
But as you become more familiar with that platform, dive into your second source as soon as you can. Don't rely on just one traffic source.
I made the biggest mistake of neglecting Google SEO strategies when I first started my blog. I REALLY wish I implemented SEO strategies from the beginning! Try your best to learn a little bit about Google on the side while focusing on your main platform like Pinterest.
Anything else you'd like to add to help other bloggers grow?
I know it can become overwhelming when you read income and traffic reports from other bloggers. Though it's very inspiring and can motivate you, reading too much can do just the opposite and make you want to give up.
There will be times when you need to put your blinders on and just ignore all the noise. Just focus on your own blogging goals. Only you know how much you can take on at a time.
Everyone's blogging journey will be different, so grow at your own pace.
On top of that, I really do believe that investing in blogging resources can help you grow at a quicker pace.
What's the one thing on any restaurant menu you MUST order?
Dessert — ice cream!
What's your favorite quote?
"If you don't find a way to make money while you sleep, you will work until you die." — Warren Buffett
I love everything about Warren Buffett and his wisdom! This is my all-time favorite quote because it speaks to me every day!
Subscribe for Updates
Stay up to date with the latest from Mediavine