Summer 2018: Good News, Bad News, and REALLY Good News
Let's start with the good news.
Mediavine publishers are having an amazing 2018 so far, and June is certainly no exception. The year-to-year difference is striking. In June of 2017, we saw an average session RPM of $14.88 for all Mediavine publishers.
By the end of this June, we expect that company-wide RPM to approach $20, an increase of 25-30 percent from only a year ago. What's even more incredible is that this would also eclipse what we saw last December, the peak earning month of the advertising cycle!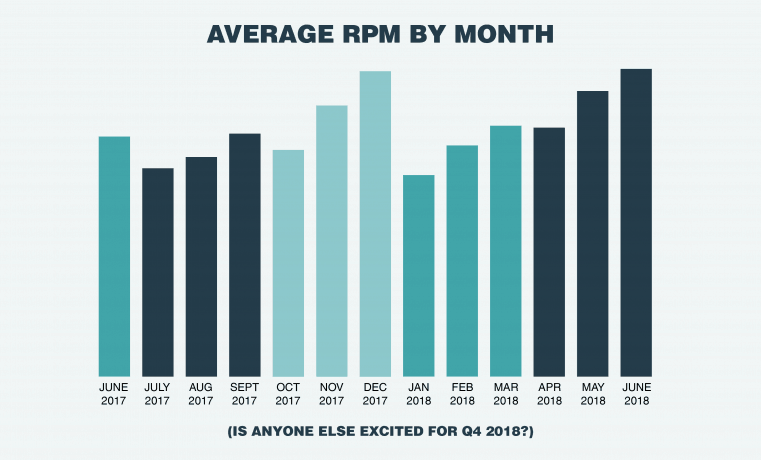 What's leading to this increase in RPM?
The long and short of it? Our growing publisher family and their amazing content. Even before 2018 began, we were calling this the year of video, with the goal of positioning Mediavine to be a leader in this increasingly lucrative space. Advertisers have taken notice. To put Mediavine's video push in perspective, in 2017 we served just under 46 million ad impressions on publishers' videos.
This year, we've already introduced our patent-pending mobile video adhesion unit, rolled out improvements to our existing player (including a new, sticky desktop player), and encouraged publishers to make video content a priority on the content side. Combined, all of these initiatives currently have us on pace for 48 million video ad impressions served — more than all of 2017 — in June alone! Since video CPMs are typically 4-5 times greater than standard display ad CPMs, and with more publishers adopting this technology, earnings continue to reach record highs.
We can't give all the credit to video though. Every department at Mediavine, from support and sales to engineering and marketing, works tirelessly to grow these RPMs for our publishers in more ways than we can even list here.
The bad news is that it's almost July.
Call it a threefold problem. July means the start of a new month, a new quarter, and — for many businesses — a new fiscal year. Traditionally, budgets are tied to a company's fiscal year, so any money set aside for July 1, 2017 – June 30, 2018 (instead of by calendar year) is being spent rapidly as we speak.
As we've discussed at length, the seasonality of ad revenue plays a major role as well, and will undoubtedly rear its ugly head (temporarily) at the beginning of next month. How bad will it be? In 2017, we saw about a 14 percent RPM drop from June to July. For our average publisher, a $15 RPM slipped to around $13.
We have no way of predicting how much this year's dip will be. However, planning for about the same decline, percentage-wise, is probably a safe bet.
Keep in mind that average RPMs may decline by greater amounts ($3-4), simply because they are so much higher to start with. See good news section above.
What can you do to cushion the fall?
Optimize content.
Look at this as an opportunity to reexamine your top posts and make sure they're optimized for ads. This can be as easy as adding or freshening up text and images, or splitting up larger paragraphs into smaller paragraphs.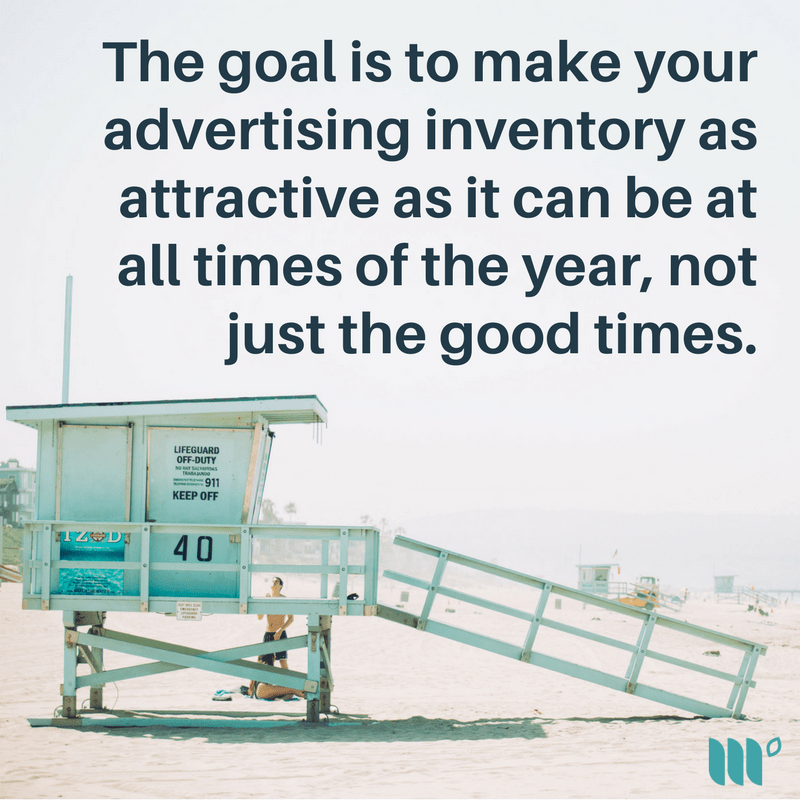 While you're at it, consider looking through older posts that might be relevant again with the summer season upon us, but haven't been pushed in a while. Dust off that old content, optimize it for ads, make sure it's in good shape for SEO purposes, and promote that content now straight through into July. The goal is always to appeal to your users, whom many advertisers still see as attractive and worthwhile audiences, even in comparably slower times.
Give video a try! Or another try!
Did we mention this is the year of video? Or that CPMs for video will always be higher than display? We thought so. If you haven't dipped your toes into the video pool, July 2018 seems like the perfect time to get your feet wet.
Don't let the fear of creating a new video scare you away.
There are third-party tools that allow you to make videos with only images and a few clicks. (Mediavine is currently beta testing a solution to make this easier still, so stay tuned!) If you aren't pushing video now, these earnings alone could be enough to offset a July RPM dip. If you publish video content but haven't tried our video adhesion and desktop sticky player, consider enabling those for a near-guaranteed boost.
Whatever you do, know that this dip is temporary.
It happens every single year, and Mediavine is always working on new and innovative products, bolstering advertiser relationships, and fine tuning our support. These initiatives are already making 2018 one for the record books, and a seasonal blip on the radar isn't changing any of that.
Ready to optimize existing content for maximum earnings? You can do it in less than 20 minutes with our help doc Do A Revenue Optimization Self-Audit. Check out this one for general SEO and revenue improvements. 
And while you're in the optimizing mood, it's never a bad time to improve your page speed!
As always, if you want a hand with anything, our publisher support department is here to help. Just shoot them an email at publishers@mediavine.com and they'll do a deep dive into your content and make suggestions to raise your revenues.