Mobile Ads 101
It's no secret that mobile technology has changed the world in which we live, and advances in communications continue to alter the landscape every day.
A study by the Pew Research Center revealed that 95% of Americans own a mobile phone, and 77% of them smartphones, a figure that has doubled since 2011.
Nowhere is this shift more apparent, and important, than in digital advertising. Nearly 75% of impressions on Mediavine sites are served on mobile pages.
Providing the best user experience on mobile devices while maximizing the return on every page view has been a focus of ours since the very beginning.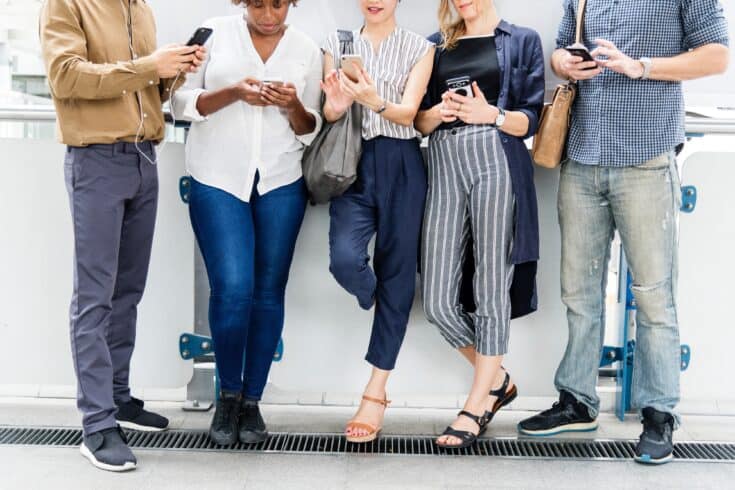 It isn't easy, as mobile advertising involves inherent challenges that don't apply to traditional desktop devices: Better Ads Standards set forth by the Coalition for Better Ads (CBA), data networks of varying speeds, and smaller screen dimensions.
To combat these challenges, Mediavine utilizes two tried-and-true ad placements. Our mobile in-content units and adhesion units are deployed in a multitude of ways to optimize their impact and earnings. Here's a breakdown of each:
IN-CONTENT AD UNITS
Like all things at Mediavine, in-content ads are designed with page speed in mind. Using what we call lazy loading, our in-content mobile ad units will not load until a user scrolls down to where that ad will "live" on the page.
This means that fewer resources are wasted during the initial page load, allowing for increases in page load speed of up to 200%. In today's mobile world, particularly if your cellular network isn't the fastest, this isn't just important, but vital.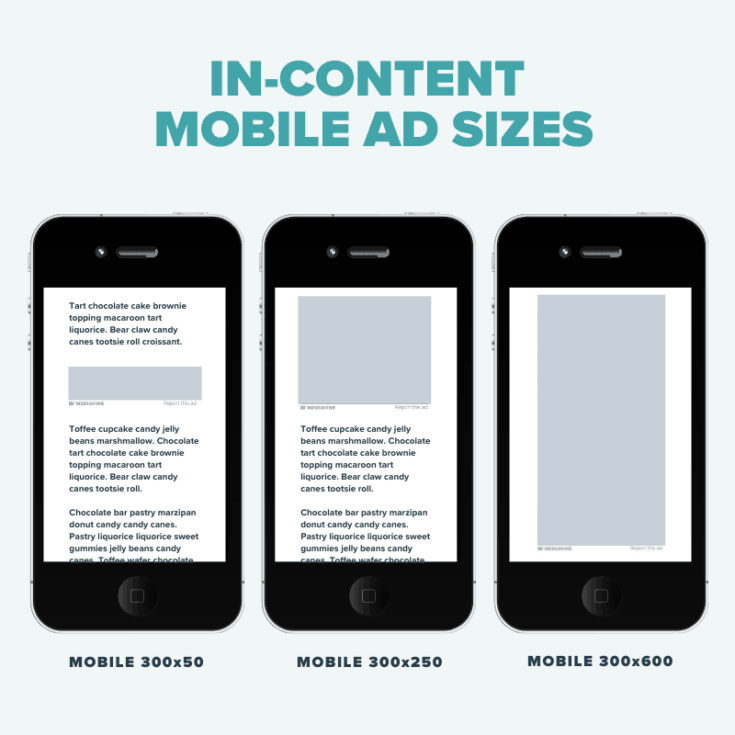 Medium Rectangle – 300×250
The ad unit that digital advertising was built on, the 300×250 (300 pixels across by 250 pixels high) is simple, versatile, and effective.
The 300×250 is the most common unit you will find running on our publishers' mobile sites, accounting for between 50-60% of ads served.
Smartphone Banner – 320×50 / 300×50 / 320×100
Sometimes good things come in small packages. Advertisers love this quick loading, highly viewable in-content unit.
Native Ads
Native ads are called this because they are customized to mimic the specific look and feel of your site more than a standard unit such as the 300×250.
These ads blend in with the content, in some cases even matching the fonts and colors of your site, making for an aesthetically superior ad experience.
The custom look is not the only advantage. Studies from our native ad partners have shown increases in engagement of up to 400% from such units.
This added engagement — viewability and click through rate — means many advertisers are moving toward this an innovative way to reach audiences.
Large Skyscraper – 300×600
Note: This ad unit was retired in October 2018.
With the release of the Better Ads Standards and Google Chrome filtering this year, there was some doubt as to whether or not the 300×600 mobile unit's days were numbered.
The verdict: As long as the total height of all ad units on the page falls within ad density guidelines, the 300×600 (a.k.a. the skyscraper) may still be used.
With our in-content logic — instantaneously taking into account the extra height of this unit in order to keep you within a safe ad density range — Mediavine has you covered.
Put another way, if our technology detects that a 300×600 ad has been shown, it accounts for this in serving future ads, displaying only what keeps you compliant overall.
We continually see great CPMs for the 300×600 and still offer it to publishers. If you prefer to not run this mobile unit, our dashboard enables you to opt out at any time.
Display Adhesion
The Mediavine display adhesion unit is the only such offering allowed to remain "static" on a mobile page, sticking with the user as they scroll down.
For obvious reasons, this sticky quality leads to great viewability that advertisers love, and we are able to boost earnings from this unit by refreshing it every 30 seconds.
In many cases, this allows publishers to show users multiple different ads within this single ad unit, even if the user's session on the site involves only one page.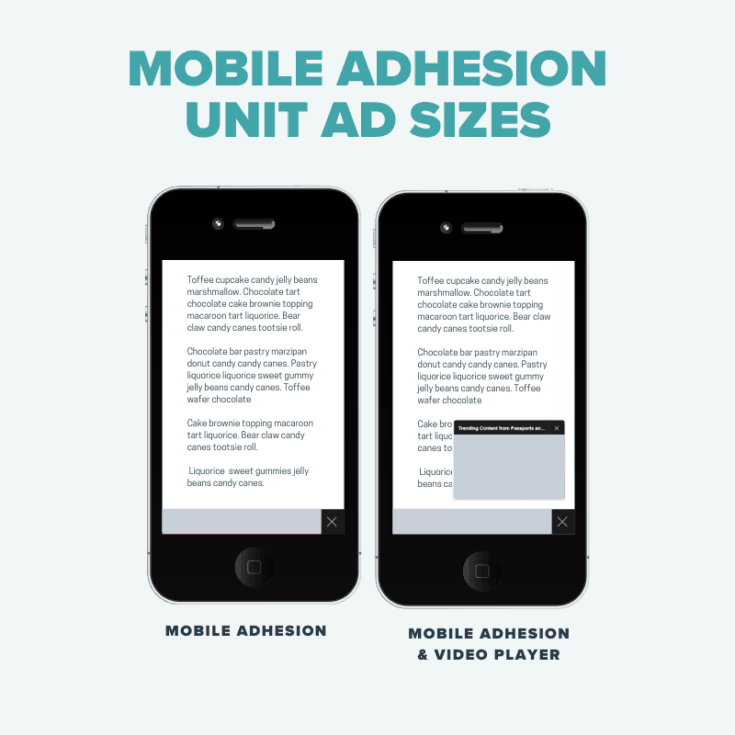 The Mediavine Video Player
Got videos? Then you have another tremendous mobile earning opportunity. Our exclusive video player gives Mediavine publishers the ability to run video alongside the standard mobile adhesion ad unit.
A mobile native experience that showcases your latest videos to users, our video player offers tremendous monetization potential on every page view.
In addition to running on desktop in-content or sticky on the page, it also runs alongside our traditional mobile adhesion banner at the bottom of your page, so you'll get more ad impressions with every pageview.
PLAYING THE LONG GAME
Mediavine strives to be on the leading edge of mobile advertising, allowing for a seamless desktop-to-mobile transition for both publisher and reader.
For the 75% (or more) of you reading this on a mobile device, check out one of our nearly 2,900 amazing publishers to see our innovations and clean user experience firsthand.