Summer of Live: Season 2, Part 1
The Summer of Live is in full swing, and we're already almost halfway through!
Wait, what's the Summer of Live?
Why, where have you been? It's our weekly Facebook Live series in the summertime. Our Marketing Manager and Summer of Live host Jenny Guy interviews 1-2 experts on a topic related to Mediavine and blogging, and viewers can chime in live to ask questions in the comments section. Each video is an hour long, and we make sure to post them to our YouTube channel afterward so you can find them there also.
During the rest of the year, we have our twice-monthly Teal Talks, which follow a similar model. Jenny will pick those back up in September, and we're already working on our lineup. If you have ideas or suggestions for topics or guests, please shoot an email to sponsored@mediavine.com.
In June, we celebrated the launch of our 5,000th publisher and marked our fourth year as an ad management provider. (Fun fact: We've actually been in business for almost 15 years.)
To celebrate June's awesome milestones, we focused all the Summer of Live videos on Mediavine and our products. In these four videos, you will meet some of our first publishers, learn more about how we got started as an ad management company, get to know our new framework Trellis and dive into Create with lots of tips.
Summer of Live: Season 2, Part 1
Episode 1: Happy Anniversary, Mediavine!
Guests: Brandy O'Neill of Nutmeg Nanny and Jocelyn Brubaker of Inside BruCrew Life
The past four years have brought a ton of change and growth, but from then until now, what matters to us most are our publishers. To kick off the Summer of Live, we invited two of our original publishers to chat with our guest host Amber Bracegirdle, one of Mediavine's co-founders. Brandy and Jocelyn both run incredibly successful sites and shared about their journeys in the blogging world and how they got started from the ground up with Mediavine. (Recorded June 6, 2019)
Episode 2: A Walk Through Mediavine History
Guest: Mediavine CEO Eric Hochberger
Eric joined our guest host Amber — two of Mediavine's four co-founders — to chat about our company's history and the sites Mediavine owns. These two strolled down memory lane to mark four years as an ad provider and 15 years as content creators. (Recorded June 11, 2019)
Episode 3: Trellis by Mediavine
Guests: Mediavine Engineering Manager Jordan Cauley
Have you heard about Trellis? It's our new framework for WordPress that we'll be unveiling sometime this year. Designed with site speed and the user in mind, it will offer a theme marketplace to help you pick the right look for your brand. Jenny got the inside scoop from Jordan, who is heading up the build of this product, to fuel your excitement plus answer all your questions. (Recorded June 19, 2019)
Episode 4: Create by Mediavine
Guests: Vice President of Publisher Support Nicole Johnson and Tara Jacobsen of Marketing Artfully
Do you Create yet? Mediavine's flagship WordPress plugin for makers, bakers and content creators of all sorts is designed to beautifully showcase your most valuable content. Plus, it's marked up with Schema.org to get it on Google's radar AND make you all the revenue. In this episode, we're exploring all that Create can do for you with two people who are uniquely qualified to share how to creatively use Create: our VP of Support Nicole, who has been behind-the-scenes since Create was just a twinkle in our eye, and our publisher Tara Jacobsen, one of the plugin's biggest fans. (Recorded June 27, 2019)
---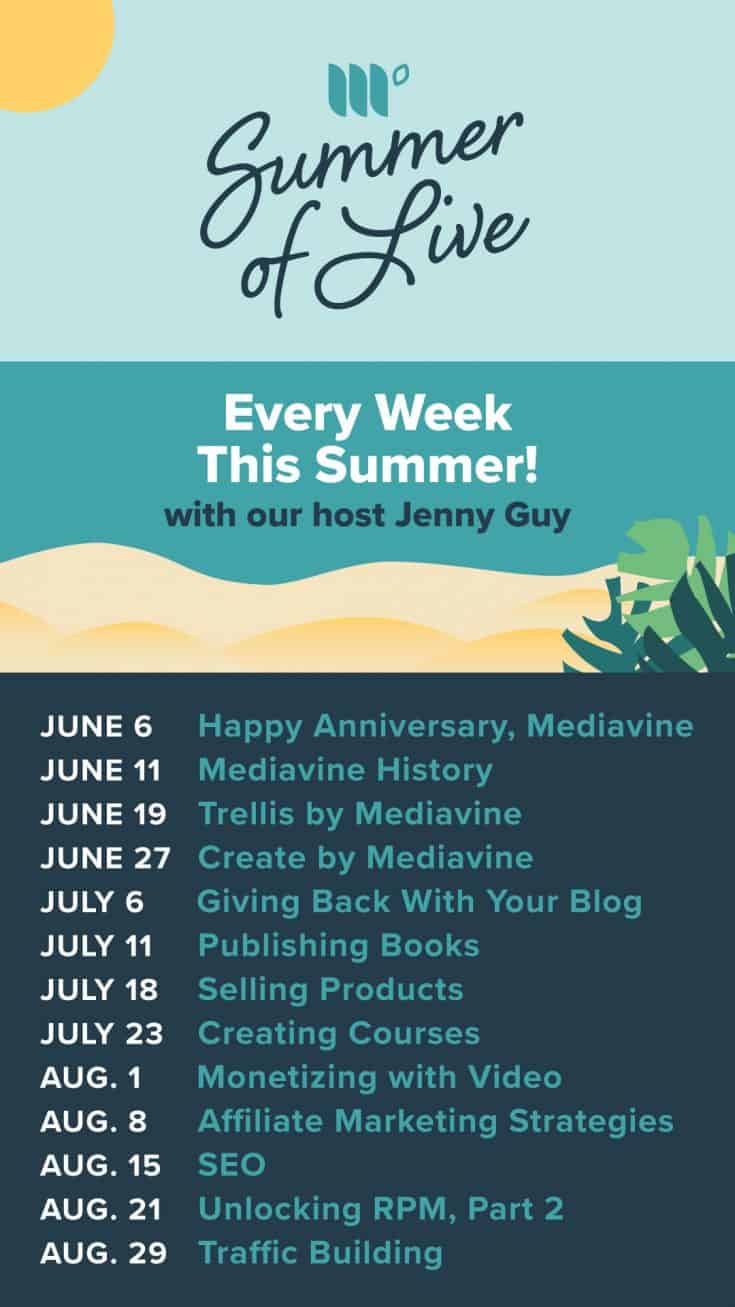 In July, we're discussing all things Beyond Blogging. Our next episode is July 18 to discuss Selling Products, but don't miss out on any of the great ones we have coming up!
Seen them all and want more? Don't miss all the videos from the first season of Summer of Live!