Hi, everyone! You probably don't recognize my name here on the blog, so allow me to introduce myself: I'm Alysha Duff, Media Relations Specialist here at Mediavine.
What does that mean? It means I'm working behind the scenes to help shape Mediavine's public voice through the media.
While my teammates frequent the blog, I spend the majority of my time in the Mediavine Newsroom and in reporters' inboxes announcing our latest and greatest.
But today I have the honor of voicing our latest and great accomplishments to you. In fact, the topic I'm diving into is a significant reason why I joined the Mediavine team in the first place and why I decided to join the Mediavine Shine committee.
So let's get to it: Mediavine's diversity and inclusion initiatives.
As a person of color, I'm proud to be a part of this progressive, mindful company and excited to talk to you, on behalf of Mediavine, about the steps we're taking to be changemakers.
Diversity and inclusion are a cornerstone at Mediavine. Creating and maintaining a community — both internally and externally — that welcomes people of all backgrounds has always been a mission close to Mediavine's heart.
But observing the race-related tragedies and hate crimes in spring of 2020 ignited new commitments within Mediavine, not only to ensure our position was crystal clear to everyone but also to foster an inclusive environment in every way we knew how.
Over the last 12+ months, we have yearned to better our operation by listening to and learning from our publishers, team members and society at large.
We've taken steps to hold ourselves accountable through tangible, measurable actions and this is only the beginning of our journey as a company.
Following the tragedies of Ahmaud Arbery, Breonna Taylor and George Floyd, Mediavine took a public stand against racial injustice.
We launched the We Stand With You campaign in an effort to ensure publisher awareness and employee well-being, commissioning Black artists to create images expressing racial unity through a variety of creatives.

Since then, we've expanded this campaign to support the AAPI community as well, commissioning Asian artists for additional creatives. They can now be seen across many of our 8,000+ publisher websites in place of unsold ad space.

And we didn't stop there.
We continued launching new initiatives to empower our employees to give back to their communities through donations of cultural and historical books written by African American, Indigenous and other marginalized authors to local Title I schools.
We also began offering monetary matches up to $1,000 for employee donations to social justice or equal rights organizations in particular.
We also realize that our DEI efforts must go beyond race in order to achieve our goal of a safe and welcoming workspace for all identities. So we're working inwardly and outwardly to encourage LGBTQ+ inclusion.
We've input new regulations prohibiting hate speech across our publisher websites, and we've begun offering a pronoun display on employee email signatures.
In June, we launched a year-round PSA partnership with PFLAG National, the nation's first and largest organization for LGBTQ+ people, their parents, families and allies.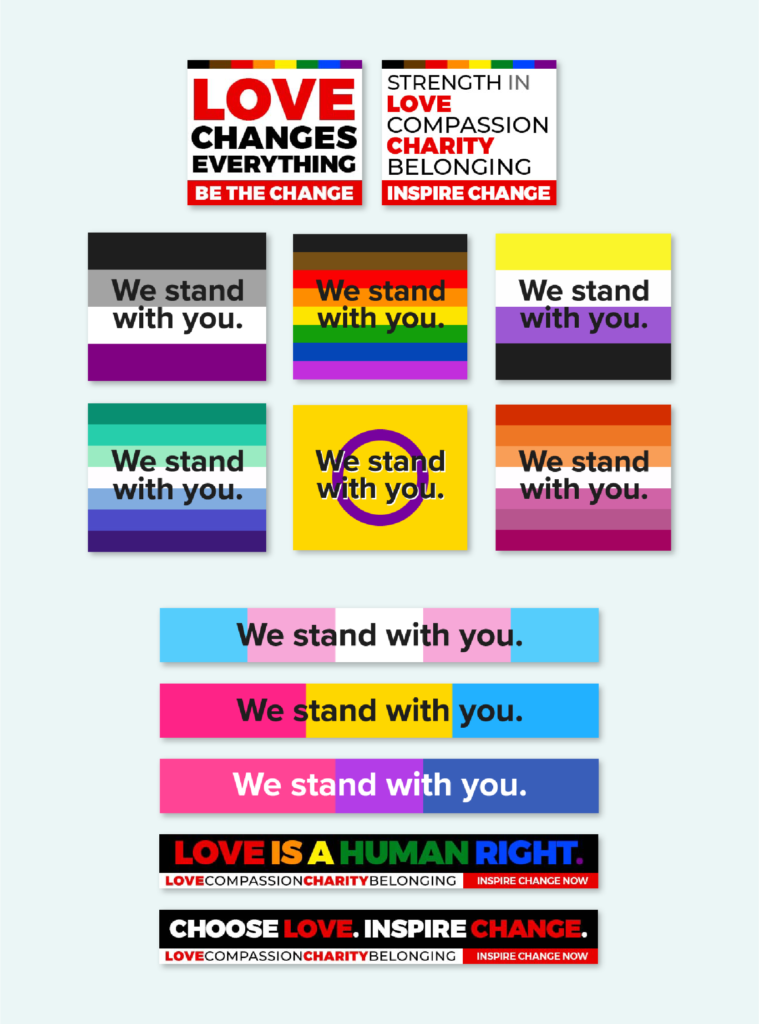 At Mediavine, we believe in clarifying our core company values right off the bat, which is why we're emphasizing our DEI commitments in our onboarding process.
To give potential team members as well as new hires a genuine feel for Mediavine's culture, we've created "The Belonging Project" and "Diversity & Inclusion at Mediavine" videos to reflect who we are.
We also require all employees to participate in a four-segment Traliant training course that educates on Diversity, Inclusion & Sensitivity and Microaggressions in the Workplace, and Preventing Discrimination & Harassment and Unconscious Bias to understand where we stand as a company.
And when new members join our team, we have a community for them. Whether someone identifies as LGBTQ+, a person of color, dog lover, foodie, gardener — the list goes on — Mediavine provides team members with a place to come together via specific Slack channels.
By actively championing our diversity efforts, we realize that also includes intentionally working to diversify our team. We're proud to say that in tech, an industry known for its lack of diversity on all fronts, we defy the odds.
As of June 2021, our team comprises 10% LGBTQ+ employees, 30% BIPOC employees and 54% female employees. In addition, Mediavine's leadership is 65% female. And we're not stopping here; this is our public affirmation of our commitment to continue improving.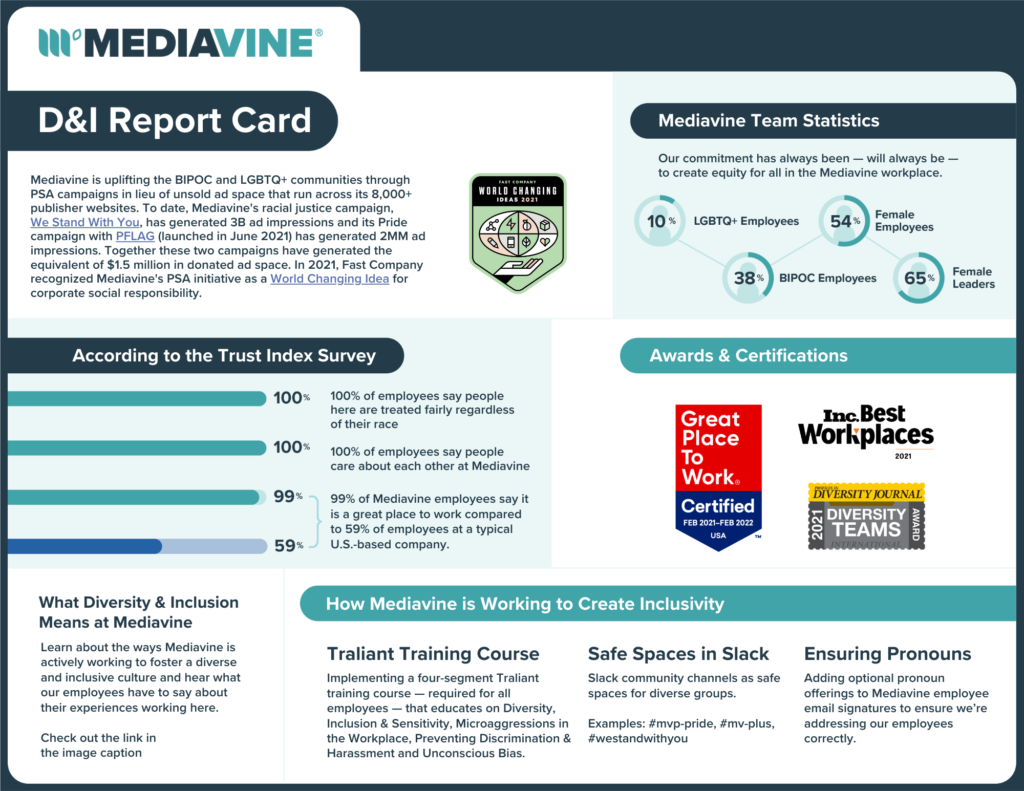 As always, we're humbled by and thankful for our publishers and employees for continuously assisting us in our progress. Your feedback is immensely valued here at Mediavine and has enabled us to reach these milestones.
With your help, we've earned our certification as a Great Place to Work®, earned inclusion on Inc. Magazine's 2021 Best Workplaces list and been recognized as one of Profiles in Diversity Journal's 2021 Diversity Teams.
During the second half of 2021, and in the many years to come, Mediavine is committed to continuing to foster our relationships with organizations whose missions and values align with our own for PSA campaigns and other projects.
We will continue to strive for even greater diversity and inclusion of all kinds in our hiring.
We want to be a workplace that reflects the communities we serve and which empowers everyone to bring their full, authentic selves to work.
Subscribe for Updates
Stay up to date with the latest from Mediavine