With the end of third-party cookies looming, it's no secret that the industry is betting big on first-party data as the premiere solution.
As such, it's no surprise that one of the top industry publications, Digiday, has added a Best First-Party Data Strategy category to its annual awards.
Today, we're excited to announce that Mediavine's own Grow.me has been nominated for the inaugural 2021 Best First-Party Data Strategy award!
We're one of just six nominees for the honor and the only representative among ad management companies or independent publishers.
Alongside Mediavine among the nominees are other ad tech heavyweights such as Criteo and Merkle and only one other publisher — Vox Media.
Below, we'll break down why this is a big deal — not our nomination, though we're happy about it — but the importance of what it is we've been working so hard on.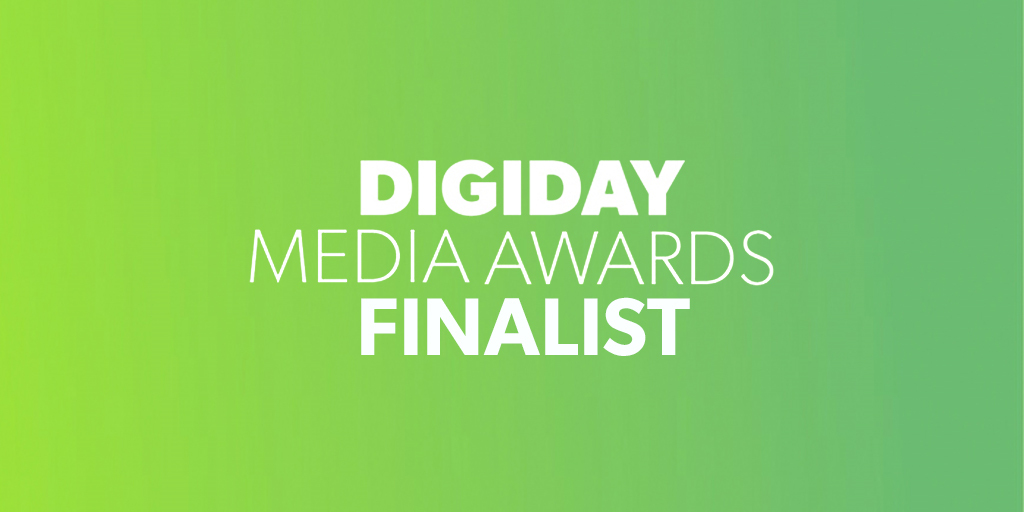 Why is a First-Party Data Strategy Important?
When we talk about the end of third-party cookies, we're also talking about saying goodbye to third-party data as we currently know it.
Previously, advertisers could target audiences by purchasing what are called audience segments, powered via third parties such as Bluekai.
These segments were collected behind the scenes as users browsed the web, all without consent, unless required by regulations (looking at you, EU and GDPR).
Without third-party cookies, there's only one person who can reliably build such data segments and relationships with readers — the first party, or you, the publisher.
In a post-cookie world, data collection will be limited to a single domain. In order to accurately link that user or collect data, you'll need to obtain permission explicitly.
This can be done by collecting something like their email address or through another way of having them agree to be linked across domains.
If you're already confused and/or overwhelmed, we don't blame you. Creating and packaging first-party data is not a small-scale operation.
With third-party cookies and data, we could rely on billion-dollar companies (Bluekai is owned by Oracle, true story). Now, the onus is on publishers.
As independent publishers with already limited resources, how do we shoulder the burden of something as complex and labor-intensive as first-party data generation?
Just as importantly, how do we reach the kind of scale that advertisers require in order to find their respective needles in the haystack of users?
Oracle's Bluekai could operate across millions of sites behind the scenes. Now we essentially need our own coalitions of sites.
Again, you can see this is not a small undertaking — and this is a long way of saying that you need a strategic partner like Mediavine and Grow.me.
Just as we revolutionized ad management for independent publishers, we're doing it again for first-party data, and we're excited for industry recognition.
But awards are unimportant compared to helping publishers understand this strategy. After all, you're the ones who will be building first-party data with us.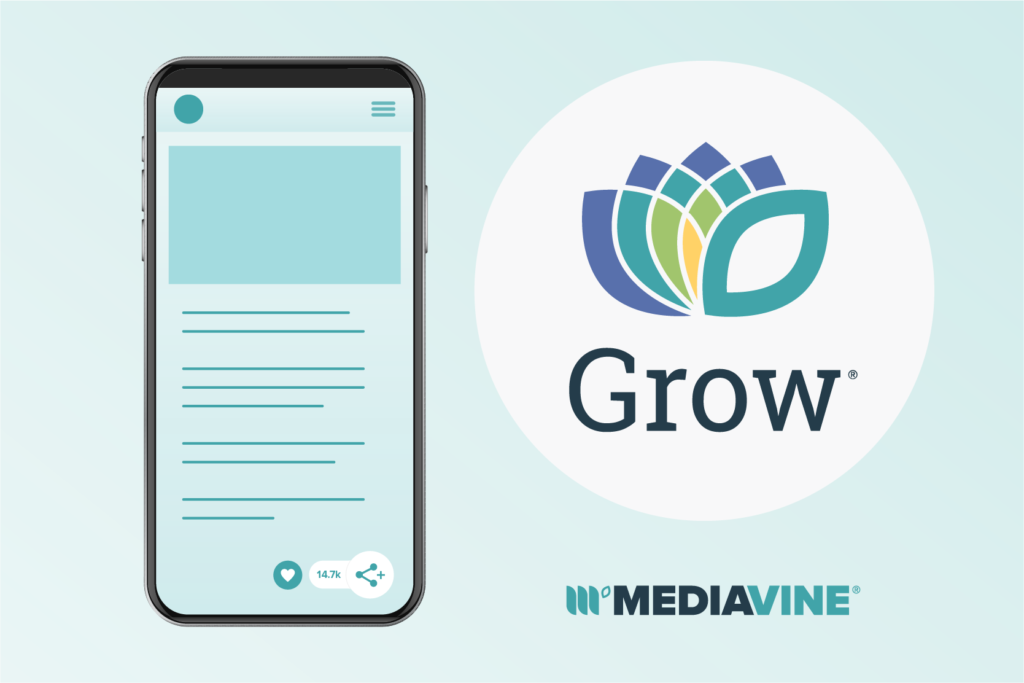 What is the Grow.me First-Party Data Strategy?
First and foremost, Grow.me is geared towards a privacy-centric web.
What we're doing will not only help us survive the cookiepocalypse but will also improve readers' perception of privacy, trust and a changing regulatory landscape.
In short, Grow.me is designed to help you earn more revenue today, after cookies are phased out and continuing into the free and open web that we help usher in.
That obviously sounds great. But how will it do that?
Grow.me is all about the relationship with your readers.
It's not just slapping a paywall / freewall in front of your readers and calling it a day. It's about creating a better browsing and advertising experience on your site.
That means giving you additional features to enhance the experience and encourage readers to log in and being up front about how their data will be used.
Unlike the third-party cookie and solutions of the past, Grow.me is transparent. Readers are asked to consent to personalized ads before any data is collected or shared.
Please note that this doesn't just apply to the EU and its GDPR laws. Grow.me has adopted the concept of consent and opt-in globally.
We believe this is the key to any long-term first-party data strategy.
Okay, so what does "consent" look like?
Right now, Grow.me readers must sign up for an account. When they do, they provide explicit consent that they're agreeing to personalized ads.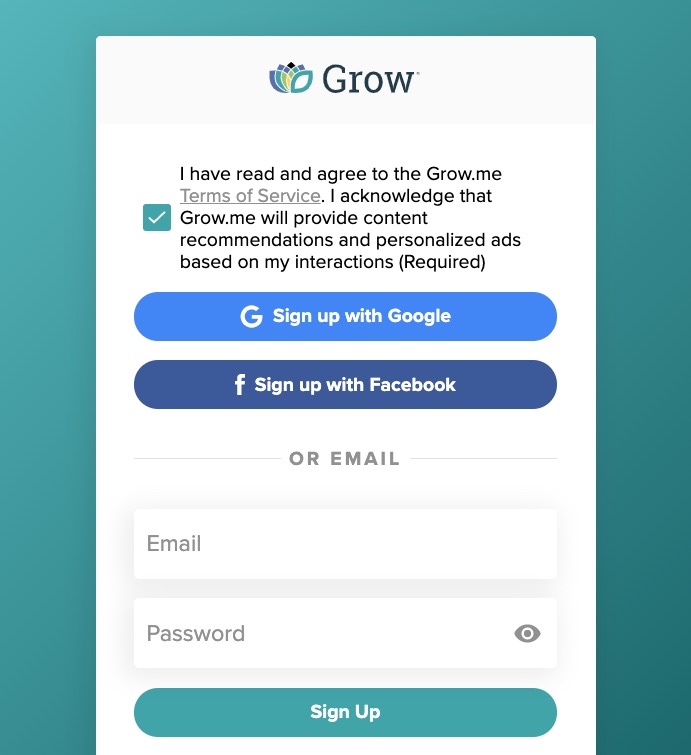 Looking ahead to the future, we're exploring ways in which readers can provide consent without logging in, allowing for a semi-anonymous experience.
We view Grow.me as a multi-pronged approach because that's the other key to an effective first-party data strategy.
Authenticated or logged-in traffic is the most valuable but it can't be the only solution. A large number — probably a vast majority — of users won't log in.
As we continue to build up features like Subscribe, we're slowly increasing the percentage of users that log in. But even then, our ambitious goal is 5-10%.
What about the other 90-plus percent?
As we mentioned before, in order to generate first-party data across multiple sites, you will need a consent model.
That's where Grow.me — as a single coalition shared amongst all publishers — is pivotal.
We'll be attempting to replicate many of the audience groups and interest segments that advertisers have previously felt comfortable buying on. But in order to attain the scale they need, we'll also need to rely on solutions such as contextual data and Privacy Sandbox initiatives such as FLoC.
Until the Privacy Playground magically becomes real, we're betting big with Grow.me and its plethora of first-party data strategies.
Opt in Today
The best thing you can do to get ahead of the curve re: first-party data is to travel back in time and begin this process five years ago.
Absent a DeLorean with a flux capacitor, the next best thing is starting today.
What many of your competitors are doing — waiting until the 11th hour, in hopes that cookies somehow survive, or someone else solves this — is not a viable solution.
Just as it takes time to build relationships with readers, it takes time for us to develop the tools needed for Grow.me to help you do so.
The sooner you begin, the more relationships you'll build, the more first-party data you'll have and the more valuable your traffic will be.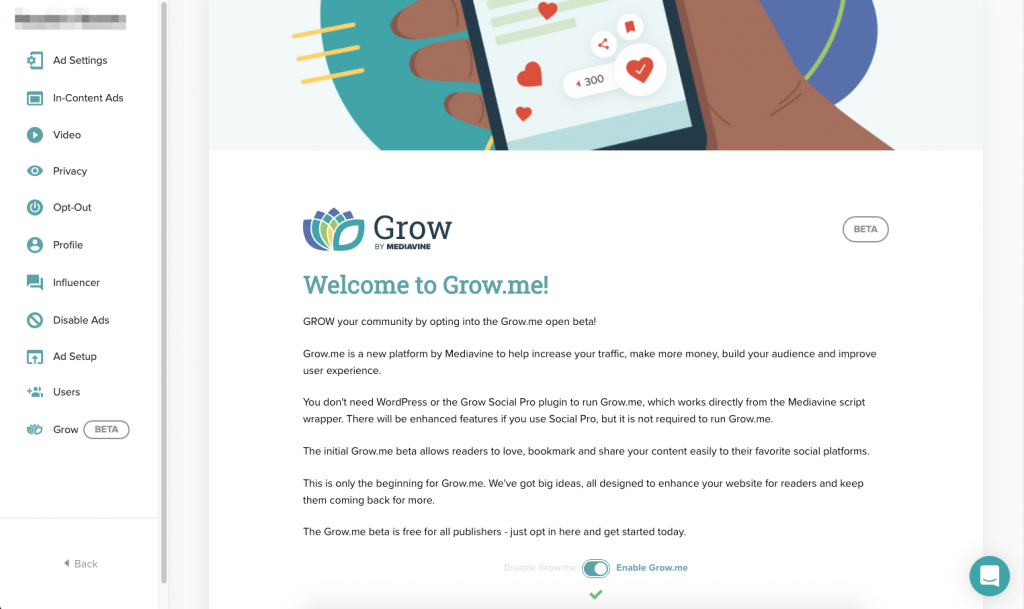 Don't just try to cover your losses when they occur. Use this opportunity to blaze the trail.
Thanks to the fact that Safari and Firefox have already stopped third-party cookies, you can begin to see this strategy impacting your bottom line already.
With features like Subscribe adding to your mailing list and Recommended Content increasing your traffic today, you won't just be seeing higher RPMs but increased traffic as well.
Grow.me is truly a winning strategy for everyone — advertisers, publishers and readers — and we're humbled and honored that Digiday is recognizing this.
We're also humbled and grateful for our publishers, for their trust and continued efforts to build this community and make us a better company.
We love you. Now go sign up for Grow.me!
Subscribe for Updates
Stay up to date with the latest from Mediavine
Related Posts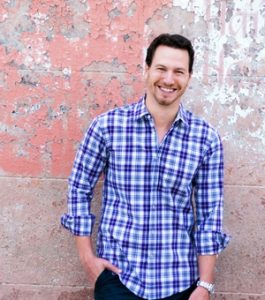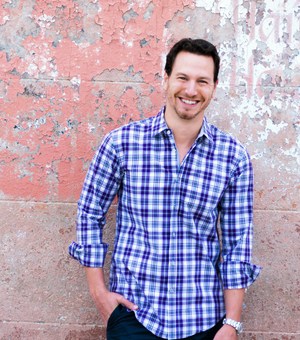 Eric Hochberger
Mediavine is always excited to tell publishers What's Next for Grow.me … literally in this case. One of our most popular Recommended Content features, the Mobile Carousel, is getting a …
Read More