Grow.me: The Future of Grow
We're excited to announce the future of Grow.
The Grow Social Pro plugin, which Mediavine rebranded after acquiring Social Pug, is fantastic. It offers the fastest sharing buttons among plugins, and we are extremely happy with it.
The Grow you know isn't going anywhere any time soon, and the features you've come to love are all still there.
We're still working on this terrific product and are excited about improvements such as the inclusion of our Optimize for PageSpeed mode.
Today, however, we're focused on the next iteration and its next round of features.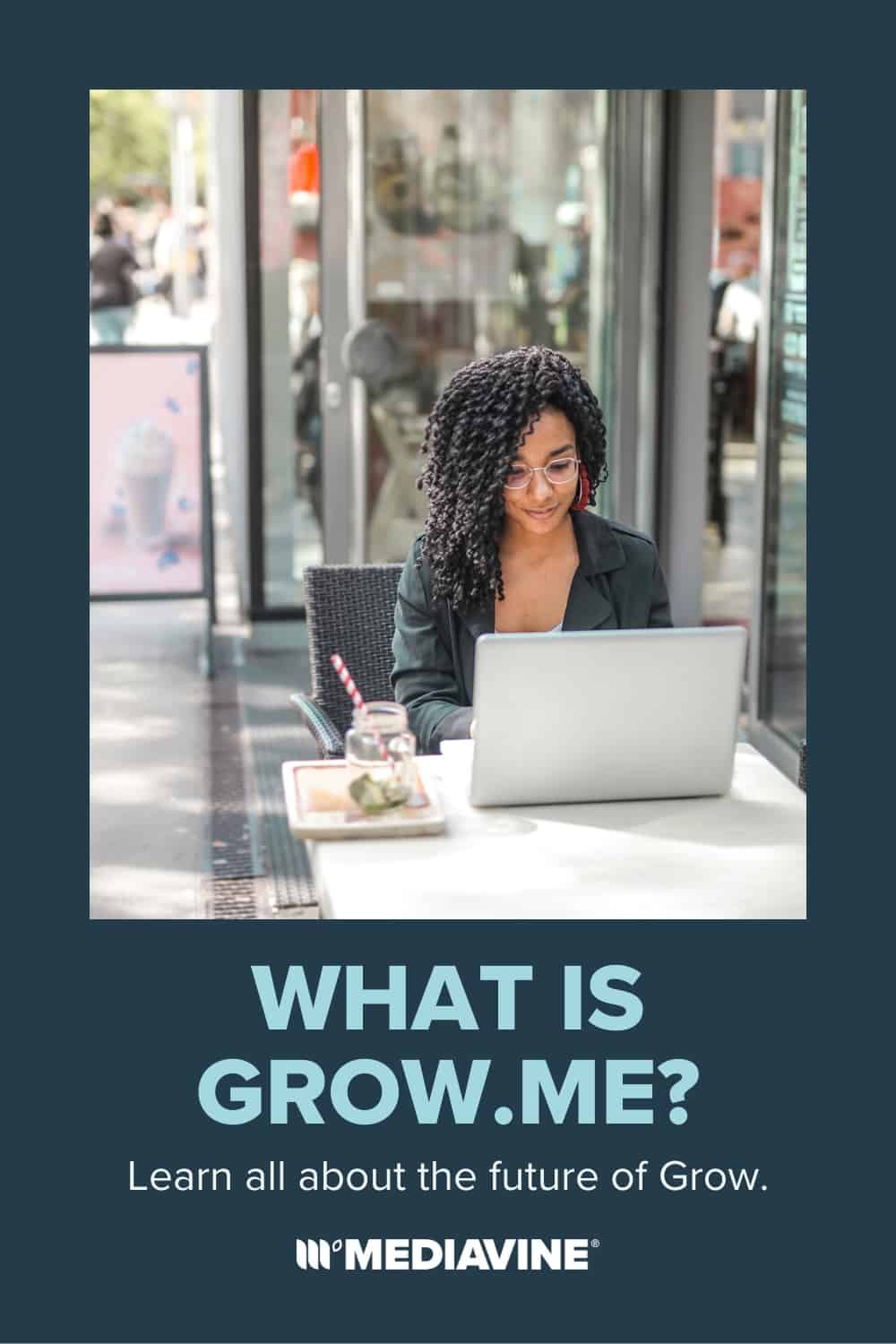 Grow.me: What is it?
Yes, Grow.me is a thing. A very cool thing that uses technology similar to the Mediavine Script Wrapper.
It's what the tech industry calls SaaS (Software as a Service). Compared to the slower release cycle you normally see with WordPress plugins, Mediavine's ad technology is built so that our engineers can rapidly test and deploy new features.
We're bringing the speed of development and stability that you've come to expect from Mediavine Ad Management to Grow.
It also means that Grow will work on non-WordPress sites.
If you're a current Grow Social Pro user, fear not; Grow.me won't replace the current product. Grow.me will run in tandem with it while providing additional bonus features for Grow Social Pro paid users.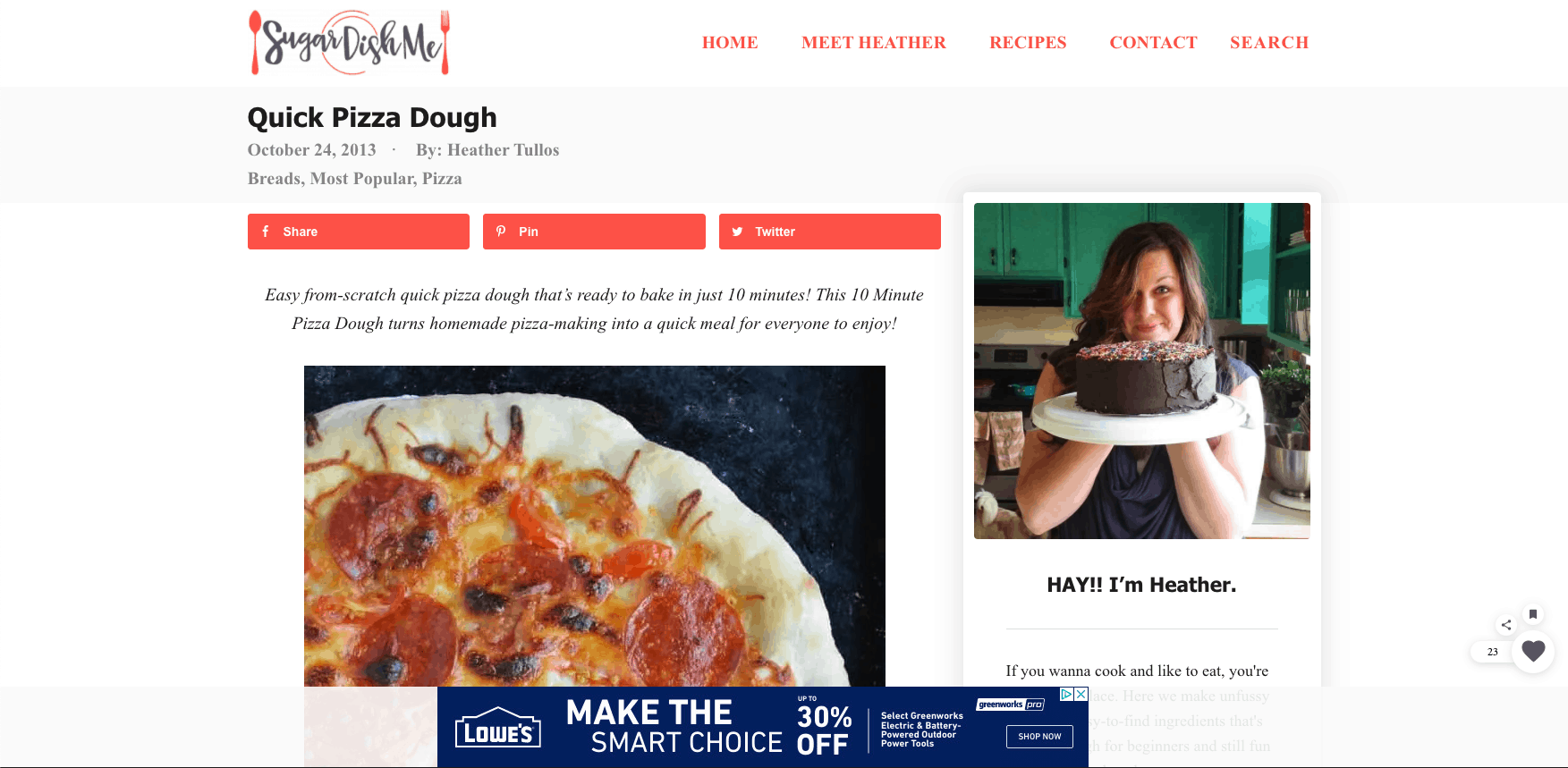 Grow Favorites and Social Sharing Button
All Mediavine publishers are invited to request beta access to the first new feature, a floating Grow Favorite and Social Sharing Button on the bottom right of their websites (you can see those in action on Director of Publisher Support Heather's site, Sugar Dish Me, above).
This new button is easily enabled via your Dashboard (once you're opted in to the beta) via a single toggle, and it automatically loads via the Script Wrapper.
The Grow button turns your website into a social network of its own, providing users the ability to like your content.
Even better? As this feature is rolled out, when a user logs into Grow.me, they'll be able to save their favorite posts across any websites that have opted in to this feature.
Moreover, users will easily be able to access their bookmarks from any website running Grow, or from Grow.me directly.
Users can easily authenticate using Google, Facebook or email, and stay logged in across Mediavine sites.
Plus, publishers already running the Grow Social Pro WordPress plugin can now get their latest social counts, from popular social networks like Facebook and Pinterest, automatically displayed in the bottom right of their post.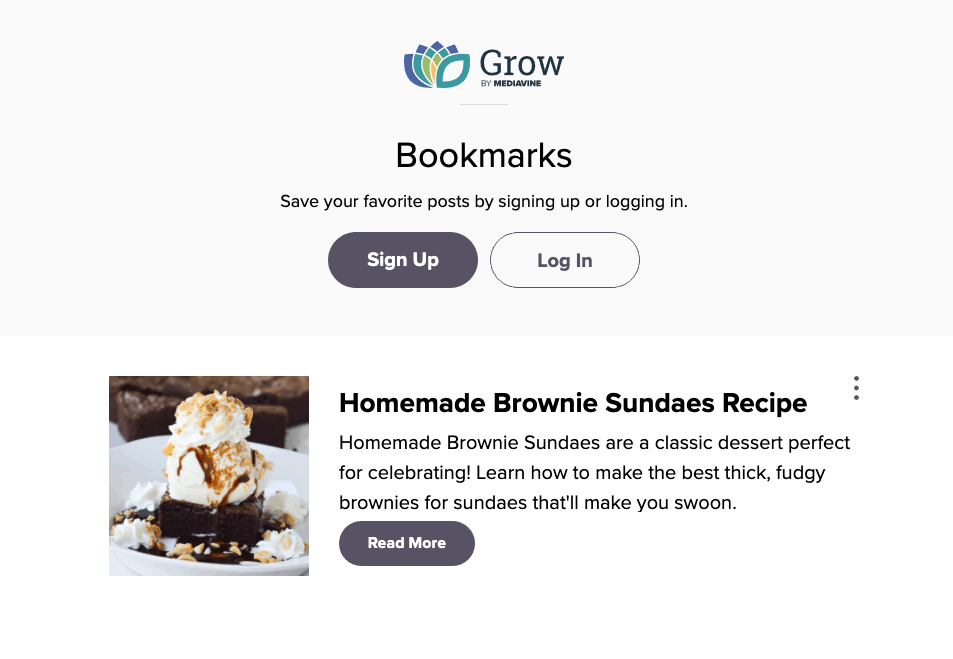 The Future of Grow
For the first time ever, Grow is now available for non-WordPress publishers. While they're currently limited to the Social Share and Favorites button, more features are coming soon.
We see this new style as the next evolution of Grow. We plan to migrate more and more of the Social Pro features you love in Grow to this new service, so that more people on more platforms have access to these awesome features.
What About Opt-Ins?
Yup. It's already a part of the new Grow and more is coming.
As part of this service, we're building out the lead generation and opt-in capabilities of Grow. In the future, when users log in to save favorites from your website, they'll be given the ability to opt-in to your newsletter.
We're adding the ability for you to add newsletter subscribers to popular services, as well as helping you create other opt-in opportunities in the future.
What About Custom Search?
We know this is a popular feature request among users out there, and we're investigating how to add this feature in the best possible way.
What About Importing From Other Services?
We're researching if it's possible. Unlike with recipe cards or similar, the data isn't stored on your website, so importing from one service to another is not as straightforward.
How Much Does it Cost?
The baseline version of Grow.me, which includes the sharing button and favorites feature, are both free for Mediavine publishers. Social share counts are exclusive to users who have paid for a WordPress Grow Social Pro plugin membership.
We will attempt to release as many features as we can for free along the way, but certain aspects will require payment.
We'll keep you updated with more information as Grow continues to develop.
Will Grow.me Slow Down Your Site?
As with everything at Mediavine, pagespeed is the top priority and this is no exception. Like the Script Wrapper it's modeled after, Grow.me is lightweight and built for speed.
During development our engineers employed the latest technologies, including web workers, code splitting and lazy loading in order to minimize any impact on your page load.
Third Party Cookie Solution
The programmatic advertising industry was built on what are known as third-party cookies. Without getting too deep into what cookies are, they're what allow advertisers to target readers on your site.
However, Safari is already blocking them and Google Chrome is joining the fray in less than two years, as privacy concerns push the industry away from third-party cookies and toward first-party data.
Without third-party cookies, advertisers are going to rely on your first-party data to help them identify potential customers.
In short, publishers will have to provide first-party data if they want to earn high CPMs on the programmatic market.
If you feel like you're in the dark, you're not alone. Most independent publishers don't even know what first party data is, let alone have it, and this is a major change from how online advertising has traditionally worked.
First-party data is when the website itself (the website owner is the first party) is collecting information about its readers and passing that information on to potential buyers.
It's the most likely solution to a world where we can no longer identify users with a third-party cookie, and provides an incredible opportunity for Mediavine publishers and Grow.me.
Grow.me is, first and foremost, built as a personalized browsing experience for your audience. It's going to offer real value, encourage readers to log in to save their favorites, build recipe boxes, share content and everything else they'll love.
As your readers become Grow.me subscribers, you'll be compiling first-party data along the way.
In two years, when Google Chrome phases out the third-party cookie, Mediavine publishers adopting Grow.me will be years ahead of the competition and poised to enjoy the rewards.
Opt In Now!
We need your feedback. Part of the reason Mediavine Ad Management has become so successful is because of you. Now we're asking you to help us do the same with Grow.me by visiting the landing page and joining the beta.
As a community, we can build the next social network and take control of our sites, traffic and data.
So let's Grow together, if you will.
Sorry, I'll show myself out now.