What Are Push Notifications? Drive More Traffic From Your Best Users
Website push notifications are an emerging tool for publishers looking to reach their audience in real time and in a way that occupies a unique place among modern communication channels.
Push notifications are clickable messages sent by a service to subscribers' browsers. We see this all the time with Facebook, SMS and other apps.

Website push notifications are similar, but drive traffic to websites instead of apps, and are accessible on all devices (mobile, tablet, and desktop).
The latter is key, as desktop use still accounts for 30-40% of total Internet time, and – while declining – this share of your users represents the most lucrative in terms of ad revenue. Once a user opts in, desktop, tablet and mobile users receive notifications simultaneously, and instantaneously.
We've seen regular click-through-rates (CTR) of 5-10 percent, with 10-15 percent on many occasions and even higher still in the case of a particularly strong campaign. Compared to our newsletter, Twitter or even Facebook, this is relatively high – and simple to boot.
These results will vary for many reasons, and every marketing technique is somewhat hit or miss, but web push notifications are a means of reaching people you otherwise might not, and offer some distinct advantages other traffic acquisition methods do not.
Mediavine has had success using OneSignal, which not only gives us the ability to send push notifications without investing in our own app, but is extremely user friendly for an SSL website (see our discussion on why you should go secure with SSL ads). SSL compatibility makes this a one-click proposition, rather than requiring complex coding.
Currently, iOS doesn't support web push notifications, so neither does One Signal. But between Android phones, tablets and desktop browsers (Safari, IE, Chrome, Firefox), we've been able to target a large portion of readers.
Five Things to Know About Website Push Notifications and How to Use Them
1. These are your best users, so treat them accordingly.
Once you sign up with OneSignal, an opt-in box is triggered (below). If a visitor allows notifications, they are immediately added to your subscriber base. By definition, your subscriber list is high quality, as your readers signed up. With that power comes responsibility, though, as these same engaged subscribers can opt out if the content doesn't meet expectations.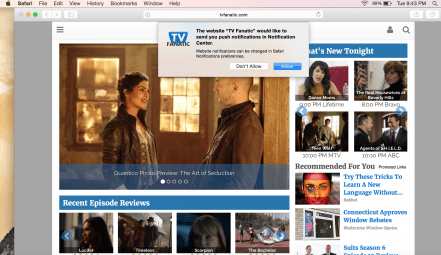 2. Don't overdo it (an extension of point #1).
Push notifications are an extremely effective and fast way to see a spike in traffic, so the temptation is to use it and reach people … a lot. But no matter how good your content is, and how loyal your readers are, there is too much of a good thing. Sending out more than people want can ruin the effectiveness of an otherwise high-engagement strategy. There's no one-size-fits-all amount, but we've found one per day (or fewer) to be a sweet spot with relatively few users unsubscribing.

3. Push notification copy is critical.
Character limits for push notifications are short, and you should make them shorter still. Space is very limited on desktop (see above), and even more so on mobile (below). As publishers, our goal is to identify what makes a user interested in the page we're using the push notification to drive traffic to, and craft the most succinct, engaging copy for it. This sounds obvious, but in dealing with the tiniest of spaces (and attention spans), not being too long or vague can make a big difference in CTR.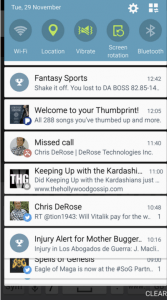 4. Immediacy is great, but not essential.
Push notifications reach users instantly, which is vital for The Hollywood Gossip or TV Fanatic breaking a story that may not be as exciting in a matter of hours. One Signal allows you to "optimize" or spread notifications over a 24-hour period, however, in order to reach subscribers at the time they're most likely to see it and click. For evergreen content and a user base spread across multiple time zones, this is an option worth considering.
5. Segmenting allows for creating more than one audiences.
OneSignal allows you to tag users based on specific behavior or pages they visit, offering you a chance to create a custom user base for certain types of content you create. Depending on the range of topics you post about, organizing subscribers into different segments could lead to significantly higher CTR than blanketing everybody with the same messaging.