Is Mediavine for Big Bloggers?
When we launched Mediavine, one thing that was important to us was to be as inclusive as possible.

It's how we handled adding contributors to Food Fanatic too — it didn't matter how big your site was, if your content was great, we'd consider you.
Along the way, we took some feedback from our ad partners and realized that before about 60,000 pageviews, adding display ads to your site isn't really worth the loss in user experience, and our partners simply needed more impressions to make the relationship worthwhile too.
In truth, it's something we already knew.
We'd delayed adding display ads to Food Fanatic until well after it was 18 months old, and into the hundreds of thousands of pageviews a month, just to keep building our audience's loyalty before introducing ads to the equation and site design.
Somewhere along the way, being inclusive by allowing blogs with as few as 60,000 pageviews or 50,000 sessions a month has caused some folks in the blogging world to think that we're not for "big bloggers".
I want to set the record straight on that.
We're for big bloggers and small bloggers alike, and we treat each of you as valued members of our family regardless of your site size.
Not only do we represent our own multi-million pageview sites, we're lucky enough to have the trust of fabulous business people like Jamie from My Baking Addiction, the financial whiz behind Well Kept Wallet, Mel from Mel's Kitchen Cafe, the lovely ladies of Six Sisters Stuff and the dynamic duo behind Pinch of Nom, all of whom run websites in the millions of pageviews a month.
The thing about programmatic advertising is that the bigger the network, the better it performs. So it doesn't make sense for us to be "exclusive" to giant-sized sites.
We are solely owned and operated, and we are driven to help content creators build sustainable businesses. Mediavine is for publishers, by publishers.
And our publishers, big and small, are just phenomenal people. From writing Mediavine Reviews to supporting each other in our Facebook group, to creating their own Tailwind tribes to help grow each other's sites, Mediavine publishers are simply amazing.
Everything they do helps grow our company, in traffic and in ad revenue. That partnership is SO, so valuable, to all of us.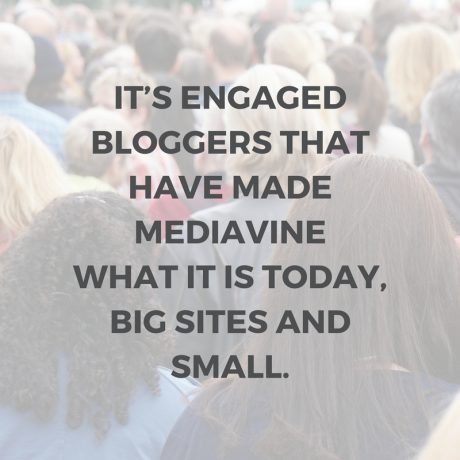 You see, our technology was built to scale, from big to small and small to big. Like I wrote about before, in the telling of our company creation, when we decided to do advertising ourselves, our own sites ranged from a couple hundred thousand pageviews a month to double-digit millions.
Your technology has to be able to handle all of it without a ton of human intervention for this to be a viable business solution.
The technology that runs The Hollywood Gossip and its 30 million pageviews a month is the same technology that runs ads on my own personal blog, and its tiny, but loyal, following.
Every site at Mediavine gets the same attention and service as our 30 million pageview site, because each of us is running on the same backbone of code.
We are able to do this because of the nature of programmatic advertising. We provide the framework, and your audience does the rest. Providing that data to advertisers allows them to decide where to spend, and boy, do they. Especially on lifestyle blogs.
That's what makes Mediavine publishers so special. And it's why we're dedicated to helping your site, and your ad income to grow whether you have 50,000 sessions a month, or 30 million.
Bring it on. We're ready to take your business to the next level.