What Is An Ad Exchange?
If you've ever been in contact with Mediavine via our amazing support channels, conference events, or elsewhere, you've likely heard us reference ad exchanges.
Ad exchanges are the driving force behind programmatic advertising, the engine through which inventory is bought and sold. Whether you're using Google AdSense or Mediavine, or other ad management solutions, your inventory is bought and sold via an ad exchange.
What is an ad exchange?
The short version: An ad exchange is a digital marketplace in which publishers connect with buyers looking for a specific audience. Put another way, through an ad exchange, publishers can market their available mobile, desktop, and/or video inventory to the ideal buyers.
In today's marketplace, these transactions are made almost exclusively through real time auctions. Major players in the ad exchange space include Google AdExchange, Index Exchange, Rubicon, Triplelift, OpenX, and Oath (formerly known as AOL).
Catch our Go For Teal video series on how we work with ad exchanges: 
How does an ad exchange simplify things?
I've been in Ad Operations since 2006, a lifetime ago in this industry. Back then, ad space was primarily sold through direct deals – actual salespeople reaching out to actual advertisers in order to fill available ad impressions. Once a deal was struck, a "Request for Proposal" (RFP) had to be drawn up, followed by negotiations of terms, and finally an "Insertion Order" (IO).
With the IO in hand, an ad trafficker would manually input the details of the ad campaign into the ad server, and once live, would need to pull and send reports, watching daily to be sure that the campaign was on pace to deliver in full. If not, adjustments would be made to ensure that the publisher would not forego the earnings of any undelivered inventory.
Suffice it to say, completing any deal was labor intensive. Now imagine this process on a huge site with 100+ ad campaigns running at the same time, across different time zones, targeting various demographics, and in wide-ranging locations.
Ad exchanges have drastically streamlined the sales process. Nowadays, a publisher lists its available inventory on an ad exchange through an Supply Side Platform (SSP). By creating a single ad unit with an SSP, the publisher receives a "seat" on, and can be listed in, any ad exchanges that work with that SSP.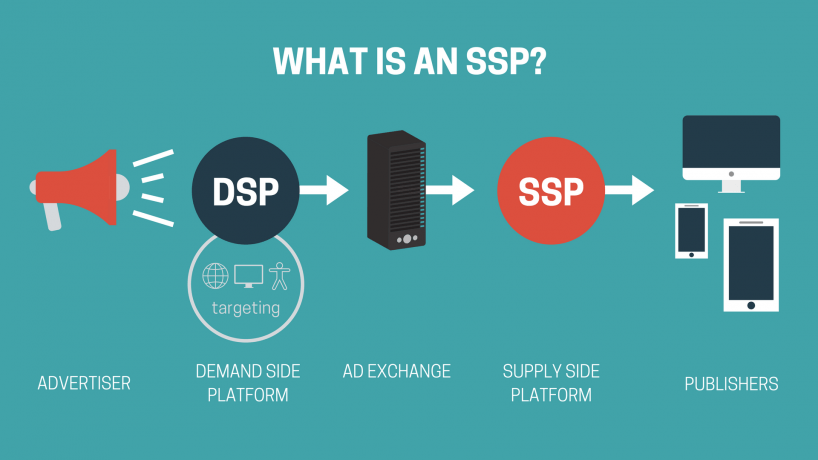 Mediavine helps publishers accomplish this on a very large scale. Mediavine publishers group their ad inventory within our massive pools of similar inventory, and through our seat at each exchange, market their available advertising inventory to the advertiser.
As for the advertisers whose products, brands and services are offered to publishers on the ad exchanges? They can be as small as a mom-and-pop shop down the street from you, or as large as the biggest corporations listed on Wall Street.
By pooling together many different sites with similar ad inventory, Mediavine's seat on the ad exchanges increases in value, making us a one-stop shop for relevant advertisers.
This strength in numbers, along with our innovative technology, is a big reason why Mediavine is for big bloggers, medium-sized and smaller publishers alike.
Mediavine has close relationships with many different ad exchanges, all of which compete for ad impressions on every page load in a real time auction. This competition between exchanges means that the user sees the most relevant ad, and the publisher gets paid top dollar for it.
Incredibly, this all takes place within fractions of a second – a far cry from 2006!
What if an advertiser is still looking for more personalized service?
For those seeking more control and personalization of a particular campaign, advertisers and publishers can still work together using "Private Marketplace" deals.
By default, publishers' ads are listed in what is called the "open" marketplace. This means any advertiser on the exchange can view and buy that inventory.
In a Private Marketplace (PMP) setting, a specific buyer can work with a publisher to target exactly the audience that the advertiser is seeking to reach, usually resulting in an increased return on investment. This is precisely what the Mediavine sales team is doing each day on behalf of every publisher we proudly represent.
Billions of ads find their way from advertisers to publishers every day.
As an exclusive representative for 3,500 publishers and counting, Mediavine remains on the leading edge of ad exchange technology, always ensuring that the right advertiser finds the perfect publisher, and at the best possible rate.