Don't let blog graphics keep you from taking your brand to the next level — instead, try one of these easy graphic design tools recommended by Mediavine's Graphic Design Specialist.
As bloggers, we wear all the hats. Sure, when we started our sites we thought we'd be writers and photographers, in addition to the experts in cooking or travel that we already are.
Thankfully, you've got Mediavine to help you with ad management.
But who here thought they would also become a proofreader or event planner? Or spend their days learning search engine optimization?
What about graphic design? If the "graphic designer" hat isn't already on your proverbial blogging coat rack, have no fear.
I'm here to make design work like creating pins for Pinterest, cute quote graphics for Instagram or a new header for your newsletter easy and painless!
I work on Mediavine's Brand team as our Graphic Design Specialist. We also have the talented Kat Donegan who works on our engineering team as our Senior UX/UI Designer.
While we are both trained designers, whether you have gone to design school or not shouldn't stop you from creating great graphics!
There are tons of approachable, affordable graphic design tools out there to get you started, and you can still churn out professional, polished graphics that are reflective of your brand. Here are a few of my faves: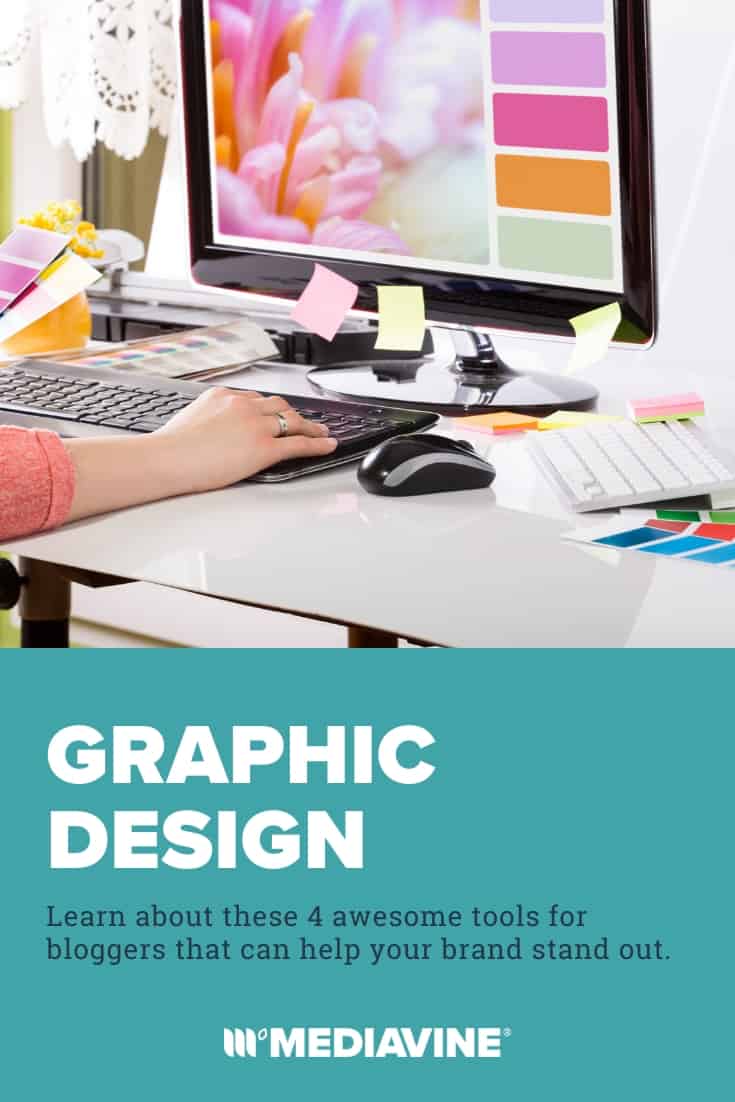 Canva
My team uses Canva daily at Mediavine — it's an easy-to-use, browser-based design tool, but they have a mobile app as well. The free version is great, but you can upgrade to get some awesome features for teams.
In Canva, you can make everything from social media graphics to business cards for your next blogging conference to printables like your media kit.
You can set your brand's go-to fonts, font sizes and colors for easy, on-the-go editing and it comes packed with tons of templates and stock images for easy designing.
It's perfect for sharing design documents with a virtual assistant or teammate. That comes in handy for me when I am designing something but need a coworker's help with writing!
Adobe Spark
I love the Adobe Spark mobile app for its on-the-go editing features. They also have a browser-based app too, so it's easy to download files and upload them to your blog.
Like Canva, you can load it up with your brand's fonts and colors to reuse again and again. (I have definitely used it to create some designs for my blog while sitting on an airplane!)
It's an awesome tool especially for designing social media graphics. You can spice up a design with animation, which is awesome for things like Instagram Stories or even your own videos.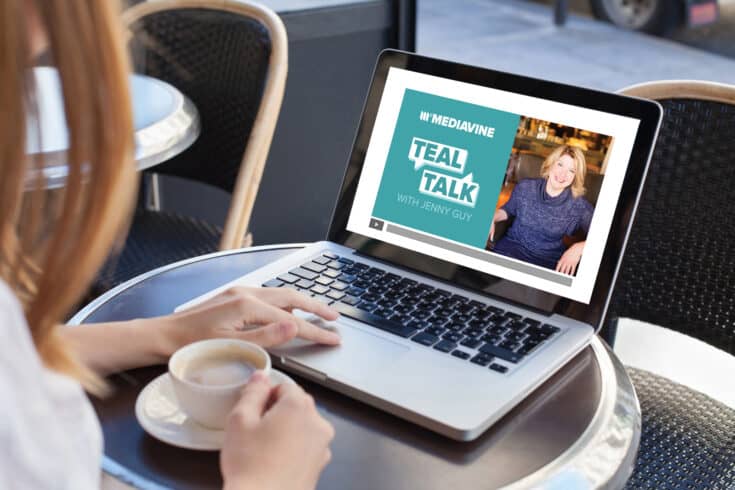 A Design Kit
This is a fun one to have on your phone. Definitely the most whimsical of the bunch here, A Design Kit comes packed with some fun stickers and brushes for doodling, not to mention other elements like sparkly metallic backgrounds and textures.
I use this one the least of everything I listed here, but I thought I'd include it anyway because it is simply so fun. I could see it coming in handy when creating graphics for Instagram or Instagram stories, even Pinterest pins or other blog graphics if you like the tools or feel it's right for building your brand.
Adobe Creative Cloud
I couldn't write a list of graphic design tools without including my most-used software from Adobe, but take this recommendation with a grain of salt.
I always say that Adobe products (which includes products like Photoshop, Lightroom, Illustrator and Premiere, to name a few) are like driving a manual sports car. They are extremely high-powered tools with lots of settings and features, and they can be daunting. (Not to mention they're on the more expensive side.)
At any given time I have open at least three of these programs: InDesign for print projects; Illustrator for, well, illustrating; Photoshop and Lightroom for photo editing; Premiere for video editing; and After Effects for animation.
As a seasoned designer, these tools are tantamount to my daily work, and they have taken a lot of training to maneuver around — but I'm still learning everyday!
I often watch YouTube videos to learn a new feature or skill. Last year, I taught myself animation in After Effects which I've been able to bring to things like our SEO Like A CEO videos and our Summer of Live series. Same dog, new tricks!
So if you feel like you've graduated from Canva and you want to try something a little more advanced, definitely consider taking Adobe for a spin. It's absolutely worth it.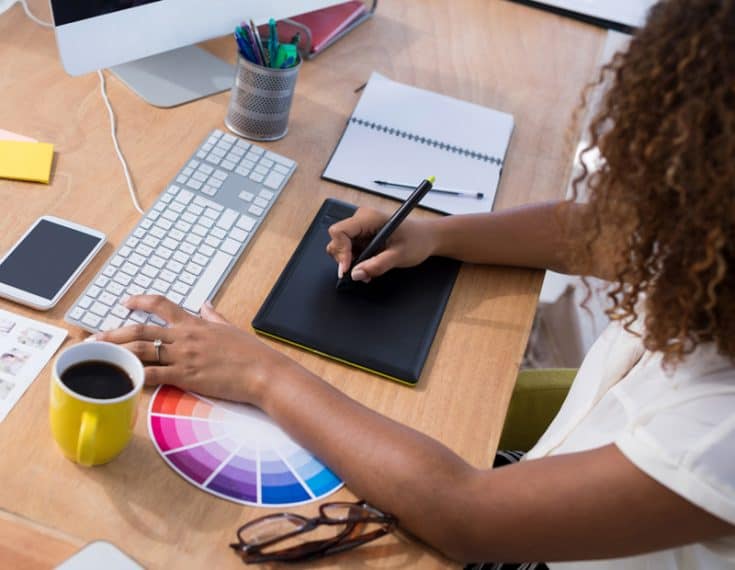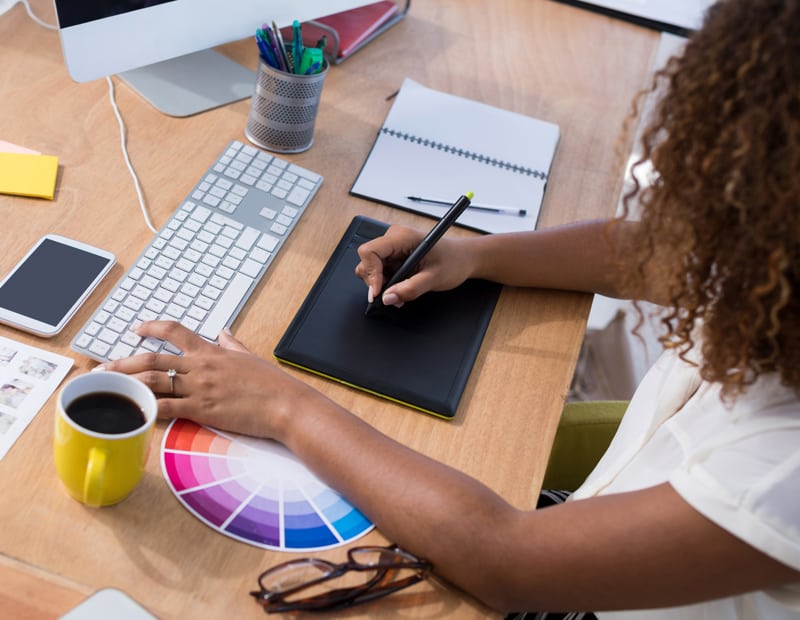 There are really so many tools out there that can help you with creating blog and social media graphics — these are just the tip of the iceberg!
The important thing is not to give up: Start a Pinterest board for design inspiration, watch lots of tutorials and keep trying. You got this!
Subscribe for Updates
Stay up to date with the latest from Mediavine