How Do I Improve My RPM?
If you're reading this, you probably know what RPM is and how it's calculated. What you may not know, given the complexity of the subject and sheer amount of noise surrounding it online, is how to improve it.
Short answer: There is no short answer.
In programmatic advertising, a combination of your audience, your content, your site speed, past ad performance and numerous other factors contribute to that final amount we as publishers all strive to increase.
Looking for a quick fix or comparing individual websites (or ad management companies) trying to unlock the mystery are fruitless endeavors. There is no mystery. But there is a roadmap to success.
Focus on your own site — specifically, your content — and you'll be on the right track. This is a long-game strategy, but it works. Here are — count 'em — 25 ways to improve your RPM over time.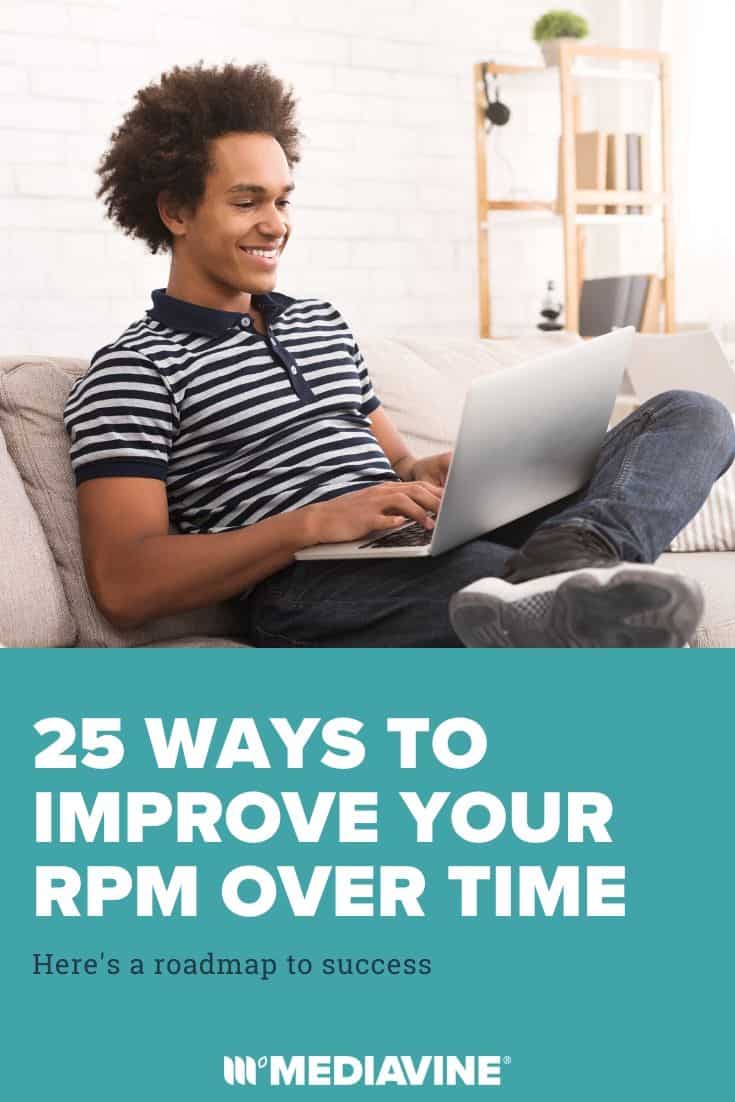 1. Increase Font Size
You might not think that the font size you select can impact your revenue, but especially in a mobile-first world, it makes a big difference.
Not only will increasing your font size improve your site's readability and make your content more engaging, it'll provide you the opportunity to run more ads without harming user experience. Repeat: You'll reap the benefits in terms of user experience, SEO, accessibility and revenue.
All from the simplest of changes. Don't walk, RUN to fix this one.
2. Increase Line Height
Assuming you've taken the advice above and reevaluated your font size, those larger fonts will need to be paired with increased line height, or the spacing between lines of text.
While not quite as important as font size, it's a close second — keeping your text legible and aesthetically pleasing is critical for any publisher.
So what are you waiting for? Learn how to increase your line height to match your new user-friendly font size.
3. Shorter Paragraphs
Would you believe just hitting Enter, or Return, more often can improve your site's scannability, engagement and revenue? Believe it.
Remember, as more content is consumed on mobile devices, web-friendly shorter paragraphs provide MUCH better user experiences — and with that, higher viewability and earning potential, thanks to the additional spots where our in-content logic can insert ads.
4. Longer Content: Increase Your Word Count
This one is a little more challenging, but longer content keeps users engaged with your content — and ads — for a longer duration, plain and simple. With our in-content logic, Mediavine ads are designed not to disrupt user experience. So in order to generate more ad revenue, you'll need more material.
Aim for a minimum of 500 words, and not just for the sake of ads. It's better for SEO and giving yourself opportunities to rank on long-tail keywords.
It takes work, but longer content boosts RPM and SEO alike.
5. Use Headlines
We mean using actual HTML headlines, like the one above this paragraph.
That's using heading tags such as <h2></h2> in HTML or the Heading 2 (and beyond) tags in the visual editor of WordPress.
Using actual HTML heading tags, the proper ones, is essentially signaling to web browsers, Google and the Mediavine Script Wrapper, that you're writing a heading.
Why does that matter? It's important for making sure we're placing ads properly and not breaking up the flow of your words. That results in much better engagement of readers with content and ads, and a higher RPM over the long run.
6. More Unique Images
Much like writing longer content, including more images can improve RPM.
However, much like with content, it's important that any additional images are unique and bring value to the user. It takes effort, but it pays off.
7. End with Your Most Valuable Content
The temptation in an age of limited attention spans is to get right to the point, but don't give away your best content at the top of the post. Be protective of your most valuable content and run it at the end.
If you're running a recipe or how-to card, end your content with the card. If your post is a printable, end with that printable. Make sure your audience engages with your whole post and doesn't bounce early.
8. Use Create for Your Most Valuable Content
If you're running WordPress, make recipes, how-to content or lists and want to maximize your RPMs, we strongly recommend you use Create.
Create is the only plugin with first class Jump to Recipe Card support, meaning it won't hurt viewability but simultaneously optimizes for ads. Even if you don't run Jump to Card, Create is the most optimized plugin, with a light version of our in-content logic ensuring every card is eligible for multiple ads.
Get paid more for your Most Valuable Content with the Create plugin.
9. Shorten Your Sidebar
One of your most valuable ad units is the sticky sidebar, or the ad at the bottom of the sidebar that sticks with users as they scroll. The shorter your sidebar, the quicker the user can get to that ad unit and start making you more money.
Ads that are clearly in view for longer periods of time — even if we're talking about mere seconds — have a chance to refresh, potentially earning you additional, highly valuable ad impressions and higher RPMs.
10. Optimize In-Content Settings
On mobile devices, where there is no sidebar, a vast majority of ads served are in-content units. It's where users are most engaged and it's vital to your RPM.
Optimal in-content settings, such as making sure your ads are Optimized for Content Length, your mobile in-content frequency isn't too low and running paragraph buffers that make sense for your content formatting, will make sure your in-content mobile ads pay dividends.
11. Make Sure You're Running Video!
The Decade of Video continues into the 2020s and if you're not running video now, please make it a priority.
Video CPMs are several times higher than their display ad counterparts, and the demand for them is only increasing as broadcast budgets move to digital.
Take advantage of video ads by running the Mediavine Video Player and following our video guide — it's a lot easier than you think to run videos, even if you don't have any video now!
12. Fill Out Your Video Details
Every time you upload a video to the Mediavine Dashboard, you're presented with fields to enter video details. You need to fill these out.
Providing the permalink to link to the blog post best describing that video, setting your keywords and your title might seem tedious, but it's crucial to that video's performance, especially on top suppliers like Google Ad Exchange.
13. Run a Short Featured Video / Playlist
If you're not running a featured video or featured playlist, head over to your video settings right now and choose one. If you already have, make sure it's a short and engaging one. You want to make sure users watch that first video so they'll be eligible for a secondary video (and advertisement).
If you're currently running your Up Next playlist as your featured playlist, make sure you boost one of your shorter videos to the top. Think 45-60 seconds long. Short form video, much like shorter sentences, dominates the web and plays better to reader attention spans.
14. Optimize Video Placement
Wondering where you should run videos — in the recipe card or in your post? It doesn't matter as long as you utilize our Optimize Video Placement feature.
Enable that in the Video Player Settings of your Dashboard, and then our script wrapper will automatically place your video in an optimized position that will ensure fast page speed AND ideal placement for user experience and ad performance.
15. Autoplay Videos
As part of our video player unification, we introduced two new settings — autoplay your first desktop and first mobile videos. If you want to make video revenue, you need to enable both. Failure to do this means your videos will be click-to-play, and unfortunately, few users actually do so. Autoplay videos literally make up to 100 times more in revenue, so make sure you turn these two features on.
The good news? When combined with Optimize Video Placement, your videos remain below the fold and only autoplay as the user scrolls to them — or scroll-to-play in industry terminology. It's a much better user experience, while making you almost as much revenue as autoplay.
16. Upload Multiple Videos
Take advantage of our Up Next playlist feature and upload multiple videos to your Mediavine Dashboard. Thanks to our Up Next technology, when a user finishes watching a video in the Mediavine Video Player, we'll automatically show them another video — that is, if you have multiple videos uploaded.
An additional video is an additional chance to potentially show a high earning video ad. Make sure you upload multiple videos to the Dashboard, giving you opportunities for more pre-roll advertisements.
And just like our advice above — shorter is better!
17. Embed Your Videos
Noticing a pattern lately? Sick of video tips yet? Sorry, it's the (2nd) Decade of Video for a reason.
Make sure you aren't just relying on Featured Videos, and embed your videos in posts whenever you have a specific one. Embedding videos in a post — either via the Mediavine Control Panel or by inserting the embed code from your Mediavine Dashboard — will ensure you're choosing the best video option for a post.
The better a video matches a post, the better the user experience is and the more engaged your users will be.
More engaged users mean video ads perform better. Plus, did you know the Mediavine video player is SEO optimized? By using video embeds rather than featured videos, we output JSON-LD Schema.org markup, making your posts eligible for special video placements within Google Search!
18. Opt Out Less
As part of our commitment to give publishers as much control over their businesses as possible, we offer the ability to opt out of certain ad categories in the Mediavine Dashboard.
However, doing so often comes at a price. Each category you opt out of limits the competition for your ad placements — and less competition means less money in your pocket. Please opt out with caution.
19. Monitor Your Health Checks
The exclusive Mediavine health checks are the single best tool for monitoring the health of your ads. If your health checks drop, it's likely due to a surge in traffic to a new article, or a change in your top posts in general. Our amazing support staff is always here to help, but monitoring health checks can help you self-diagnose a lot of problems.
If you're usually all teal and drop to green, you may just have an un-optimized post that jumped into your top 10. Monitor these health checks, self-diagnose and contact us if you need help!
20. Obligatory Site Speed Reference
Thought you escaped a Site Speed recommendation in a RPM optimization post by Eric Hochberger? Think again! Repeat after me: Faster sites mean ads load faster. Faster loading ads mean higher viewability. Higher viewability means advertisers pay more, resulting in higher CPMs — and RPM.
Site Speed is key to ad performance in addition to all the benefits it provides for user experience and SEO rankings. No wonder this Eric guy is so obsessed with it.
Follow the advice in our Page Speed resources post and get ready to take full advantage of Trellis, Create and Grow in 2020. This exciting trio of Mediavine plugins is optimized for page speed… Would you expect any different?
21. Use AMP Only if Necessary
AMP is a great technology created by Google for building websites with accelerated mobile page speed. However, it's not without its faults. For starters, it's building an entire new version of your site using AMP rather than standard HTML and JavaScript. By definition, that limits what JavaScript, including the Mediavine Script Wrapper, can do for you. In short, you're serving a lighter version of our ads that will earn less.
Only run AMP if you need to, such as if you're a Google News Publisher. If you don't know what Google News is, then you're not one. In short, most likely you shouldn't be running AMP if you want to maximize your earnings. Instead, focus on improving the speed of your regular pages. If you're doing everything right, you shouldn't need AMP.
22. Don't Run a Page Builder
Page Builders, or really any kind of visual template editors, are going to produce hard-to-read HTML code. This is the very nature of what makes those page builders and template editors so flexible.
Unfortunately, that HTML is difficult to parse for humans and computers alike. Google encourages publishers to decrease your DOM nodes; page builders do the opposite.
Even worse than upsetting Google, potentially? You're going to trip up the Mediavine Script Wrapper's in-content logic and our ability to insert in-content ads.
If you want a visual way to design pages, we strongly recommend Gutenberg. The built-in new editor for WordPress is effectively a page builder, but its blocks produce much better HTML than any third-party page builder.
In short, don't run a page builder, but if you do, email us so we can try to help undo some of the damage.
23. Watch For JavaScript Conflicts
JavaScript is the language that powers the interactive web, including ads. It's also extremely powerful and flexible — sometimes too powerful and flexible. A poorly-written piece of JavaScript can cause conflicts with other JavaScript, including the Mediavine Script Wrapper.
Be wary of known conflicts and do a self plugin audit whenever you can. As we've said in the past, less is more when it comes to plugins. Each plugin you run can potentially introduce more JavaScript, causing conflicts and hurting your RPM.
24. Don't Compare RPMs
We touched on this above and, trust us, we know it's tempting.
There are plenty of income reports out there, and bloggers talk. But comparing RPMs with other publishers, even if they're in your exact profile, is still a fruitless exercise. The best advice we have is to compare your RPM with … yourself. Focus on your site and your content. Commit to these tips. Watch earnings improve, relative to where they once were, over time.
There's too much that goes into programmatic advertising to control everything, or to compare websites fairly. Most advertisers buy inventory based on audiences and demographics, both of which are extremely nuanced. Improve what you can on your end and your RPM will increase. Any time spent contemplating other publishers' RPMs won't improve yours.
25. TALK TO US
Please. Reach out. We're not just here when things go wrong.
Even when everything is working fine, Mediavine is here to assist with site audits and making sure your site is performing optimally. You can reach us at publishers@mediavine.com or by using the Intercom chat widget in the bottom right.
As many of you likely know, our publisher support team is amazing. They're the reason we're the most award-winning Google Certified Publisher Partner. Take advantage of the amazing services they provide!
Check out our Teal Talk with Eric on Revving Your RPM!