Mediavine RPM Challenge | Optimizing Your Posts
Welcome, welcome to our second installment of the Mediavine RPM Challenge!
I'm taking a quick break from answering emails to give you guys a bit of a walk-through on specific things to look for when you are doing a self-audit and want to make your content work its very hardest for you.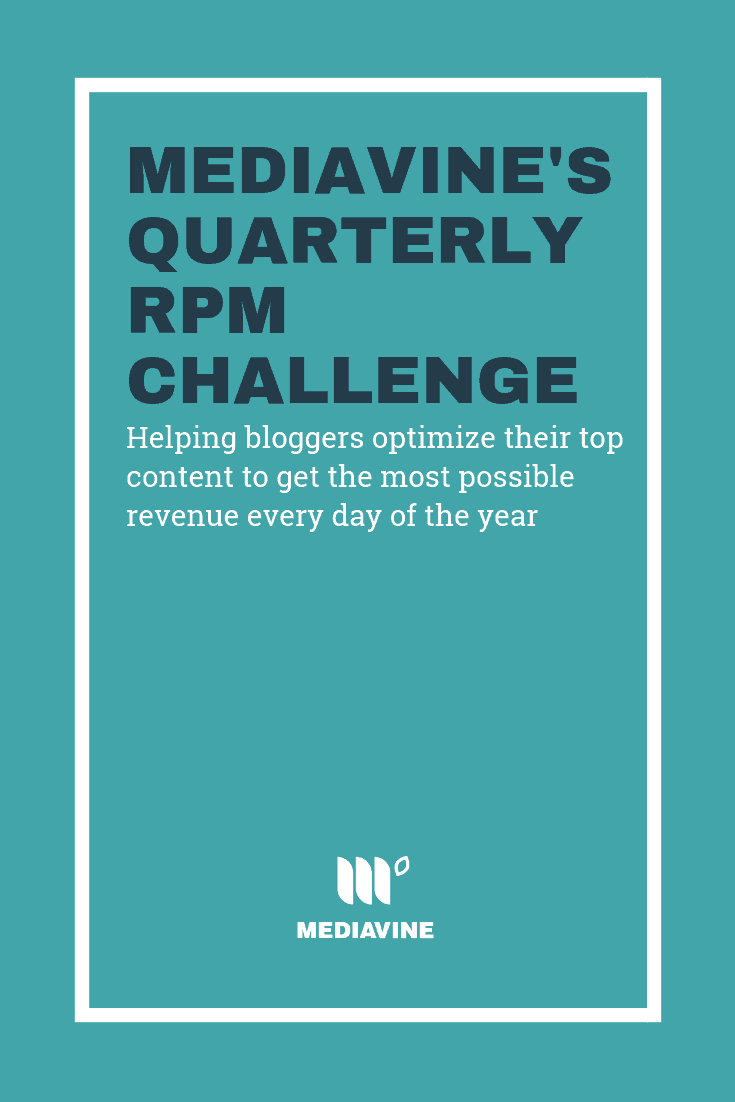 What Posts Should You Focus On?
The best way to get the most return on your time investment is to make some educated guesses about which posts are probably going to start trending for you soon.
Do you have holiday content on your site?
A pumpkin craft that goes nuts around Halloween? 
The BEST Holiday Cocktail?
The best predictor of future traffic is…past traffic, so the first place I start is in my Google Analytics. 
Our first post in this series gives you a walkthrough of generating a list of posts for our awesome worksheets. I highly suggest checking it out!
STEP 1 | KNOW WHAT YOU ARE LOOKING FOR




TIME INVESTMENT = 5 Minutes
Finding your popular content in Google Analytics is super simple, and can be accomplished in just a couple of clicks. You already have generated your list of posts to work on during last week's challenge. If you haven't yet, QUICK! There's still time! 
The short version is that you want to focus on your popular content from the last Q4. If you don't have time to devote to the FULLLLLL audit and tracking, just go change your date range in your Google Analytics to October 1, 2017 – December 26, 2017, and start at the top of the list and work your way down. 
The other way is much more comprehensive, but I don't want to let a lack of available time stop you from doing some really valuable optimizations in the time you DO have. 
PRO TIPS TO REALLY BOOST YOUR RETURNS:
While you are optimizing these posts and looking them over, schedule social shares and pins and update the links on them to point to newer posts that are relevant. It is a good way to give some SEO link-love to your newer content!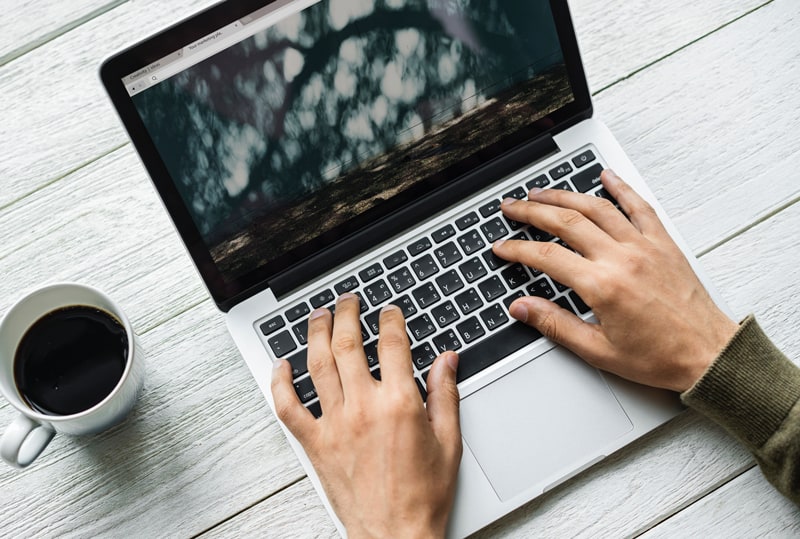 What's The Magic Formula?
There isn't any magic involved (I wish!), but there are definitely some commonalities between the sites on our platform that are reaping the most rewards on their content. Those are: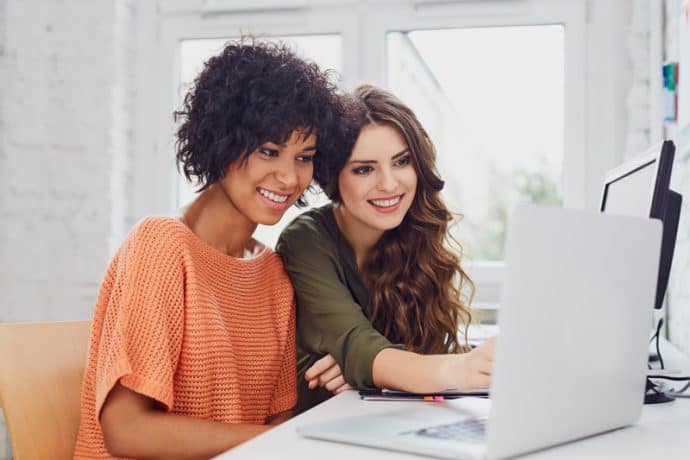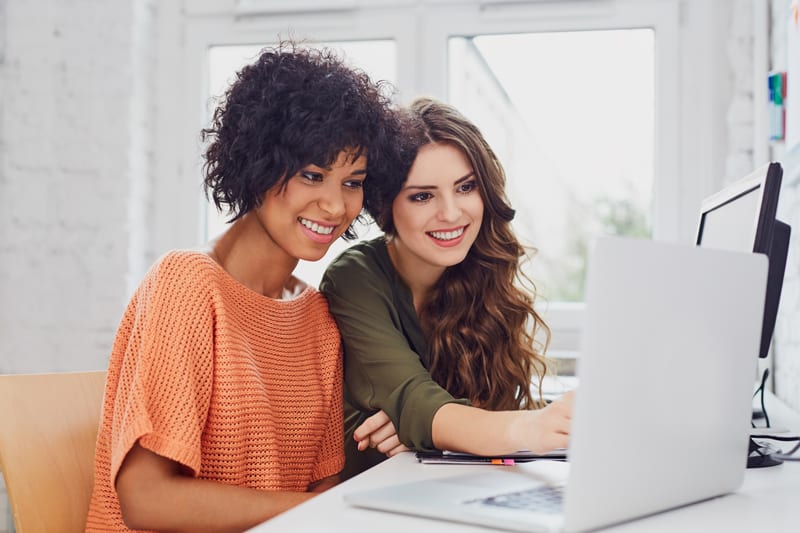 STEP 2 | SMALL CHANGES = BIG DIFFERENCE




TIME INVESTMENT = 10 Minutes Per Post
Let's get down to business! Now that you know just what you are looking for, open up 2-3 posts that you are going to start working on and get busy! Take 10 minutes per post. Set a timer if you have to and you tend to go into the deep end on old content. 10 minutes is more than enough time to do some quick optimizations to a post! 
Action Items to BOOST Revenue
Add hard returns and make your paragraphs shorter!
This is especially important on mobile! Paragraphs that look reasonable on desktop will oftentimes look like a dreaded "wall-o-text" when you switch to your mobile view. Make sure to check on mobile for ad placements and content formatting issues because for the vast majority of bloggers, that is where almost all of your traffic is hitting. 
Pro Tip To Check Your MOBILE SITE (it is a mobile-first world, ya'll!)
Use the Chrome Mobile Emulator to see what your site looks like on mobile, all from the comfort of your laptop. Don't switch devices when you don't have to. Here's a quick video showing you how to open that up. 
These examples below are just a few so you have a visual of what is ideal. The most important thing is NOT to have all the super short paragraphs, but it is to make sure you are giving your readers the best experience. So don't break up a paragraph in a place where it would be confusing. 
THESE PARAGRAPHS ARE TOO LONG!
Even LONGER on mobile! Nope nope nope!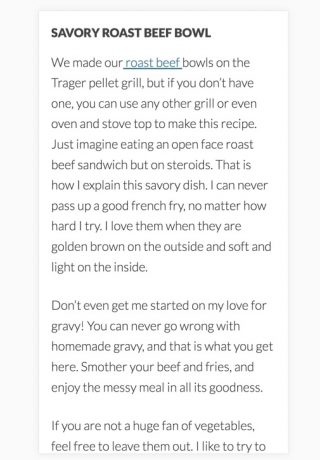 Edit your post and throw in some hard returns. If you have any updated images of the dish, this is a good time to add those too and any updated (or re-sized for current best practices) Pinterest images in there as well. 
Soon, your post will go from the above to this:
DESKTOP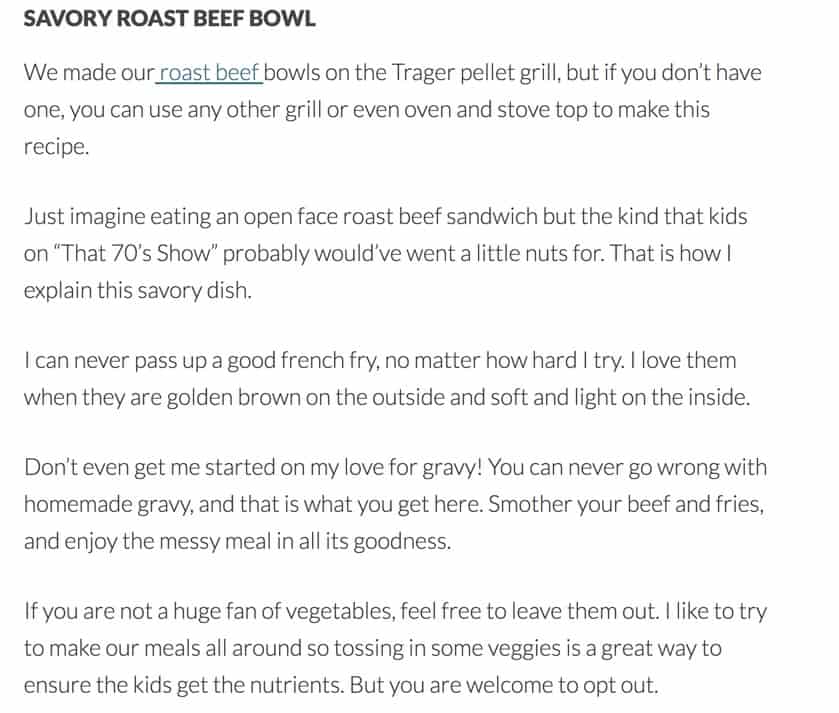 MOBILE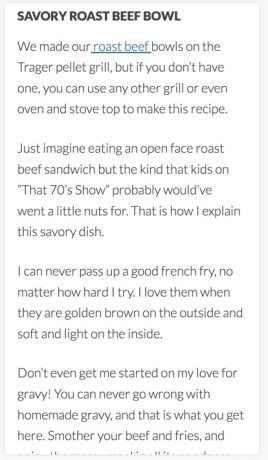 Once you add some more images in there too you'll really be banking. Speaking of images…
Add More Images
If your post doesn't have at least 3-4 images in it, time to add some in! If you don't have unused images for that particular post, try making a collage image, linking to some related posts and adding an image from those, or adding "re-shoot XYZ post" to your TO DO list. 
Do You Have A Printable Instruction on the Page?
Our Recipe Card ad unit has always been one of our top performing desktop ad units. Just last week, we officially launched Create by Mediavine, the card that marks up your content for schema and opens up that ad unit beyond the recipe-writing crew to all of the world's bloggers who run "How-To" content. 
Do you make things? Do you teach people something? The possibilities are endless. Soon we'll be releasing a type of Create card for travel bloggers too. 
If you think a printable instructions card would be beneficial to your readers, I highly recommend running one, and now there's a card to do it. Mediavine publishers will be able to automatically run our high-performing Recipe Card ad unit (that one might need a new name now!) and improve their user experience as well.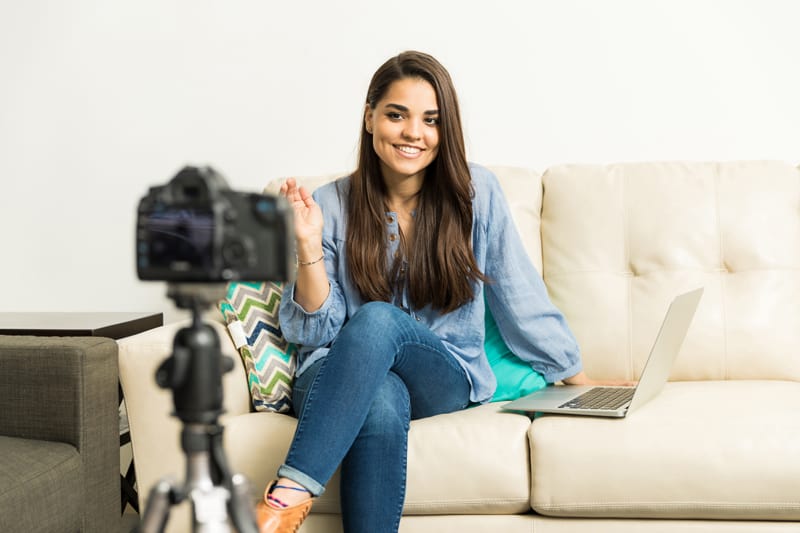 VIDEO. Got it?
2018 is the year of video, and video ads are some of the highest paying available. It is best to have a unique video for each post. If that isn't something you are doing yet, start small! Anyone with a smartphone can produce amazing video. Next time you are making or building or creating your content, shoot some video clips! You can use those in conjunction with your images and have really slick, unique videos without making it a WHOLE PRODUCTION or outputting a ton of money on custom video creation. 
Make your video helpful for your readers, explain a difficult part of the post, or otherwise add additional value to your content. That'll ensure it is sharable and engaging and will really maximize your performance. 
If you *can* invest in custom video content — DO IT. If you can't, don't let that stop you from getting in on some of the benefits of running video, and pre-roll video ads. Starting with your most popular content will get you the fastest return on your video investment. Check out all of Mediavine's video capabilities. 
Check for ad placements!
Don't skip any steps here. Don't do it. Follow exactly:
1. Use the browser Google Chrome. Open an INCOGNITO window. (File > New Incognito Window)
2. Paste in your blog post URL that you're checking. 
3. Add this code to the END of the URL in the incognito browser window's address bar: 
?test=houseads
4. Hit "Return" on your keyboard. 
Using the ?test=houseads code at the end of your URL ensures that ALLLLL available ad placements load, regardless of the auction, fill rate, time of year or any other factors. This means you might get some placeholder units that are grey, but that's normal. 
Now, just scroll slowly through your post and count your IN-CONTENT ads. That means just the ads that load in the post body. If you are going for TEAL (meaning, highly optimized), you should shoot for ≥4 In-Content ads on desktop and ≥8 on mobile.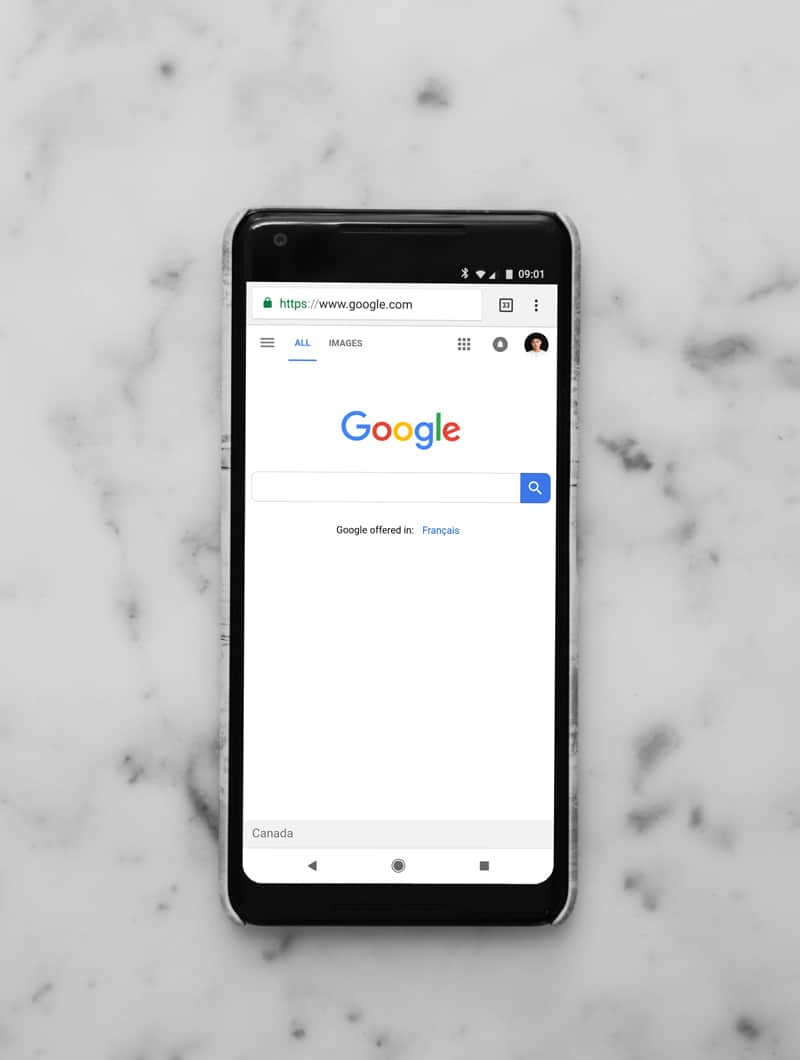 Action Items for Search Engine Optimization
Give the post a good once-over to ensure that you are using SEO best practices. Check the following:
Is the keyword present in the post title?

Did you use the keyword in the first sentence?

Have you included the keyword + variations in alt titles and image descriptions?

Have you linked around to your own site content at least twice?

Have you linked out to another site?

Are you linking on the keyword?

Have you answered some questions in the post?

Did you use a numbered list or a bulleted list?

Have you linked to this post in all of your other relevant or related content?
Want more SEO resources? Check out our awesome SEO Checklist and this guest post about giving backlinks the right way. Also, our co-founder Amber co-hosts a podcast about SEO called Theory of Content that we recommend giving a listen if you haven't already!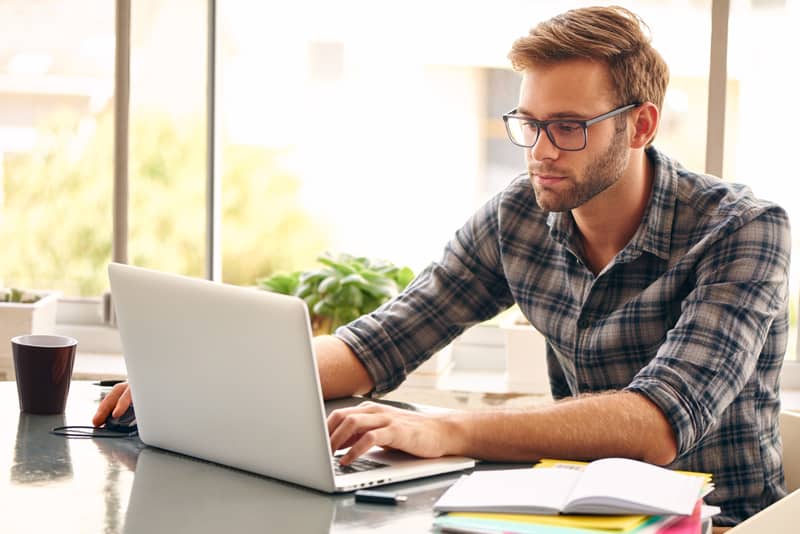 STEP 3 | Just Keep Swimming




TIME INVESTMENT = 20-30 minutes per day
Keep up the good work! If you work on optimizing just 2-3 posts a day, you can get through quite a few really quickly. The investment will be worth it! These types of changes ensure that your content is ready for all of that awesome and HIGHLY valuable Q4 traffic it is about to receive, and get you into a great position to be busy supporting that content instead of trying to play catch-up and optimize as things are trending. 
Keep working on ensuring all the awesome NEW content you are creating and publishing is written and published with these best practices in mind, and soon you'll have an entire site full of well-optimized content, and you'll be confident your site is earning the most it possibly can.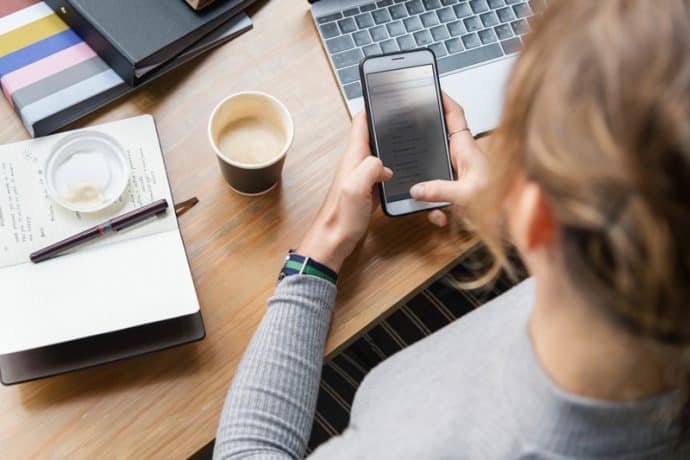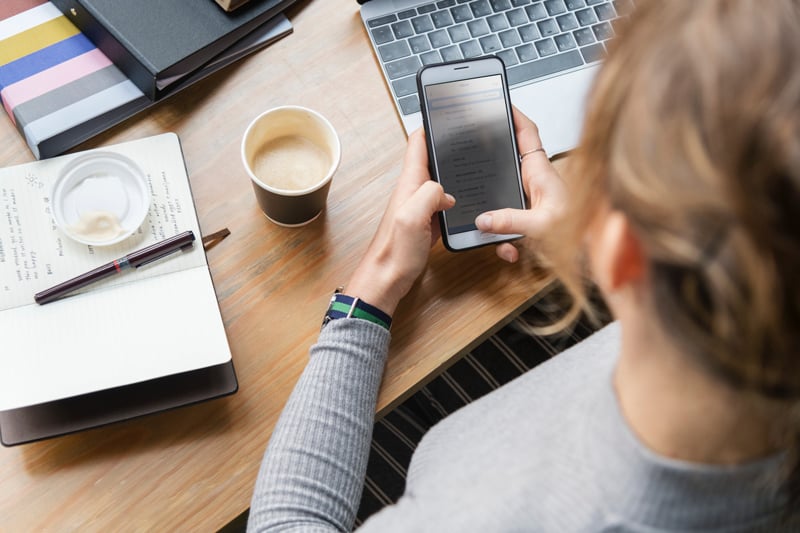 Tell me about the worksheets!
Last week, we shared our worksheets with you. There are two sets that are virtually the same, but one is in Google Sheets and the other is a fillable PDF download.
For this week, you'll want to focus on the Ad Income Audit and the Individual Post Audit, but if you feel like jumping ahead to the social media worksheets, go for it!
Our final post in this series is about sharing your work and tracking your growth throughout the challenge. We'll be digging into social media and tracking metrics, and the following week we will talk about social media and tracking your growth. 
Is there a Facebook Group?
Yes! We started a new Facebook group for the Mediavine publishers who wish to participate in the Mediavine RPM Challenge, so check it out if you want some support as you work through this week's challenge.
Also, our Marketing Manager Jenny and I will be doing another Facebook Live in the group next week! If you missed the one our Publisher Support Manager Heather did with Jenny earlier this week, you can find the replay in the group. 
Want to join? Find the link posted in our main Facebook group! (If you're not in our main Facebook group yet, we're happy to add you. Just send an email to publishers@mediavine.com!) 
See you on Wednesday, Oct. 10, 2018 for the second Facebook Live for the Mediavine RPM Challenge! 
© 2019 Mediavine. All Rights Reserved.